| | |
| --- | --- |
| Ork Camouflage | Created by Unknown, Uploaded by Ashes and Temples |
| Paintjob Rating: Need 2 more votes | Number of Views: 1184 |
| Coolness Rating: Need 2 more votes | Number of Votes: 3 |
This image needs more votes. Please use the vote box on the left to rate this image.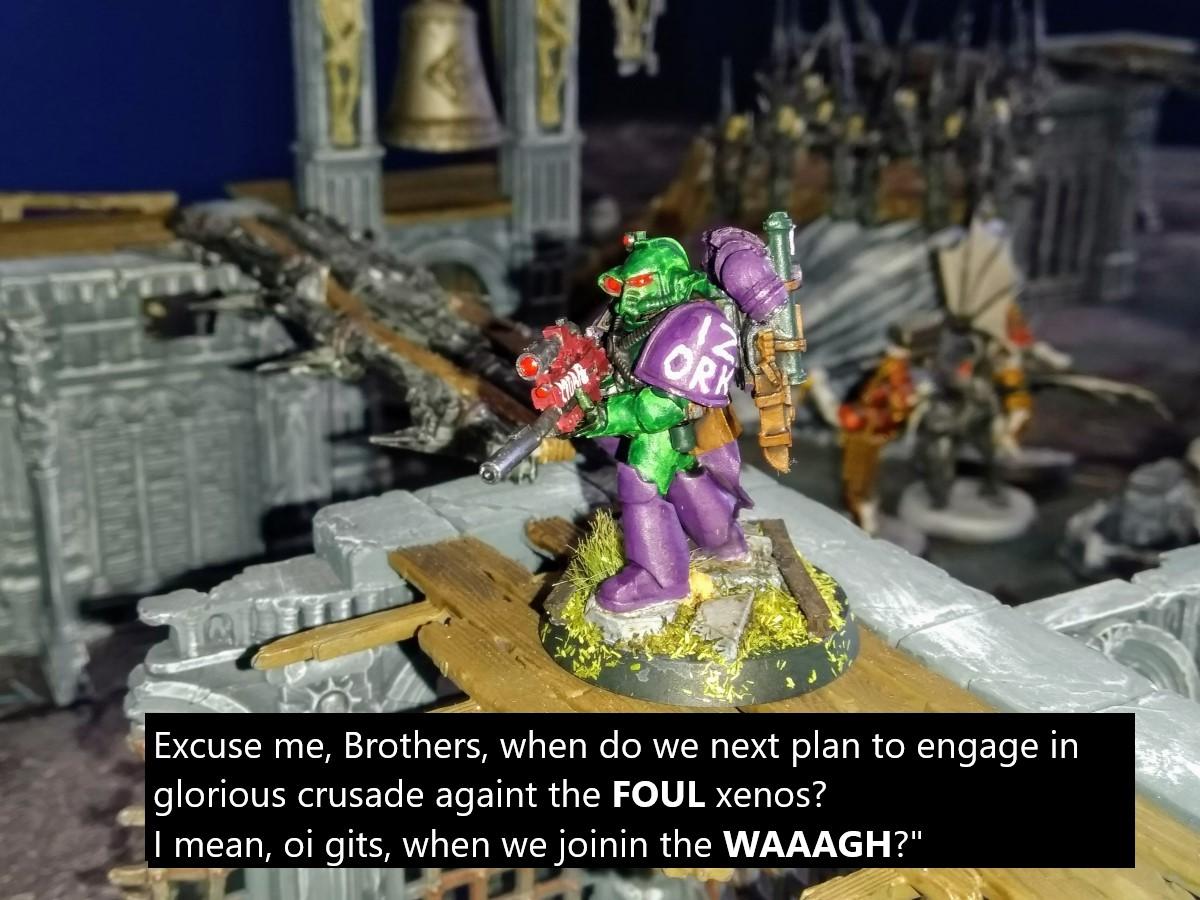 Image Description:
The Forlorn Hope recon units adapt to the environment, including Ork dominated regions where they find the best camouflage is to hide certain parts of their armor by painting them purple, and painting the rest green with the helpful message IZ ORK to clarify their status among the tribes. They also usually carry translation guides that take sentences like: "Brothers I am in urgent need of locating the ammunition depot?" Or: "When do we next plan to engage in glorious crusade?" into understandable Ork lingo like: "Oi gits, where they keep all the Dakka, and I'm meaninn the real special like dakka for big occasions." and "When we getting the WAAAGH on?" A group of Orks spot a burning refinery and rush to the scene. They see someone moving away from it who at first seems like a Tin Can 'umie, but then they clearly see has 'IZ ORK' written on one shoulder. Curious as to the situation they ask the Boy: "Oi wha'z 'appenin aroun' 'ere?" The odd Boy answered: "Brothers I cannot know for certain, for I was not there, but it seems more than likely our foolish Gretchen compatriots allowed a fire to get out of control far closer than safety regulations would ever allow for one in the vicinity of highly flamable and strategically valuable materials like promethium." The Orks scratched their heads: "Wha' you sayin'?" The strange Ork shifted for a second while looking in a small book: "Me guessin' the silly Gretchins musta burned the place because they wasn' lookin'" The Orks nodded: "Yeah, seems likely." Then he noticed the Strange Ork had writting on his shooter, writing that said 'MOAR' on one side and 'DAKA' on the other: "Hand over that shoota, me's been lookin for MOAR DAKA for as long as I can 'emember." At this the Strange Ork suddenly drapped his purple cloak over his head. The other Orks looked around with astonishment and fear: "Where'd he go!?
Image Tags: Astartes, Comedy, Forlorn Hope, Greenskin, Legion Recon, Orks, Scouts, Space Marines, Spy, Warhammer 40,000


Comments:


katman1


Painting 7/10, Coolness 10/10 @ 2019-10-26 09:46:09



This is hilarious. I love it
Ashes and Temples


Painting 10/10, Coolness 10/10 @ 2019-10-27 00:14:47



Thanks, I ended up adding ROMPA STOMPA to his greaves and posting those pictures too. His gun also says DAKA on the other side.

You must be logged in to post comments.

Image Details:
Resolution:
1200x900
Uploaded:
2019-10-26 02:38:36