| | |
| --- | --- |
| Grimnir, Rune Priest | Created by Ashes and Temples |
| Paintjob Rating: 7.6 | Number of Views: 940 |
| Coolness Rating: 8.2 | Number of Votes: 7 |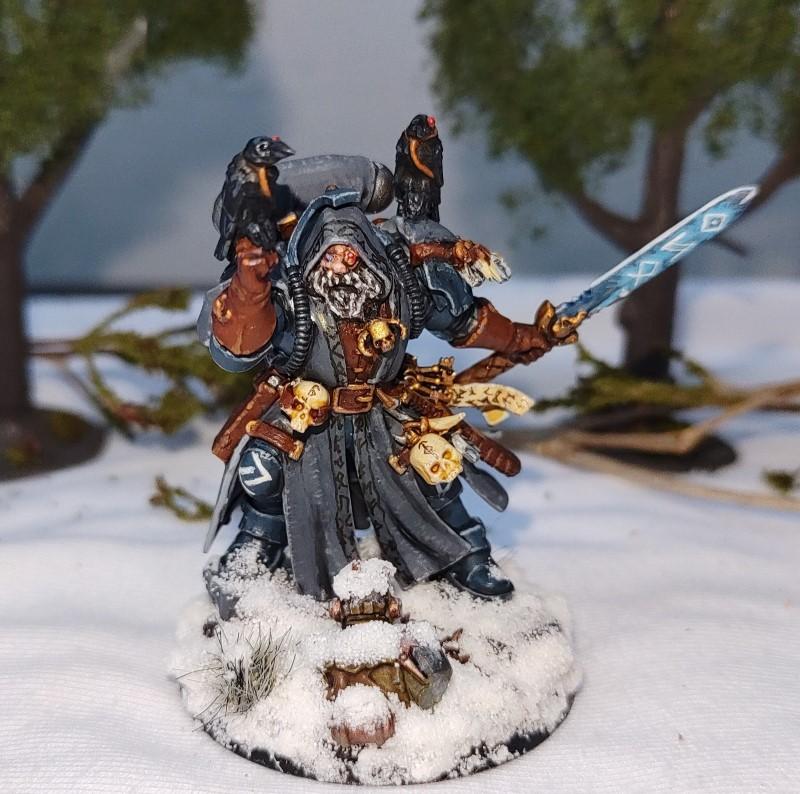 Image Description:
An enigmatic figure among the Space Wolves, the Rune Priest who goes by Grimnir (the masked or hooded one) often operates well away from their normal forces, eschewing most of the normal ornamentation common to Space Marines, and it is believed he never gives out his true name. A man of profound curiosity he constantly investigates and researches matters with the help of his two ravens, often anticipating where threats might arise and showing insights into them beyond what can even by expected of a Psycher thanks partially to his vast knowledge. Often carrying skulls inscribed with bind-runes he will stare at them when faced with particularly hard questions. In his travels he has fought beside many chapters of the Adeptus Astartes, particularly the Forlorn Hope, often advising on unfamiliar threats, and despite his normally unnerving reserved manner he has always proven himself a terrifying warrior in battle earning another nickname of Geirvaldr (spear master), his normally patient nature belying an absolute rage yet one which he has honed to a fine edge. Enemies of the Imperium sometimes call him the Angry One, and when even Khornate berserkers call him that others take notice. At gatherings he usually finds those of responsibility, and asks them many questions while saying many interesting things himself, and while often a distraction from the normal feasting of the Space Wolves such leaders usually find themselves enjoying such conversations and learning many new things, thus adding another title Sanngetall (truth getter). When asked if he has other names, his usual reply is a simple 'Yes' without further elaboration.
Image Tags: Astartes, Forlorn Hope, Gray Beard, Librarian, Mage, Odin, Phobos Armor, Pyscher, Raven, Rune Priest, Space Marines, Space Wolves, Spell Caster, Vlka Fenryka, Wizard


Comments:
No comments have been added yet. Be the first! People love to hear what others think about their projects so please let them know.

You must be logged in to post comments.

Image Details:
Resolution:
800x794
Uploaded:
2021-08-06 19:05:16