| | |
| --- | --- |
| Chaos Icon Bearer | Created by hpred |
| Paintjob Rating: 5.18 | Number of Views: 2741 |
| Coolness Rating: 6.18 | Number of Votes: 14 |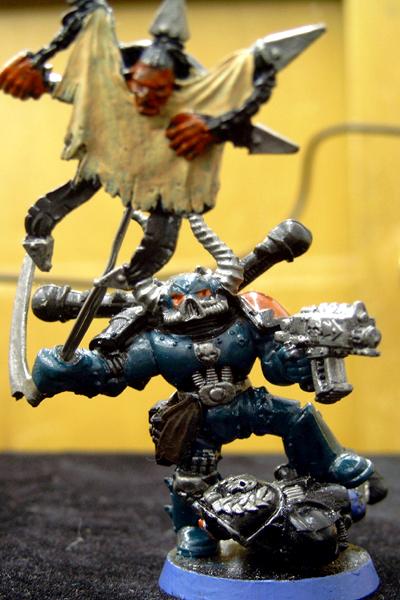 Image Description:
I built this custom Icon Bearer using a combonation of Berzerker, Chaos Space Marine, and a Standard Bearer. The arms, shoulder pads, and legs are from Khorne Berzerkers. The Head & chest are Chaos Space Marines. The backpack was an extra Pewter Possessed backpack. The icon I took from a standard Icon bearer who I still need to get an Icon for to replace. I cut the leg at the hip and twisted it tell the leg was standing on the back of the Standard Bearer instead of running. I then removed the sword from the arm to give me the hand for the staff. I rummaged around my bitz box and found this cool looking scythe looking pewter bit and glued it below the hand to look more like a close combat weapon. Originally I was going to use the upper section of the Standard Bearer stand but that would not stay in place so I took a paper clip at a friends suggestion and bent it in two. I plan on green stuffing around the metal when I get a lot better as using.

Comments:
No comments have been added yet. Be the first! People love to hear what others think about their projects so please let them know.

You must be logged in to post comments.