| | |
| --- | --- |
| Step 9: Tall Grass | Created by Gitsplitta |
| Paintjob Rating: Voting Disabled | Number of Views: 973 |
| Coolness Rating: Voting Disabled | Number of Votes: - |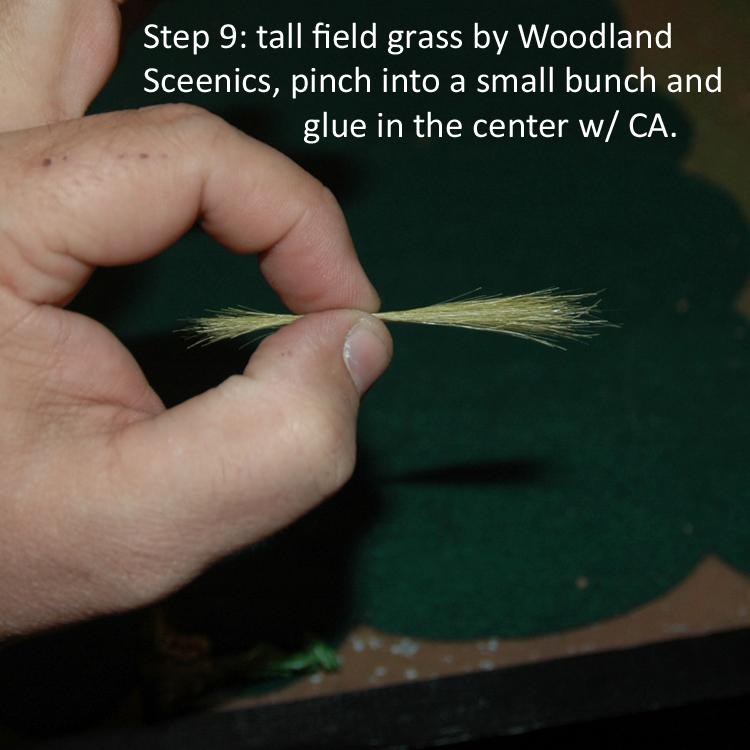 Image Description:
The tall grass I use is made by a company called Woodland Sceenics, and can be found at most any (US) shop that caters to model railroaders. The grass comes in many colors and some mixes of colors in a baggie filled with long, straight fibers of reasonably uniform length. Separate a small bundle with your fingers and fiddle with it until it is the shape you want in cross section (round or straight, depending on what you want to do with your grass. You will lose fibers during this process... ignore them or gently pull them out of the bundle. Next you need to add a little bit of CA glue to the center of the bundle, this is easiest with two people as one can hold the bundle from the ends while the other adds the drop of glue. One person can do it though by putting a drop of glue on a surface and then gently laying the moddle of the bundle on the crop for a second or two. You will note that man parallel fibers are very good at pulling up the glue and sending it down the length of the grass tuft. This is why we put the glue in the middle of the bundle rather than at the bottom as you will end up with a long stuff section of grass at the bottom, not very natural looking. Let dry, either by holding until dry, gently placing it on a surface to dry, or nailing it with CA setting agent.

Comments:
No comments have been added yet. Be the first! People love to hear what others think about their projects so please let them know.

You must be logged in to post comments.