| | |
| --- | --- |
| Step 9: place the grass | Created by Gitsplitta |
| Paintjob Rating: Voting Disabled | Number of Views: 888 |
| Coolness Rating: Voting Disabled | Number of Votes: - |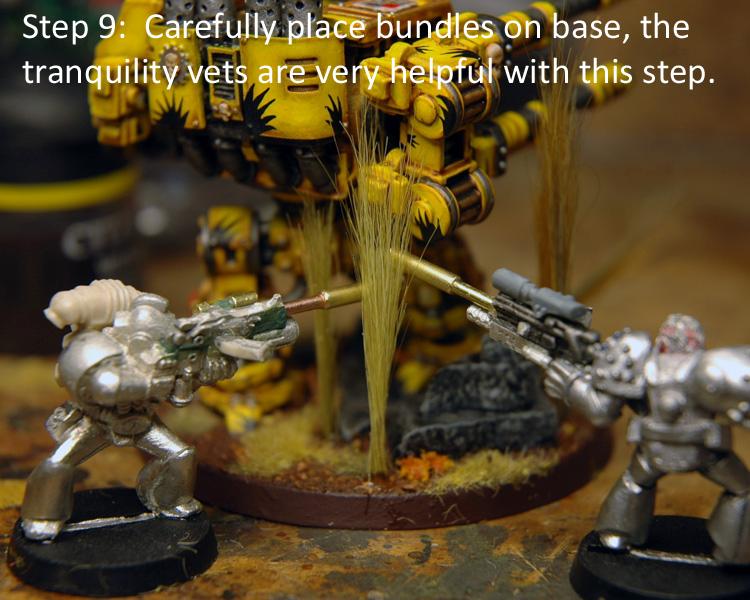 Image Description:
The grass tufts may now be glued to the base. Because the base fibers are already clogged with glue, the grass tuft can be blued down with no further worry about the grass tuft drawing up the glue and hardening into a solid pillar. I prefer slow jet for this part of the process as it's thick, gel like texture provides more support for the tuft than thin CA. Note that the bottom of the tuft must be trimmed off cleanly, just 2 or three stray fibers can hold your grass far enough off the base to prevent it from gluing correctly (see photo). The grass tufts will also not want to stay upright while drying, so some help from neighborhood sternguard with their long, pointy rifles can be very fortuitous. As before, be prudent in the placing of your tall grass, don't over do it! Note you can get different heights of grass by moving the initial glue point from the center of the bundle towards one of the ends a bit.

Comments:
No comments have been added yet. Be the first! People love to hear what others think about their projects so please let them know.

You must be logged in to post comments.