| | |
| --- | --- |
| Blood Axe Warboss: Iron'ead | Created by Golgothas |
| Paintjob Rating: 8.52 | Number of Views: 8051 |
| Coolness Rating: 9.26 | Number of Votes: 34 |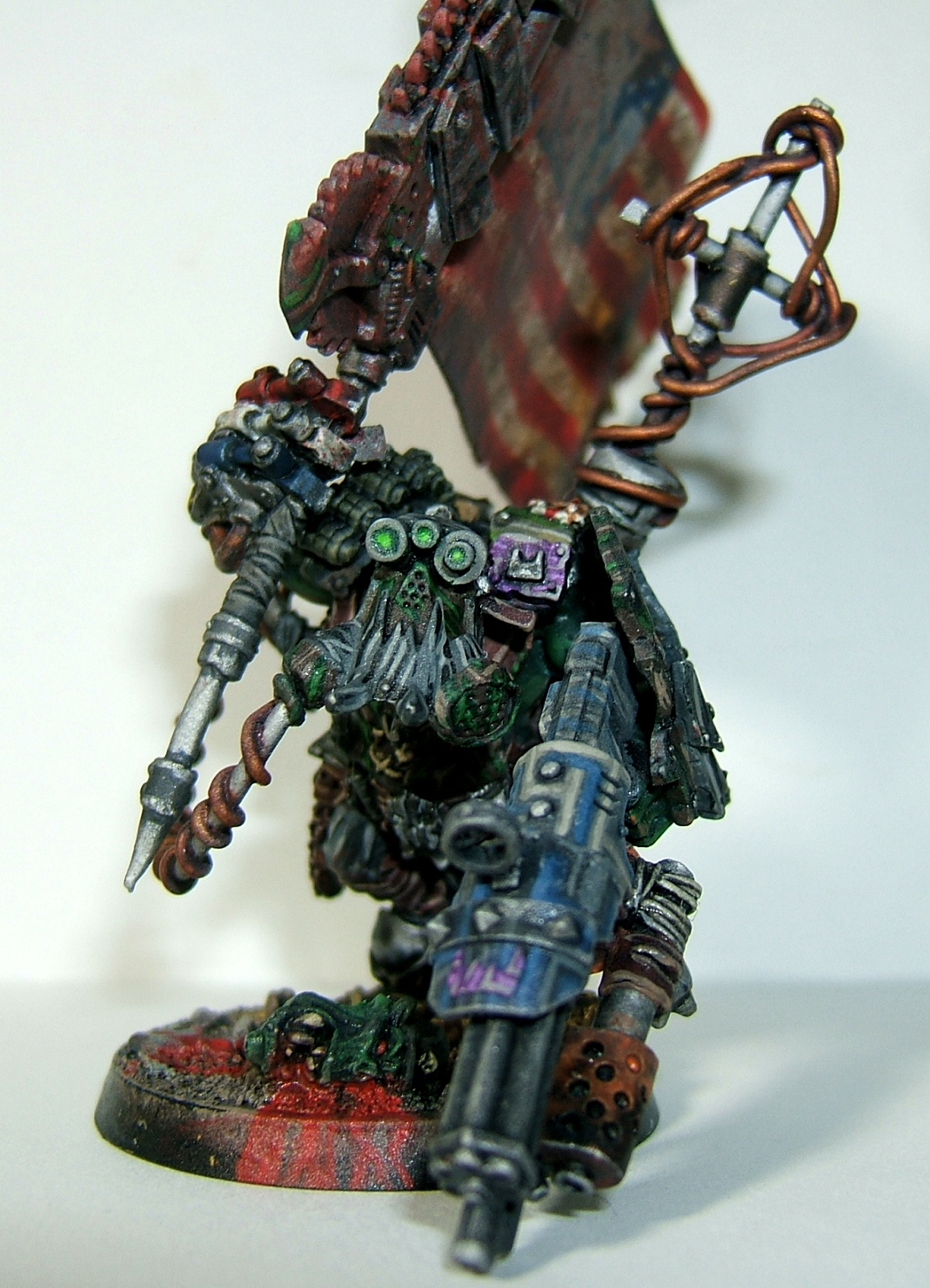 Image Description:
HELLO BOYZ! You're friendly local blood axe player here! After four months, I have finally finished my Ork Warboss. This here is Iron'ead! I named him that because I set out to create a warboss that stands out from every other in a few ways. So. First I had to ask, what comes to mind when you think Blood Axe? Probably 'untrustworthy buncha unorky sneaky gits.' And you're right! So I went with that. Iron'ead is an ork warboss who rose out of the ranks of Kommandos to lead his own small WAAAGH! across the stars. The first step was to find an ork to start off as a template. I used the Ork Nob with Waaagh! Banner because he was originally intended to be a warboss to begin with. The head is a modified fantasy black ork warboss head, green stuff and acrylic tubing combined together to create a kommando gas mask complete with Sam Fischer night vision goggles! I was playing Splinter Cell when the inspiration hit me to mimick Sam Fischer's night vision goggles. I hope I did a good job.
Image Tags: America, Blood Axe, Bludd Axe, Conversion, Flag, Kommando, Kommandoz, Orks, Space Ork, Space Orks, Waaagh!, Warboss, Warhammer 40,000


Comments:


Shado.Raith


Painting 10/10, Coolness 10/10 @ 2011-04-17 21:43:38



awesome mask!! really sweet conversion love the US flang and dead ork :)
Golgothas


2011-04-18 05:47:35



Thanks, Raith! Sadly you can't see what kind of ork is at his feet. It's a Nazi Ork. One of the ones made by Kromlech.
Eckeon


2011-04-18 18:37:21



I love the look from an artists perspective, but its a defaced American flag... kinda bugs me but still looks amazing.
Golgothas


2011-04-18 19:20:08



@ Eckeon, I got thumbs up from a US Marine and several American 40k players already BEFORE I started making this. My next project will be an orkified Enterprise Class US Navy Aircraft carrier for Battlefleet Gothic. Thanks for the compliment!
Kid_Kyoto


2011-04-18 21:18:46



While it's a damaged flag, the Ork is carrying it high and obviously defending it. I can see people being offended if an Ork was defacing a US (or other) flag this is totally different.
Warboss-Percy


2011-04-19 16:16:29



/salute. It's a gift to be simple, it's a gift to be green...

You must be logged in to post comments.

Image Details:
Resolution:
1069x1481
Uploaded:
2011-04-17 17:13:08