| | |
| --- | --- |
| Blood Axe Warboss: Iron'ead, side profile | Created by Golgothas |
| Paintjob Rating: 8.33 | Number of Views: 8142 |
| Coolness Rating: 9.46 | Number of Votes: 31 |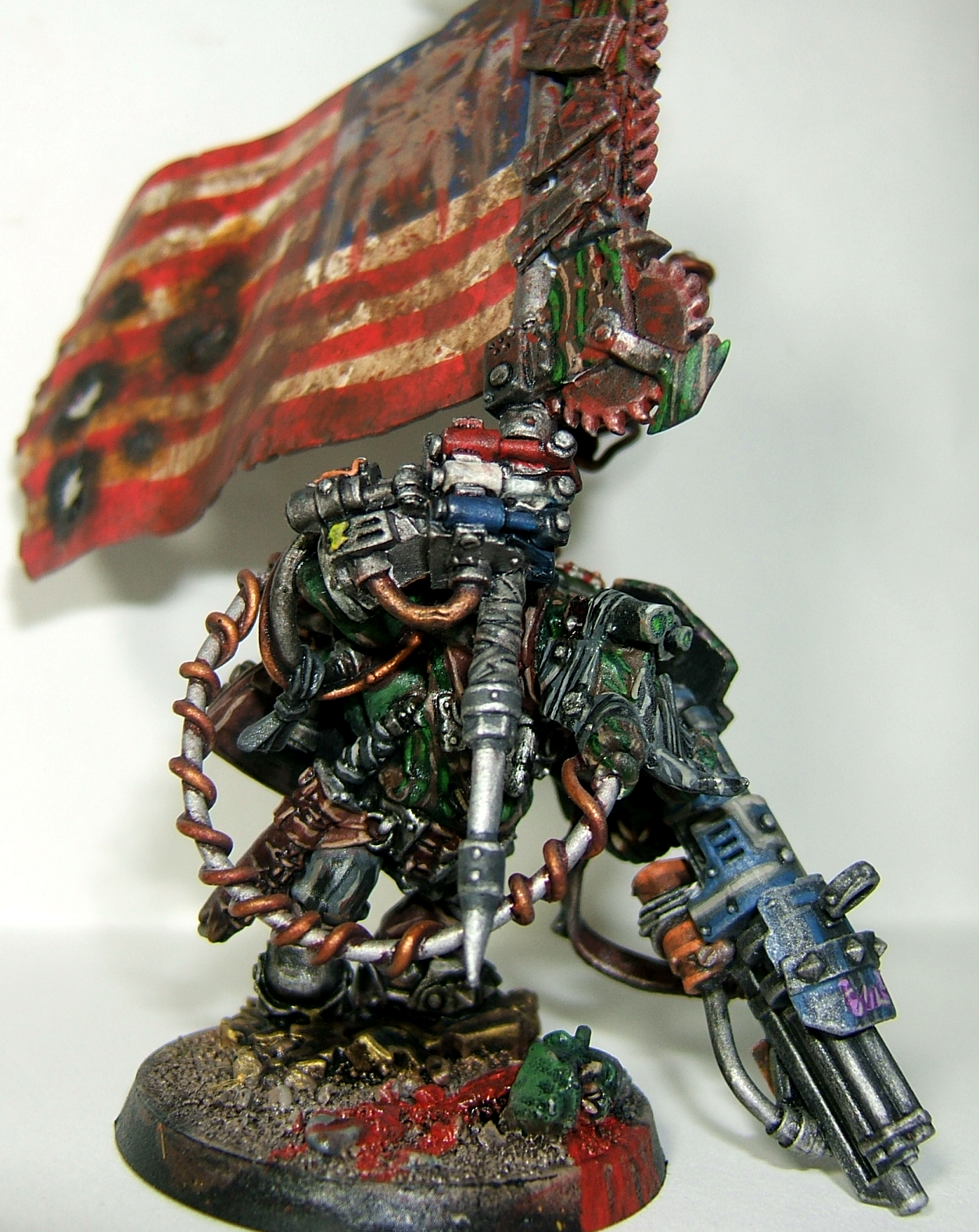 Image Description:
Part 2 of Iron'ead! Here's a side profile. At his feet is a Kromlech Nazi ork. There's a big story behind this, which I will write later, but the short end of it... When I initially began playing as orks and was trying to figure out what Klan to go with, I was told that Blood Axe players sometimes like to pepper their orks with Nazi paraphenelia. THAT WILL NOT FLY WITH ME. SO. I've decided to make a small AMORIKAN ORK FORCE TA KRUMP DEM NAZI GITS! And naturally, you have to have a dead nazi ork somewhere in there. The gun is an assault cannon given to me by a Space Marine player, with gubbins attached to it. Attached underneath is a skorcha. He's burned LOTS with that. And of course, he's standing on an Imperial Aquila. That came with the model because as I stated in the original image, this is a converted Ork Waaagh! Banner carrier. To create the cabling going from the gas mask to his back pack, I used two kinds of copper wiring of two different sizes. Tried to keep it simple.
Image Tags: America, Blood Axe, Bludd Axe, Conversion, Flag, Kommando, Kommandoz, Orks, Space Ork, Space Orks, Waaagh!, Warboss, Warhammer 40,000, Warhammer Fantasy


Comments:


Kid_Kyoto


Painting 9/10, Coolness 10/10 @ 2011-04-17 18:36:56



Mork bless Orkmerica!
Golgothas


2011-04-18 05:48:42



DON'T YEW MEAN GORK? Actually it is Mork on the flag, so, MORK BLESS ORKMERIKA.
Warlord Gazghkull Thraka


Painting 9/10, Coolness 10/10 @ 2011-04-19 02:05:17



Nicely done model (And I like how it has a subtle political message on how, in a way, no offense, of how war-hungry America is)!
Golgothas


2011-04-19 04:35:10



@Warlord Gazhkull Thraka Thank you for the compliment, sir! But I must state that no political message was intended in the making of this model. The short end of Iron'eads backstory is that he and his boyz actually went back in time through the warp. Got plopped out into the Second World War and fought Nazi orks. Hence the Nazi ork head on the ground! Oh, and he also looted an American flag. Cause that's AWESOME.
HadoukenAvenger


2011-04-22 03:03:19



Oh say, kan ya see, how zoggin' awesum my flag iz? Bet yoo gitz aint got a flag like dis wun.

You must be logged in to post comments.

Image Details:
Resolution:
1252x1576
Uploaded:
2011-04-17 17:13:08