| | |
| --- | --- |
| Blood Axe Warboss: Iron'ead, flag side 1 | Created by Unknown, Uploaded by Golgothas |
| Paintjob Rating: 9.07 | Number of Views: 9727 |
| Coolness Rating: 9.68 | Number of Votes: 36 |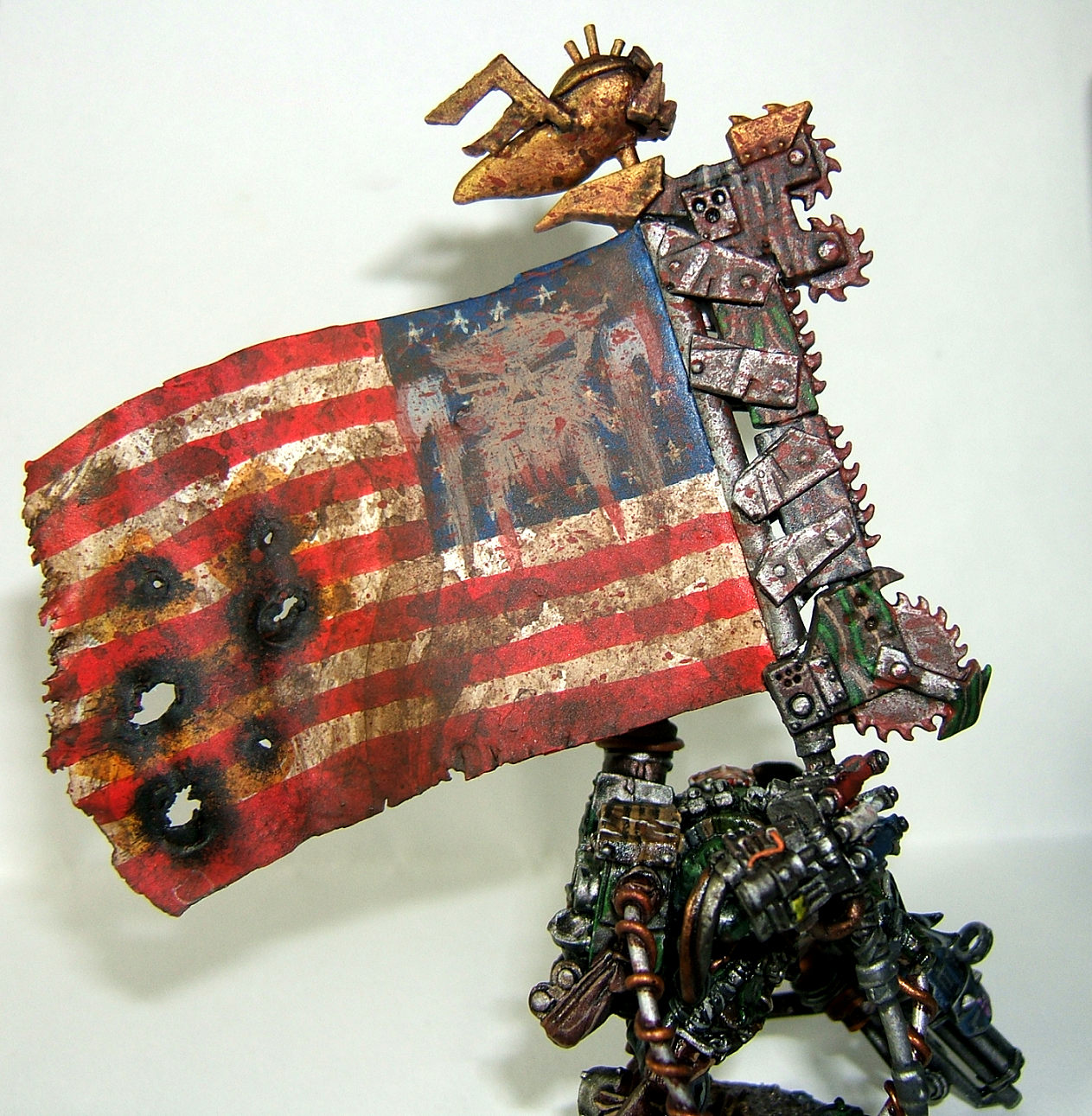 Image Description:
And the center piece of the entire model. Iron'ead may be small for a warboss, but he makes up for it by having DA BIGGEST FLAG EVER. And what's bigger than a patriotic American flag? Why, an American flag that's been looted, weaponized, dragged through the mud, been shot at, and covered in blood of gitz of all kinds. And capped by a bronze flying squig. The process: First I had to actually create the flag, which was easy enough. Green stuff, some plastic tubing, bits stolen from a billion other kits, plasticard, all carefully hammered into the Waaagh! Banner carrier's power claw. I did quite a bit of math to make this thing G-Spec, but in the end, a mistake was made that required the flag to be clipped in certain areas, so it is no longer G-spec. Shame, but oh well. The result was awesome anyway. Yes, I painted the appropriate number of stripes and stars BEFORE I added blood, muck, and the Mork and blood axe symbol on the Union Jack of the flag. It was painstaking work, but I pulled through with an awesome result.
Image Tags: America, Blood Axe, Bludd Axe, Conversion, Flag, Kommando, Kommandoz, Orks, Space Ork, Space Orks, Waaagh!, Warboss, Warhammer 40,000, Warhammer Fantasy


Comments:


Kid_Kyoto


Painting 9/10, Coolness 10/10 @ 2011-04-18 21:12:05



Gork bless Orkmerica! (just to be fair)
Golgothas


2011-04-18 23:32:14



@Kid_Kyoto DON'T YER MEAN MORK YA GIT? (gotta keep the orks fighting over which is which, lol)
Commander Cain


2011-04-19 00:30:16



Awesome! A great centerpiece for any (ork) army!
Anvildude


2011-04-21 20:52:30



I'm almost certain that's illegal to do that to an American flag. Oh well! Awesome work, in any case.
HadoukenAvenger


2011-04-22 02:56:08



Who gives a feth? That's bloody awesome!
darkkt


Painting 7/10, Coolness 10/10 @ 2011-05-24 09:49:01



Spectacular very effective work!
klydd kross


Painting 9/10, Coolness 8/10 @ 2011-10-11 01:27:40



kinda cool in a F%@&$% sort of way
Kiwi461


Painting 10/10, Coolness 10/10 @ 2012-10-27 04:36:02



Certainly not illegal. It should be protected by the first amendment even with the Flag Protection Act of 1968. On top of that, he already stated that its no longer G-spec, so some interpretations of the act would suggest its not a real American flag: so 'descrate' away. A common practice for disposing of a retired US flag is to seperated the Union Jack from the stripes so its no longer an official part and then burn them together. Beyond that, I think it's a great looking model!
Mustakhrakh1sh


2016-06-03 12:57:44



WAAAAAGH!!!!!MERICA?
Lord Padriac


2016-06-03 13:00:38



First off awesome job. I could see this as part of an Orks shelf display mimicking the famous painting of George Washington crossing the Delaware. I wouldn't worry overmuch about the flag desecration laws. The 1968 Act was replaced in 1989 and essentially nullified in 1990. Every single case that was brought using any of the acts went to the Supreme Court where it was thrown out, overturned or invalidated because it was an egregious violation of Free Speech. I mean let's face it, the notion of "protecting" the flag only came about in '68 to thwart the Free Speech of hippies and black nationalists - I'm surprised it took until '90 to finally invalidate it.
orkybenji


2016-06-03 18:48:19



Make America Orky Again

You must be logged in to post comments.

Image Details:
Resolution:
1263x1291
Uploaded:
2011-04-17 17:13:08