| | |
| --- | --- |
| Tallarn sniper side | Created by Mieskettu |
| Paintjob Rating: 7.5 | Number of Views: 3740 |
| Coolness Rating: 8 | Number of Votes: 11 |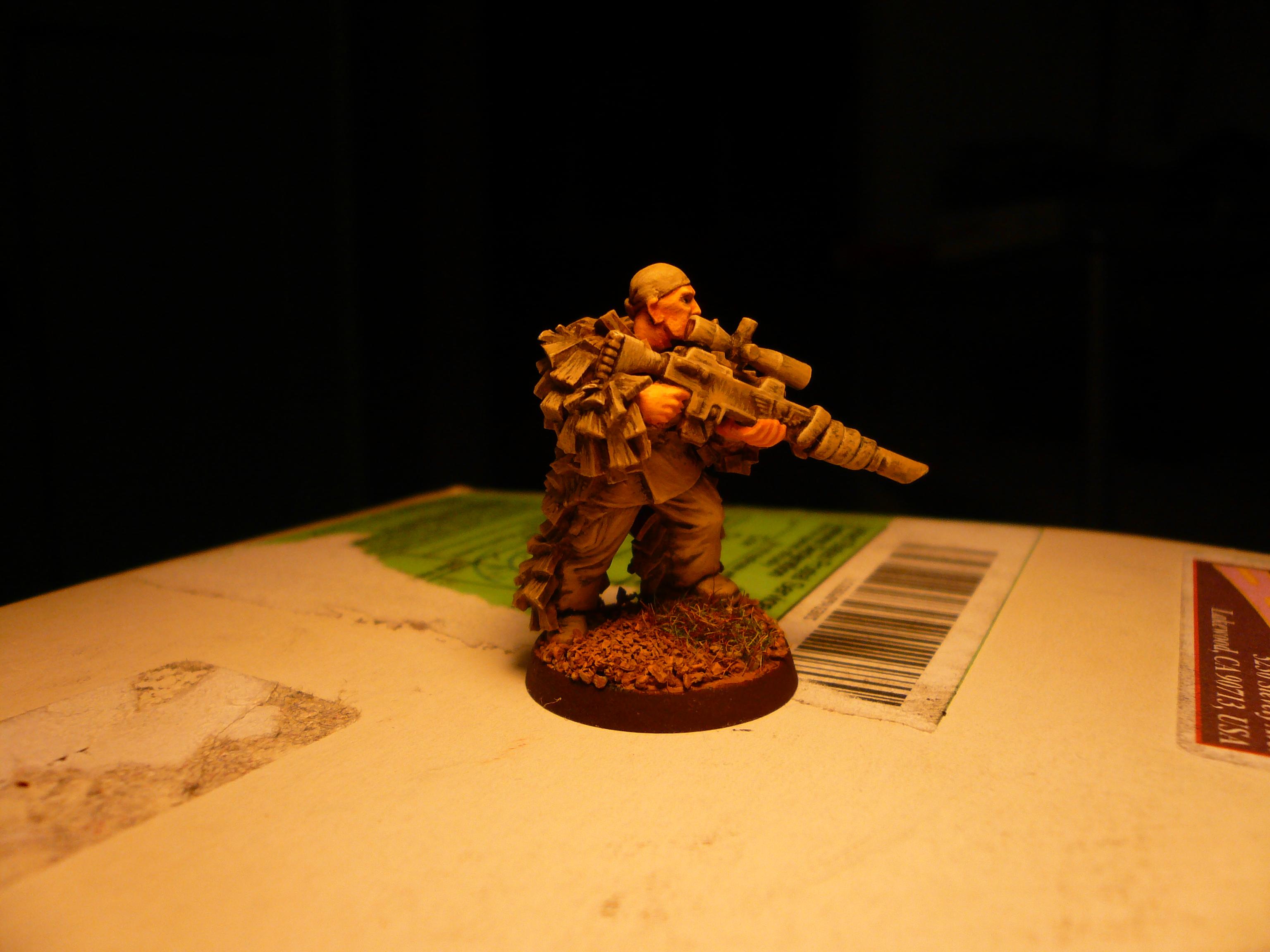 Image Description:
Tallarn sniper with furry ghillie suit and longlas sniper rifle. The ghillie suit is made of the spare plastic sprues frames. All you need is to cut it into those brush like shapes. Once you got enough bit ready start to glue them on top of each other starting from the boots. The long las is a standard lasgun from the Cadian sprue. I carved a new barrel and flash hider. The idea was to mimic the barrel and flash hider of the metal Cadian sniper figures. I did not like the scopes on GW sniper figures and I really wanted somthing more realistic. The scope was also carved from left over sprue frame. The adjustment knobs on the scope was glued on after finishing the basic shape of the scope. Some green stuff was used as camolfage on the barrel. The clip was also shortened to further enhance the sleek appearance of a sniper rifle. The sleeves of the jacket and trousers were both extended with green stuff to give the correct look of a ghillie suit. A ghillie suit is worn on top of a BDU so it needs to look loose. You can´t really see but I also used green stuff to give the figure a hood. But as the hood is laid back, you can´t see it from this angle.

Comments:


AndyMcmahon


Painting 8/10, Coolness 9/10 @ 2011-10-20 01:33:37



Nice good job
Brushfire


Painting 8/10, Coolness 10/10 @ 2013-05-01 14:41:05



" All you need is to cut it into those brush like shapes" You are too modest. That is some superhuman modelling effort you did--and it came off brilliantly.

You must be logged in to post comments.