| | |
| --- | --- |
| Grey Knight Terminator Front | Created by wyomingfox |
| Paintjob Rating: 5.64 | Number of Views: 6251 |
| Coolness Rating: 5.71 | Number of Votes: 18 |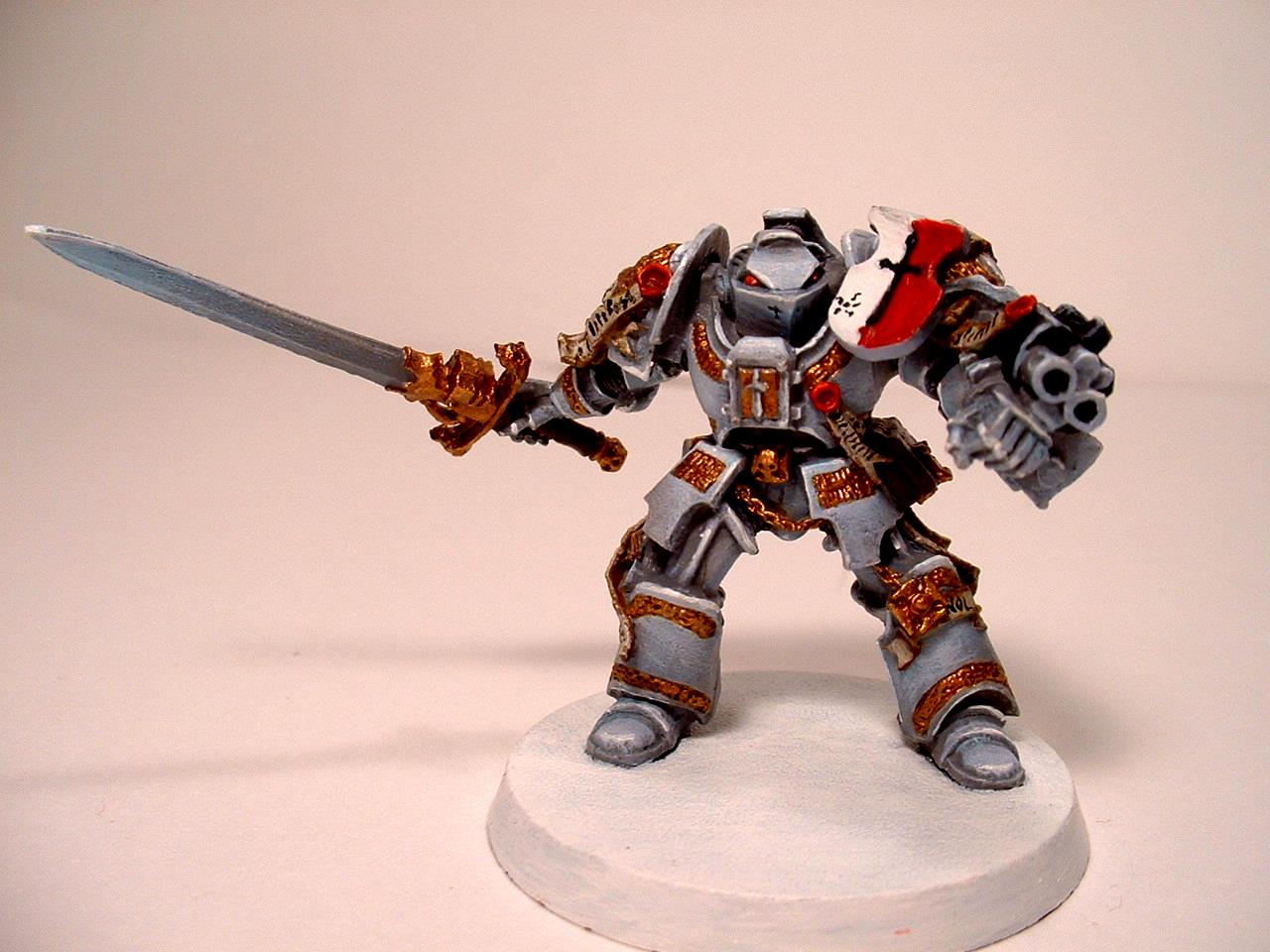 Image Description:
This was my test piece for my color concept that I painted up around 4 years ago. 1) The armour and sword blade was done using a targeted drybrush technique and started with a base coat of cold grey followed by a very light wash with black (3 parts water: 1 part ink). I then built the base up with progressively with wolf grey followed by ghost grey which where dry brushed on with a very small brush. I then painted a light blue ink glaze over the armour before lining the most extreme edges in white. 2) The gold gilding was done by first painting a base coat of Brassy Brass followed by glorious gold. I then washed the area with a 1:1 ratio of brown ink and water. I then drybrushed glorious gold followed by a Chestnut glaze. For my next models, I might change it up and instead go with a base coat of 1:1 of Glorious Gold and Charred Brown. Then build it up with Glorious Gold followed by a wash of devlan mud. Then Polished Gold followed up with a light highlight of a 1:1 mix of polished gold and silver. Lastly the combo will be washed with gryphonne sepia. 3) The Red Heraldry and seals were based coated in Gory red and the edges lined with bloody red which was then finished of with a red ink glaze. 4) The parchment was done with a base of beasty brown that was built up with progressively lighter highlights mixing beasty brown and bleached bone, with a final highlight being bleached bone. Writing was painted on using black but in going forward, I will probably use charred brown. 5) The gun casing was based black and then highlighted with sombre grey. The most prominent edges were then lined with wolf grey.

Comments:


cookj


Painting 10/10, Coolness 10/10 @ 2009-11-30 17:00:01



That is so cool im think about starting demon hunter there lokk so cool.

You must be logged in to post comments.