| | |
| --- | --- |
| main view | Created by walker90234 |
| Paintjob Rating: 7 | Number of Views: 6068 |
| Coolness Rating: 8.1 | Number of Votes: 13 |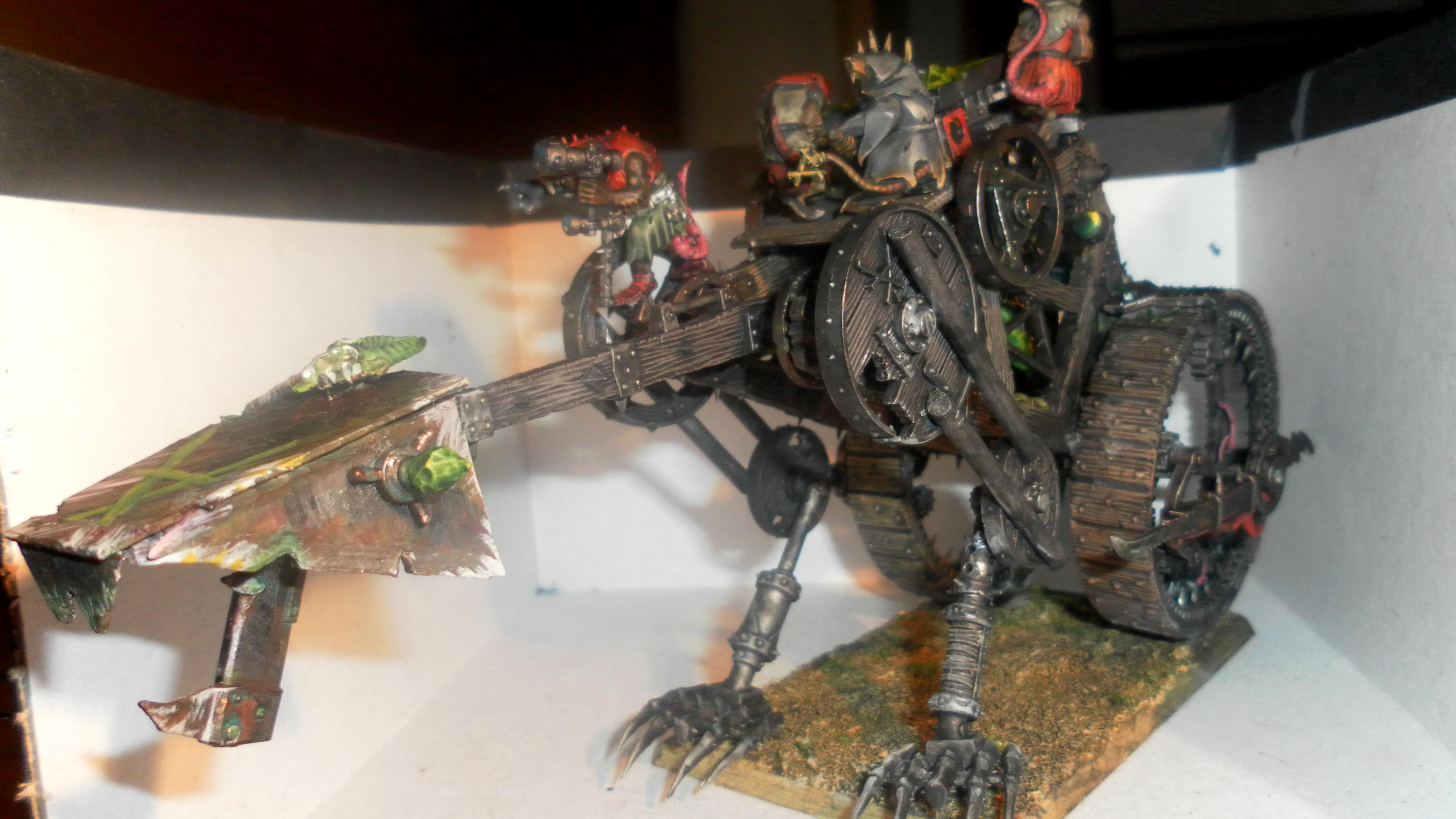 Image Description:
this is the main view of my Clan Skyre tunnel beast, which i use as a hell pit abommination. The Tunnel beast is one of those ingenious blends of engineering and magic that only the cunning minds of the skaven engineers of clan skyre can concieve of. The tunnel beast is one of those forgotten pieces of skaven technology, much like the dreaded avalanche cannon, or the buzzsaw bomb, that was used but once, before being lost in the dusty pages of history. And thank goodness for the surface dwellers that it was, for this piece of machiery is by far one of the most devastating that the skaven have ever employued. Lumbering across the battlefield in fits and starts, (due to the erraticism of its dreaded warstone generator, and the speed with which the warlock engineer can goad its rat propulsion) it looks like nothing so much as a giant mechanical rat. though laughable when first sighted, this monstrosity will soon become the focus of every gunman in an empire battleline, as they struggle to bring down this nigh unstopable contraption. seeming to absorb every shot it takes, the heavy armour of the tunnel beast pushes forward through withering volleys of fire layed down upon it, as the frenzied rat crew (high on pwdered warpstone) struggle to pump enough power into the beast to keep it going. if the machine does suffer a blow strong enough to incapacitate it, it is only a matter of time before the skaven crew manage to crawl inside and get the destructive engine started again. if they fail at that, then it wont take long for them to rig the engine to blow, releasing volley upon volley of razor edged shrapnel. It was finally brought down in the dwarf stronghold of khaazad khan when the dwarven engineers doused it with a gout of flame from one of their fire throwers, starting a blaze in the belly of the beast that quickly grew, preventing the rat crew from doing anything to fix the monstrosity, except to pump more energy into the warpstone generator, and hope that it kept moving.
Image Tags: Contraption, Conversion, Engineer, Hell, Hellpit, Lightning, Pit, Skaven, Skyre, Steam Punk, Warp


Comments:


lindsay40k


Painting 6/10, Coolness 9/10 @ 2011-06-20 00:13:21



I knew what this was as soon as I saw it, great concept and groovy realisation of it!
richardrijneveen


2011-07-25 17:45:53



now thats is creative

You must be logged in to post comments.