| | |
| --- | --- |
| | Created by gameandwatch |
| Paintjob Rating: 7.12 | Number of Views: 3969 |
| Coolness Rating: 8.38 | Number of Votes: 30 |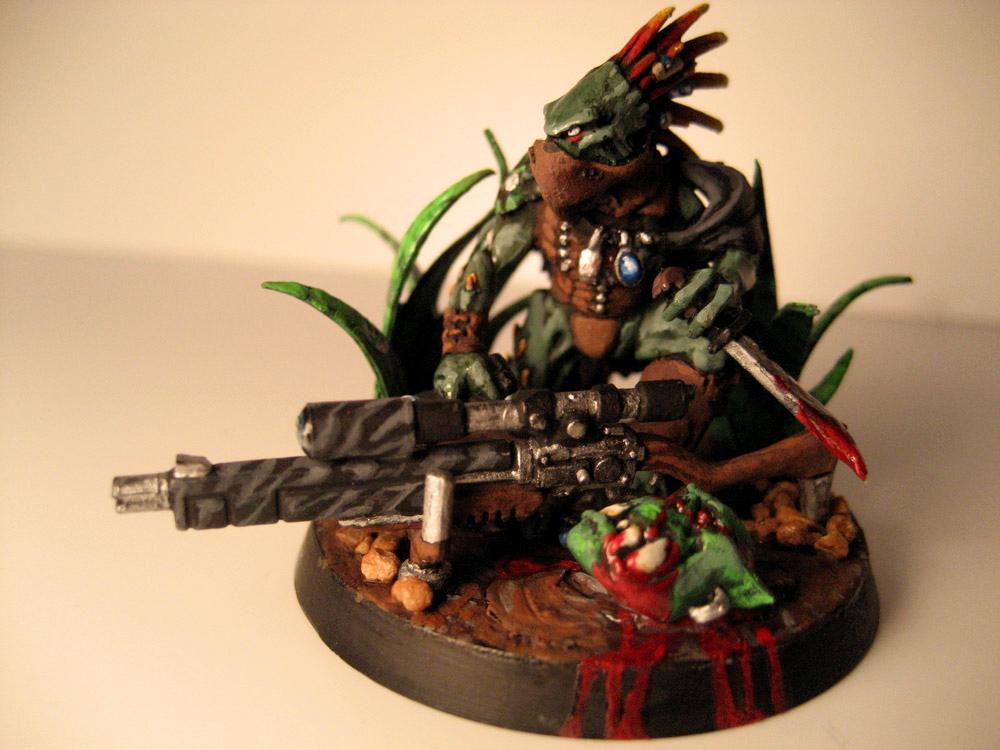 Image Description:
Quotes from Hunter Shaper Kel'e'tec: "Entry 26: Its a damp, cold distressed evening, not much good prey. Been sitting for seven nic(hours), nothing but a few void panthers. Not like I enjoy waiting, but the exhilaration of the hunt keeps me anxious. Prey will come... Entry 31: Moved four neca( klicks) further into the jungle; the master spoke of how loud and easily ambushed these ork prey are, but for an obnoxious bunch, they have eluded us quite well. This only increases my thirst to find them, elusive prey always tastes so much better! Entry39: Finally my hunters and I have located the orks, they are unaware of our presense and my children are getting wary, unsettled by hunger and ever begging me to say the word. They are hungry...good, they must learn patience, learn to savor the thrill of the hunt. Entry 44: Finally! The time had come! We waited until the last possible moment and closed the trap! Within seconds, half the orks were dead, the rest scramblingto collect themselves. The one that led them tried to keep order within his herd, but found this was only possible by executing a few of them. Grrr... I heard my children hiss, they disliked the idea of not being able to dispatch the quarry themselves, but I paid no mind, makes the meat that much easier to collect! Final Entry: We pursued the fleeing orks through the jungle for two more neca, picking off the stragglers to keep them running. The screams of my children's glee is inspiring, a priveledged few may make great shapers some day. Now it was my turn to show them why I was shaper, I put down all but the leader with my custom rifle, modified over the decades to be even deadlier and leave less shrapnel to pick out afterward. I wanted to take the leader with my knife. He struggled to hold his fear at bay, watching me dart from bush to push. Then the moment came, I lept out of the bush to his flank and in one stroke seperated his head from his shoulders. At that moment, my children realized, they still have much to learn."

Comments:


Squat Kid


2011-10-04 00:42:33



I dig this
Brother Azul


2011-10-04 07:11:04



Good little diorama. I like the blood running down the side of the base. Its the the little touchs like the (im assuming) soulstone that make things like this standout.
De_soap


2013-01-21 09:54:27



Kroot job, man!

You must be logged in to post comments.