| | |
| --- | --- |
| St. Iohannes, Mortis Dreadnought | Created by heartserenade |
| Paintjob Rating: 8.09 | Number of Views: 5191 |
| Coolness Rating: 8.64 | Number of Votes: 14 |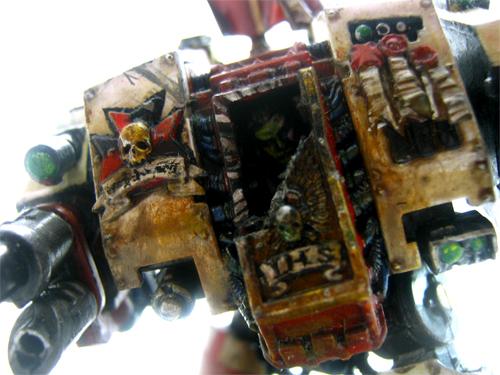 Image Description:
I've always been a fan of rifleman dreads, but with the conversion parts available... not so much. I like it to have a single barrel but I have to represent it being twin-linked, so I put a bit of lascannon on the bottom of each barrel. And those two barrels came from a cheap plastic Chinese toy... for like $2 each. Talk about saving money. I also put stuff inside the dreadnought body. In fact, you can remove the top and front part to see the "decaying" body complete with gadgets that keeps it in a stasis, which I'll be showing on my details gallery. If you look close enough you can see the front sarcophagus is broken and a head covered in greenish OSL is peeking out. Tons of freehand on this one, too. I'm particularly fond of the eagle part, which i believe I could've done better but so far, I'm content with it. Fluffwise this dreadnought is part of a 4-dreadnought team based on the Four Evangelists (yes, my army is based on Catholic lore since it is also based on the Knights Templar), and this one represents St. John the Beloved. Hence, the eagle insignia on top.
Image Tags: Black Templars, Conversion, Custom Chapter, Dreadnought, Freehand, Kitbash, Knights, Mortis, Rifleman, Space Marines, Templar


Comments:
No comments have been added yet. Be the first! People love to hear what others think about their projects so please let them know.

You must be logged in to post comments.