| | |
| --- | --- |
| Bernard Clairvaux, Chapter Librarian | Created by heartserenade |
| Paintjob Rating: 8 | Number of Views: 2923 |
| Coolness Rating: 8 | Number of Votes: 16 |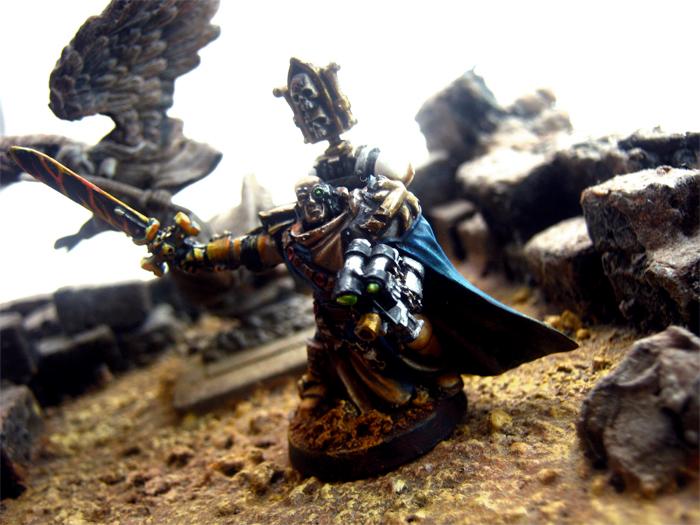 Image Description:
This model is part of the sorta-fail Finecast Sword Brethren models my friend gave me: the model has bubbles and a head that suggests it had a mild stroke. So, a perfect conversion opportunity! I turned the bbubbles into battle damages, replaced the head and replaced the resin blade (which broke off while i was busy chopping of the head) with a plastic one. To keep the knight theme, I made the robes quartered blue and chapter-white, unlike my first librarian which has an all-blue outfit. To contrast the blue, I put flame-like patterns on the sword as an excuse to have a bit of orange on the model. Like on my previous model, I didn't put a psychic hood on, since I think it'll ruin the Templar Knight look. Instead, I opted for what I call the "skull shrine" on the backpack to represent the psychic hood--now it's a device that can focus Warp energies and disrupt enemy casters. I'm still unhappy with the base so I might replace it later on, but it'll do for now.
Image Tags: Black Templars, Conversion, Custom Chapter, Headquarters, Kitbash, Knights, Librarian, Object Source Lighting, Power Sword, Psyker, Space Marines, Sword Brethren, Templar, Terrain


Comments:
No comments have been added yet. Be the first! People love to hear what others think about their projects so please let them know.

You must be logged in to post comments.