| | |
| --- | --- |
| St. Marcus, Frontline Dreadnought | Created by heartserenade |
| Paintjob Rating: 8.08 | Number of Views: 3332 |
| Coolness Rating: 8.62 | Number of Votes: 17 |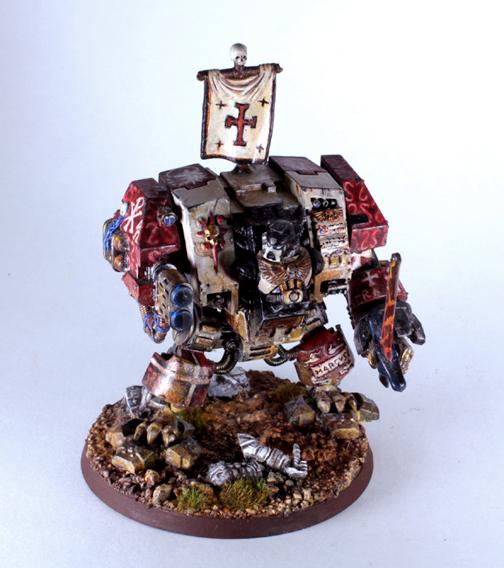 Image Description:
Technically also part of m old army, but I still find this dreadnought serviceable. My friend gave me his AOBR dread and the first thing that came to my mind is... EVERYONE HAS AN AOBR DREAD. I don't want to have one thattotally looks like the others, so this became my first conversion piece. I like the idea of it having a sword to represent a DCCW, so I chopped off a plastic knight toy's left hand and stuck it there. I also chopped off some poor lion toy's feet and placed it on the dread to represent the lion aspect more (more on that later). Finally, a spare tac squad head and front armor is placed on the front sarcophagus: who said that only terminator bodies are allowed for dreadnought conversions? The pattern on the arms is blatantly copied from a FW dread photo. I also placed a lion head with a halo on the dreadnoughts top, some Chi-Rho and Alpha Omega signs, and lots of crosses here and there. The stormbolter got modified to represent a heavy flamer... I'm using Vulkan after all. Fluffwise this dreadnought is part of a 4-dreadnought team based on the Four Evangelists (yes, my army is based on Catholic lore since it is also based on the Knights Templar), and this one represents St. Mark. Hence, the lion insignia and lion feet.

Comments:


Man Spider27


2011-11-12 20:30:20



Lovely. The banner does look a little like a Swastika though. Sorry :P
heartserenade


2011-11-13 12:44:28



It's a variation of a Jerusalem cross (also known as the Crusader's Cross), characterized by the four small crosses that symbolizes the four evangelists. Well, to be fair a swastika is also a variation of a cross, but I think this one is definitely not one.

You must be logged in to post comments.