| | |
| --- | --- |
| C'tan Shard Of The Nightbringer | Created by BrassScorpion |
| Paintjob Rating: 8.48 | Number of Views: 3991 |
| Coolness Rating: 8.61 | Number of Votes: 29 |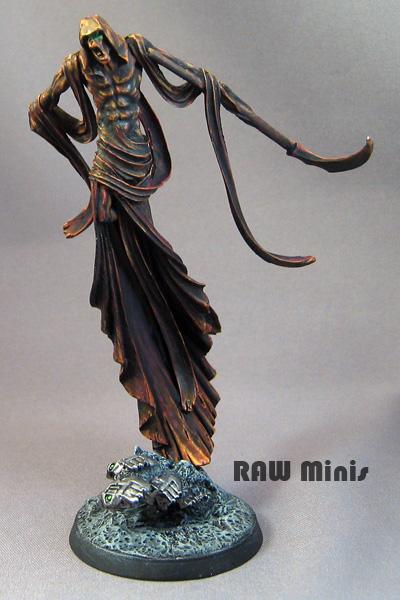 Image Description:
No model exemplifies the advantages of Finecast any better than the Necron Nightrbringer. What used to be a fiddly job to assemble in metal goes together in no time after the mold lines and flash are cleaned up. This was one of the most perfect and clean looking Finecast models I've worked on yet and it was cleaned up and assembled in minutes. After undercoating the model in black I carefully built up several successive layers of progressively narrower and brighter red coloring from the lowest areas to the highest starting with Scab Red, then Red Gore, Blood Red, Blazing Orange and finally a tinge of Fiery Orange (I have an ancient pot of the out of production colour, mix a little Sunburst Yellow with Blazing Orange as a substitute). The glowing green eyes are Snot Green followed by thinned Dark Angels Green, then more Snot Green, Scorpion Green and a tiny speck of Skull White in each eye. I wanted my C'tan Shard of the Nightbringer to appear to be glowing with an unnatural light emanating from all parts of it. To draw attention to the scythe I added a bit of Sunburst Yellow with a bit of Skull White on the tip of the weapon making it the brightest glowing spot on the model. This is the first model I've painted for my Necron army and his sinister presence will serve as an appropriate source of inspiration for completing the rest of the project.

Comments:
No comments have been added yet. Be the first! People love to hear what others think about their projects so please let them know.

You must be logged in to post comments.