| | |
| --- | --- |
| Veteran Loud Gunter | Created by ishkatar |
| Paintjob Rating: 9.48 | Number of Views: 18145 |
| Coolness Rating: 9.83 | Number of Votes: 199 |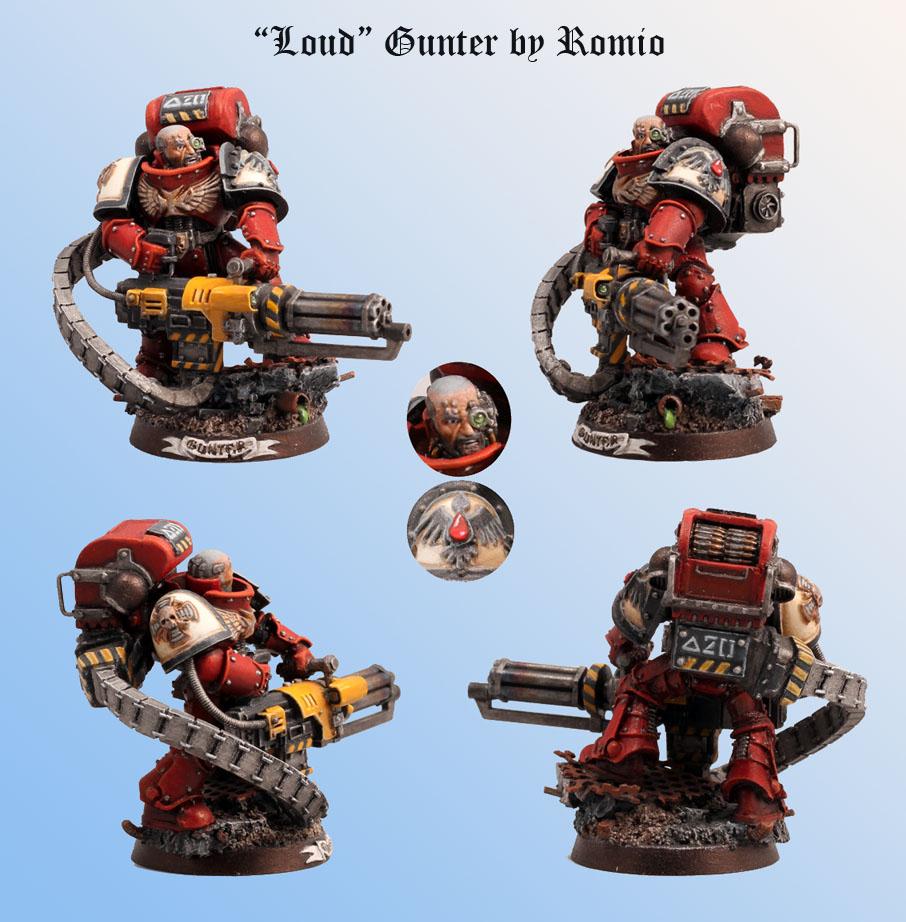 Image Description:
So here he stands tall, "Loud" Gunter, veteran and master of battlefront, famouse not only for his incredible strength, courage and booming voice, but for his weapon of type, rarely seen in the arms of Space Marines - his assault cannon "The Emperor's Roar". This artifact was a gift from Magos Explorator, whos excavation mission was overwhelmed by the horde of rampaging Orc looters and nearly wiped out, when the rescue team, lead by Sergeant Gunter, descended from the orbit right in between, protecting the remaining Techpriests like a living but impenetrable shield. With cold blood and Bolter fire they held the line, yet the numbers of xenos seemed endless... So not to say about the defenders. And it was then he saw an assault cannon amongst other artifacts, recovered by the Techpriests, locked and loaded, ready to spill the blood of unclean, and in a moment later the six-barreled vengeance was risen and the mighty roar flew over the battlefield as the veteran shredded through the greenskin ranks with unbridled wrath and thousands shells. The battle was over in no time as the hundreds Orcs were ripped apart in a blink of an eye. "Now it is yours"; - the Magus said as the echoes of cannon fire died away "The spirit of the weapon has chosen you. THE Emperor himself has chosen you". So the artifact got it's name. And it is interesting to note, that no one of the Expedition can recall the cannon being loaded as it was recovered in unusable condition.
Image Tags: Assault Cannon, Blood Ravens, Conversion, Gunter, Heavy Guy, Minigun, Scratch Build, Space Marines, Veteran, Warhammer 40,000


Comments:


Loricatus Aurora


Painting 9/10, Coolness 10/10 @ 2011-11-28 21:34:05



Awesome
Snrub


2011-11-28 21:40:39



This is amazing. Is the backpack a custom job or from a devestator kit? I love the heating effect you've done on the end of the barrels, very convincing.
Begel Dverl


2011-11-29 00:07:07



We make good team!
AndyMcmahon


Painting 10/10, Coolness 10/10 @ 2011-11-29 02:46:14



Like this very nice great work mate
landcruiserlarry


Painting 10/10, Coolness 10/10 @ 2011-11-29 04:15:04



"If it bleeds, we can kill it..."
ishkatar


2011-11-29 18:09:32



Thanks everyone for your attention! @Snrub The backpack is a scratch build from a default SM backpack, some plastic, GS and random junk. You can see the whole process in my topic, or in the WIP album.
Hell_Jumper_056


2011-11-30 02:49:45



love it!
black templar


2011-11-30 18:43:03



Cool now I want to make one.
Tzza'hkarthemighty


2011-12-04 21:56:41



Wow, really nice - love the blood ravens chapter, done them great credit!! :)
MajorTom11


Painting 9/10, Coolness 10/10 @ 2011-12-05 03:52:07



Great pose, great colors, love it! Excellent conversion!
djdutton


2011-12-05 06:57:52



Very good paint job and I love to see people put a story behind their models. Great work!
TechMarine1


Painting 10/10, Coolness 10/10 @ 2011-12-20 17:48:42



AMAZING!!!
Mechanicus Mechanism


2011-12-23 19:44:25



NEED !!!!!!!
MrMerlin


Painting 8/10, Coolness 10/10 @ 2011-12-27 20:21:57



Very good job!
MrMerlin


Painting 8/10, Coolness 10/10 @ 2011-12-31 10:43:06



wait a sec, I just ralized I only gave this 8 for painting....dont know why, but it deserves better. Sorry
ishkatar


2011-12-31 11:00:41



It's nevermind, MrMerlin. In fact, 8 seems to be a quite adequate score in compare with so many amazingly good painted models in Dakka's gallery. Well, at least I dare to think so =) And thanks everyone for your comments! I'm really touched by your attention.
cimmyj123


2012-01-01 11:51:47



ok,how much do u want 4 it???
Hits_the_spot


Painting 8/10, Coolness 10/10 @ 2012-01-01 18:53:59



I really do live this mini, it's a concept I'd been toying with for an age. You beat me to it tho. Iv given it and 8 for painting, it could easily be a 9 if there were a little more depth and contrast to the red, and a little but of weathering. Great mini nun the less, one to be proud of.
mingus89


Painting 10/10, Coolness 10/10 @ 2012-01-03 17:39:49



marry me?
corneilius685


2012-01-06 17:10:20



Assault Cannons look amazing on Marines.....Lets call GW this instant......sweet.

You must be logged in to post comments.