| | |
| --- | --- |
| Astropath Adrik Starsson | Created by Drhoz |
| Paintjob Rating: Need 4 more votes | Number of Views: 2218 |
| Coolness Rating: Need 4 more votes | Number of Votes: 1 |
This image needs more votes. Please use the vote box on the left to rate this image.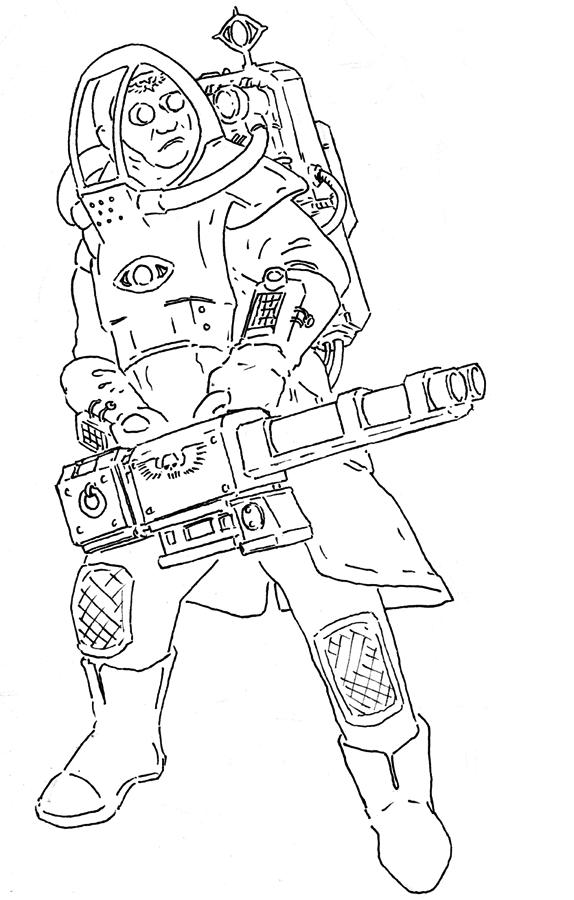 Image Description:
Astropath Adrik of the Rogue Trader starship 'Rose Tattoo'. Native of a feral world prior to the manifestation of his psychic abilities, and supremely fortunate in that he was not only not killed by his neighbours, but strong-willed enough to survive processing, and the Soul-Binding ritual, that makes him the Imperium's equivalent of an interstellar mobile phone. Pictured here in Void Armour, assisting in a boarding action against another ship. Notice the caps over his eyes - he kindly had them installed after his empty eye-sockets kept disturbing the crew - it's not like he needed them anyway - his abilities give him a 360-degree awareness of his surroundings anyway. PC illustration for the Rogue Trader game I'm running. Rogue Trader RPG c. Fantasy Flight Games, Warhammer 40K c. Games Workshop
Image Tags: Artwork, Astropath, Character, Characters, Fantasy Flight, Koronus, Koronus Expanse, Psyker, Rogue Trader, Roleplaying, Rpg, Rpgs, Shot Cannon, Void Suit, Void-suit, Voidsuit, Warhammer 40,000





Comments:
No comments have been added yet. Be the first! People love to hear what others think about their projects so please let them know.

You must be logged in to post comments.