| | |
| --- | --- |
| Rhino inside of track magnet locations | Created by DarkKnights44 |
| Paintjob Rating: Voting Disabled | Number of Views: 492 |
| Coolness Rating: Voting Disabled | Number of Votes: - |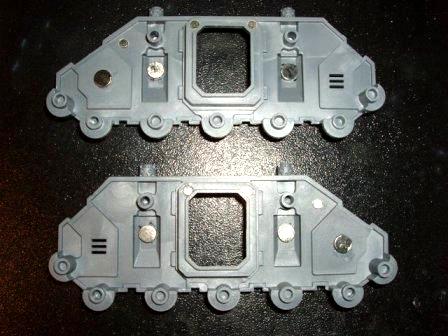 Image Description:
This is the inside of the outer track/side armor. The three larger disc magnets are 1/4" x 1/16" (6mm x 1mm). They are for the side Vindicator armor and the attachment point for the Shield on the front of the Vindicator. The three smaller disc magnets are 1/8" x 1/16" (3mm x 1mm). The two at the top of the hatch entrance are for the Predator side sponsons. The other magnet is for smoke launchers or any other small attachment you might want to add to the tank. I did this since if you have a turret from the Predator, the weapon barrels tend to hit the attachments if they are placed on top of the hull of the tank. Its not necessary, just something I found I didn't like. The three smaller magnets are all drilled flush, but don't show on the other side of the plastic. The larger magnets are all just glued on. One side note, the two larger magnets don't fit flush in the exhaust area, so if you have some smaller magnets that would be better. I used the ones I had on hand.

Comments:
No comments have been added yet. Be the first! People love to hear what others think about their projects so please let them know.

You must be logged in to post comments.