| | |
| --- | --- |
| Grot Warboss Mecha | Created by Proiteus |
| Paintjob Rating: 8.47 | Number of Views: 3582 |
| Coolness Rating: 9.65 | Number of Votes: 22 |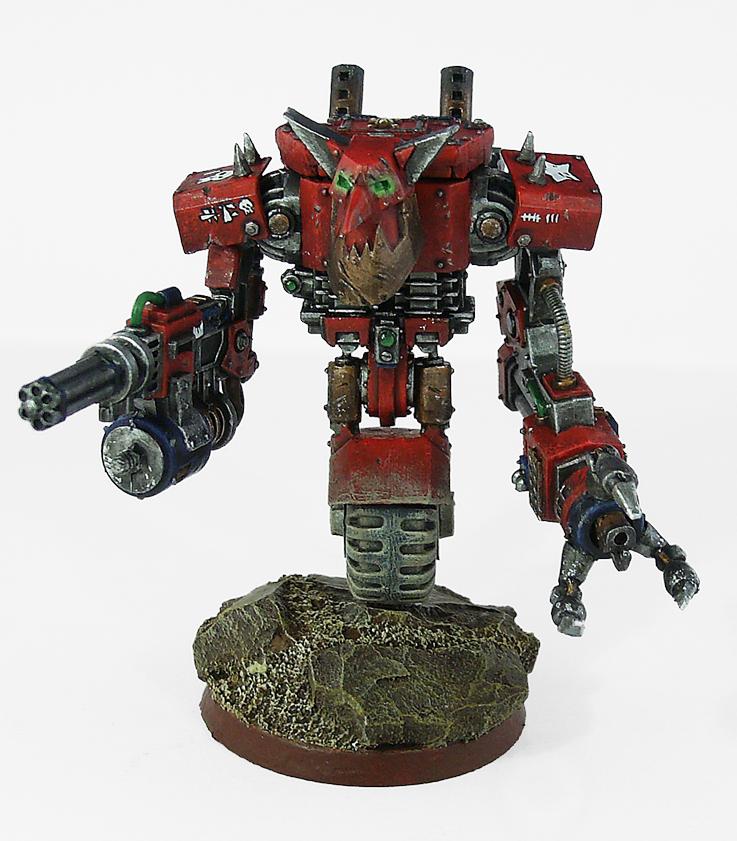 Image Description:
Well here it is Kolonel Grotskull's killy Warbot for my Grot Rebelz army! I used sponging to add battle scratches to the armour and decided to give him glowing eyes which work a lot better than if I had left them dark. I also added the little details such as a Warboss kill count on the right shoulder and Grotskull spelt in Ork Glyphs on the left. Of course his real base will be a 40mm biker base but that hasn't arrived so I used an old resin base for the miniature competition on Monday at Warhammer World. The warbot is more like a battlesuit than a killa kan with Kolonel Grotskull piloting it and taking great joy in it's destructive power. The design was inspired by a youtube animation called 'Teamformers' and it was converted using Killa Kan, Sentinel, Scout Biker and a few other bitz. However while the combi-skotcha, power klaw and speed are represented I need to also represent the biker's dakka cannons so I'll be converting a tau drone to escort the warbot later on.
Image Tags: Battlesuit, Cybork, Goblins, Greenskins, Grots, Killa Kan, Mecha, Orks, Warbike, Warboss, Warhammer 40,000


Comments:


The Surveyor


Painting 8/10, Coolness 10/10 @ 2013-04-12 02:50:31



Real Good WOrk!!!!
Silentspy22


2013-05-20 14:18:15



Zog me, its bootiful!

You must be logged in to post comments.

Image Details:
Resolution:
737x841
Uploaded:
2013-04-11 22:15:55