| | |
| --- | --- |
| Grot Warboss Mecha 2 | Created by Unknown, Uploaded by Proiteus |
| Paintjob Rating: 8.33 | Number of Views: 2573 |
| Coolness Rating: 9.22 | Number of Votes: 12 |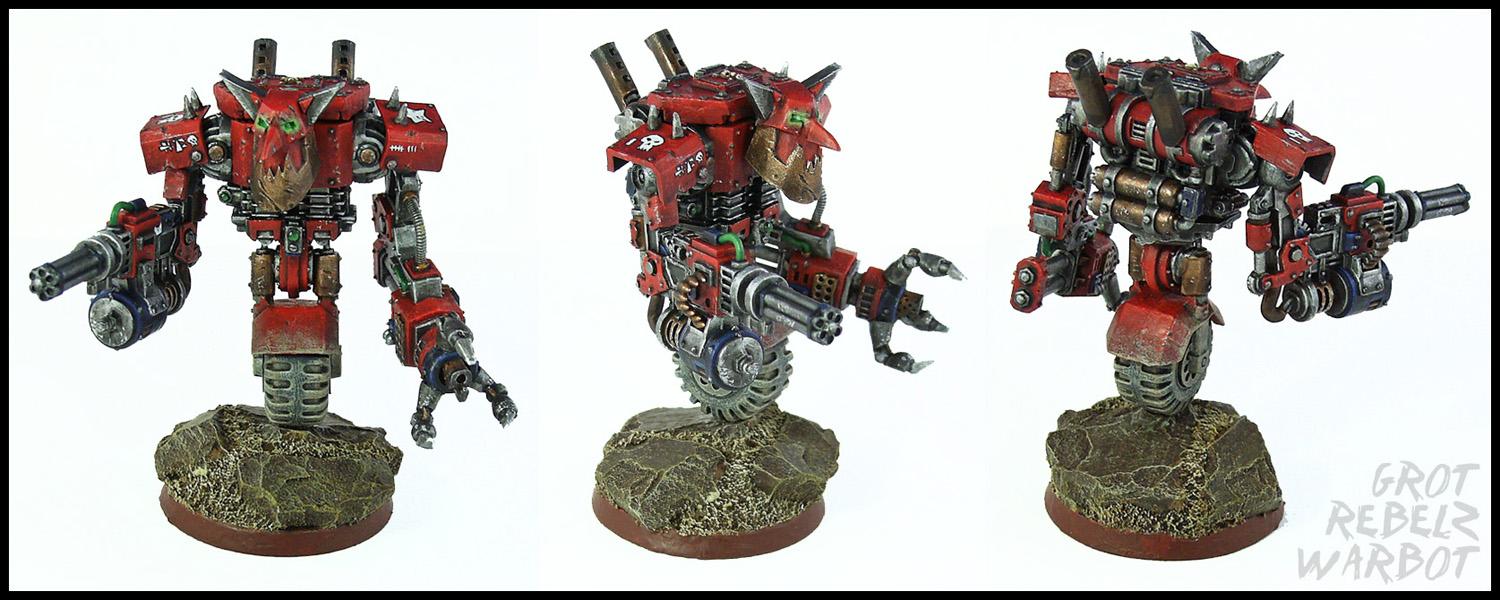 Image Description:
Well here it is Kolonel Grotskull's killy Warbot for my Grot Rebelz army! I used sponging to add battle scratches to the armour and decided to give him glowing eyes which work a lot better than if I had left them dark. I also added the little details such as a Warboss kill count on the right shoulder and Grotskull spelt in Ork Glyphs on the left. Of course his real base will be a 40mm biker base but that hasn't arrived so I used an old resin base for the miniature competition on Monday at Warhammer World. The warbot is more like a battlesuit than a killa kan with Kolonel Grotskull piloting it and taking great joy in it's destructive power. The design was inspired by a youtube animation called 'Teamformers' and it was converted using Killa Kan, Sentinel, Scout Biker and a few other bitz. However while the combi-skotcha, power klaw and speed are represented I need to also represent the biker's dakka cannons so I'll be converting a tau drone to escort the warbot later on.
Image Tags: Battlesuit, Cybork, Goblins, Greenskins, Grots, Killa Kan, Mecha, Orks, Warbike, Warboss, Warhammer 40,000


Comments:
No comments have been added yet. Be the first! People love to hear what others think about their projects so please let them know.

You must be logged in to post comments.