| | |
| --- | --- |
| Leman Russ Exicutioner | Created by BaronIveagh |
| Paintjob Rating: 8.75 | Number of Views: 3044 |
| Coolness Rating: 8.75 | Number of Votes: 6 |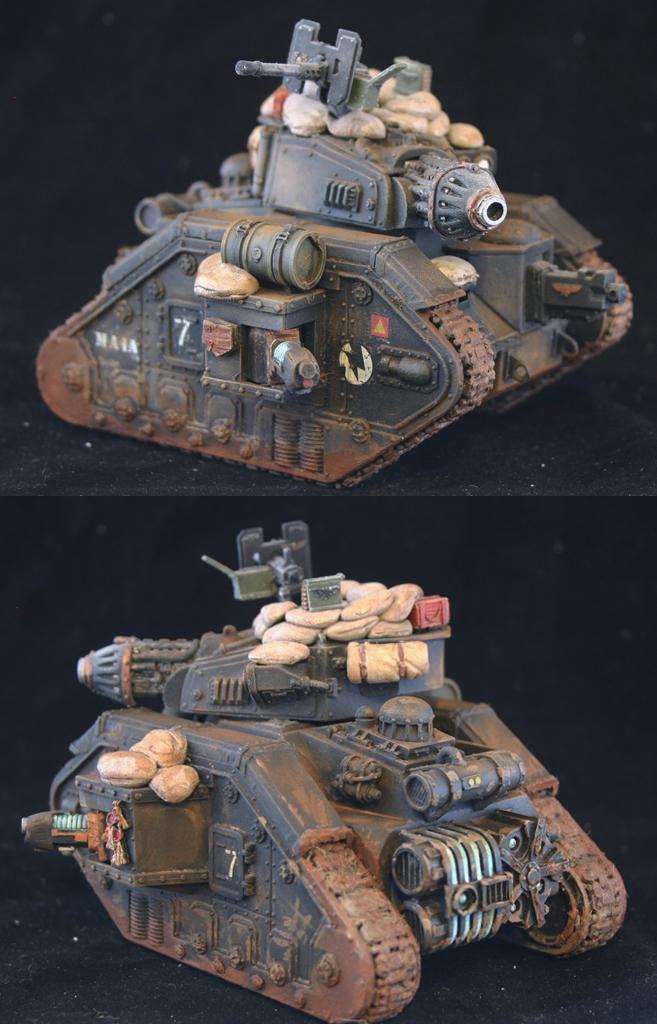 Image Description:
Updated with better image to show off her new bits. This Forgeworld Leman Russ Executioner Commissar Tank, named 'Maia' is also known to my local wargaming group as 'Lucky 7's', and was the most feared member of my old AC list. Mostly because no one could ever manage to kill it. It withstood orbital strikes, volcano cannons, laser destroyers, Vanquisher cannons, power fists, every form of Melta weapon known to 40k at the time, lascannons, missiles (both krak and regular), and even one desperate attempt with a vortex grenade, as well as having a titan try stomping on it. It was immobilized 57 times, and probably went through six dozen sponson gunners and three main weapons. Currently it's retired until a AC list is tourney legal again. While enjoying it's retirement, it does odd jobs in my Rogue Trader rpg games. Now for your question: where is the tank commander? Answer: I never finished the green stuff. I was sculpting a female commissar for it, but ended up rushing the tank out the door for some reason. I forget now. She's probably languishing in a desk drawer someplace waiting for me to find and finish her.

Comments:


Kid_Kyoto


Painting 8/10, Coolness 8/10 @ 2013-05-11 21:22:42



Great looking gritty tank, my only thought is do something wth the sponson plasma cannon barrels, drill them out, paint them blue, something, they kind of stand out now as unfinished. The front heavy bolter also looks like it needs the barrels drilled.

You must be logged in to post comments.

Image Details:
Resolution:
657x1024
Uploaded:
2013-05-11 18:07:28