| | |
| --- | --- |
| My Tank is Dirt! | Created by Kilkrazy |
| Paintjob Rating: 8.35 | Number of Views: 6362 |
| Coolness Rating: 8.4 | Number of Votes: 26 |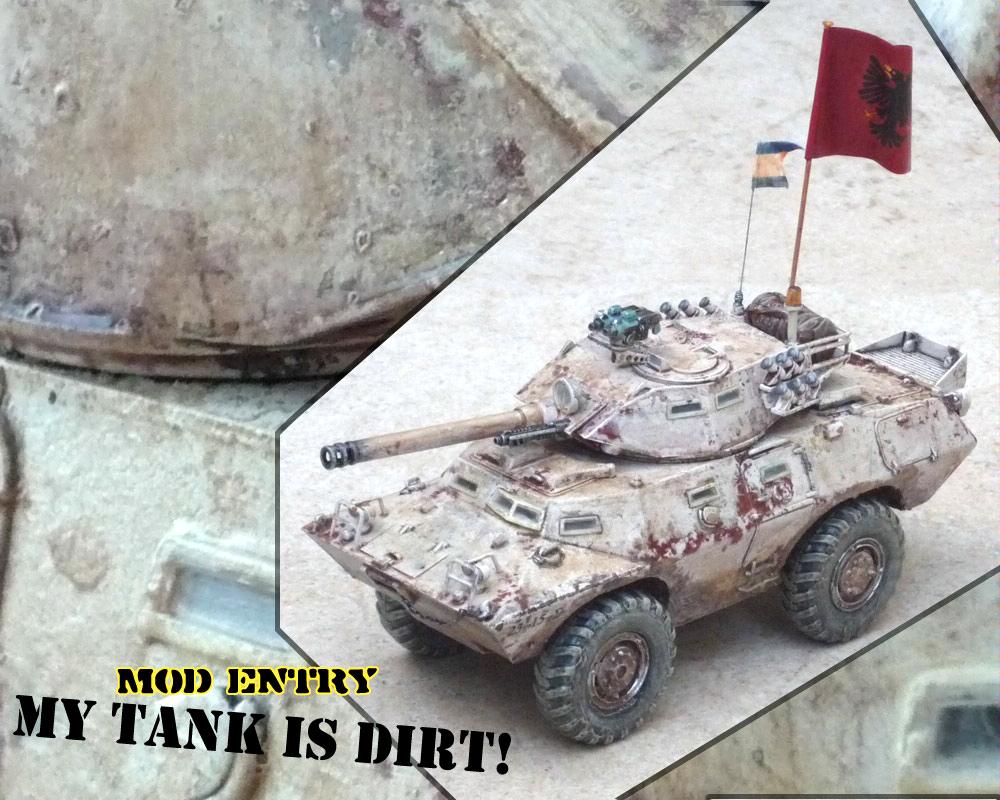 Image Description:
A Chimera of the Planetary Defence Force of Optimus Prime in the Sequelon Sector returns to base after a gruelling long range desert patrol in the "Bone Desert". PDF duties on Optimus Prime consist mainly of patrolling sub-equatorial deserts which stretch nearly 75% around the planet's diameter. These are the main barriers that defend civilized regions in the south from Necron incursions. Wheeled vehicles are preferred for this service since they are much easier to maintain in sandy conditions, which very quickly wear out the running gear of tracked vehicles. They are also easy to environmentally seal, which makes them swimmable without preparation in flooded wadis. This tank can be seen to have swum a wadi recently -- damp mud still clings to its lower hull. The desert environment is arduous and takes its toll on equipment. Dust, sand and condensation at night combine with heat expansion and contraction of parts to produce rapid weathering of the vehicle's surface finish. This tank was painted a standard pale desert yellow when it left the factory. It is now scored, faded, blistered, and covered with dust and flaking patches of paint. Some crews add camouflage of their own design to their vehicles, usually patches or stripes of dark green or brown. As a column lead vehicle the tank commander has the honour of hoisting the Imperial standard when he returns to base. During normal operations the flag pole is retracted inside the hull and the banner is stowed away to keep it clean of dirt and fading. The small pennant on the antenna is a field sign. These are used for various signalling and identification purposes. Since they stay aloft until combat is imminent, field pennants fade and stain quickly and are usually replaced after every patrol. On return to barracks, the vehicle commander will report to HQ. His crew will take their vehicle to the maintenance depot where it will be carefully washed, inspected and repainted in readiness for its next mission.

Comments:


infilTRAITOR


Painting 9/10, Coolness 9/10 @ 2009-11-25 22:10:29



Absolutely positively adore this. One of the most realistic paint jobs I have ever seen
Kilkrazy


Painting 9/10, Coolness 8/10 @ 2009-11-27 09:45:25



Thanks for your praise! I had a lot of fun doing it. It was actually the first model I've tried such extensive weathering on and it is not as hard as it might look though it takes a long time to finish because you have to put lots of washes on.
Ratbarf


2010-04-18 15:49:44



What kit/kits did you use for that?
Kilkrazy


Painting 9/10, Coolness 8/10 @ 2010-04-20 16:13:23



The vehicle is a 135th scale Hobby Boss kit. 82422 LAV-150 Commando AFV w/ Cockerill 90mm Gun I replaced the main gun with plastic rod, keeping the muzzle brake. I replaced the coaxial MG with a CAD gun from the Hasslefree Miniatures range. The pintle MG was replaced with a twin gun made of two Hasslefree guns. The aerial and flagpole are carbon fibre rod. The strobe light came from Accurate Armour, mounted on a bit of plastic rod. The baggage came from a Tamiya M113A2 kit. The rest of it is the original kit.
LooT


2010-05-15 09:50:43



We don't need no steenkin' tracks!

You must be logged in to post comments.

Image Details:
Resolution:
1000x800
Uploaded:
2009-11-09 13:38:09