| | |
| --- | --- |
| Combined Front Facing | Created by MasterXIX |
| Paintjob Rating: Need 5 more votes | Number of Views: 869 |
| Coolness Rating: Need 5 more votes | Number of Votes: 0 |
This image needs more votes. Please use the vote box on the left to rate this image.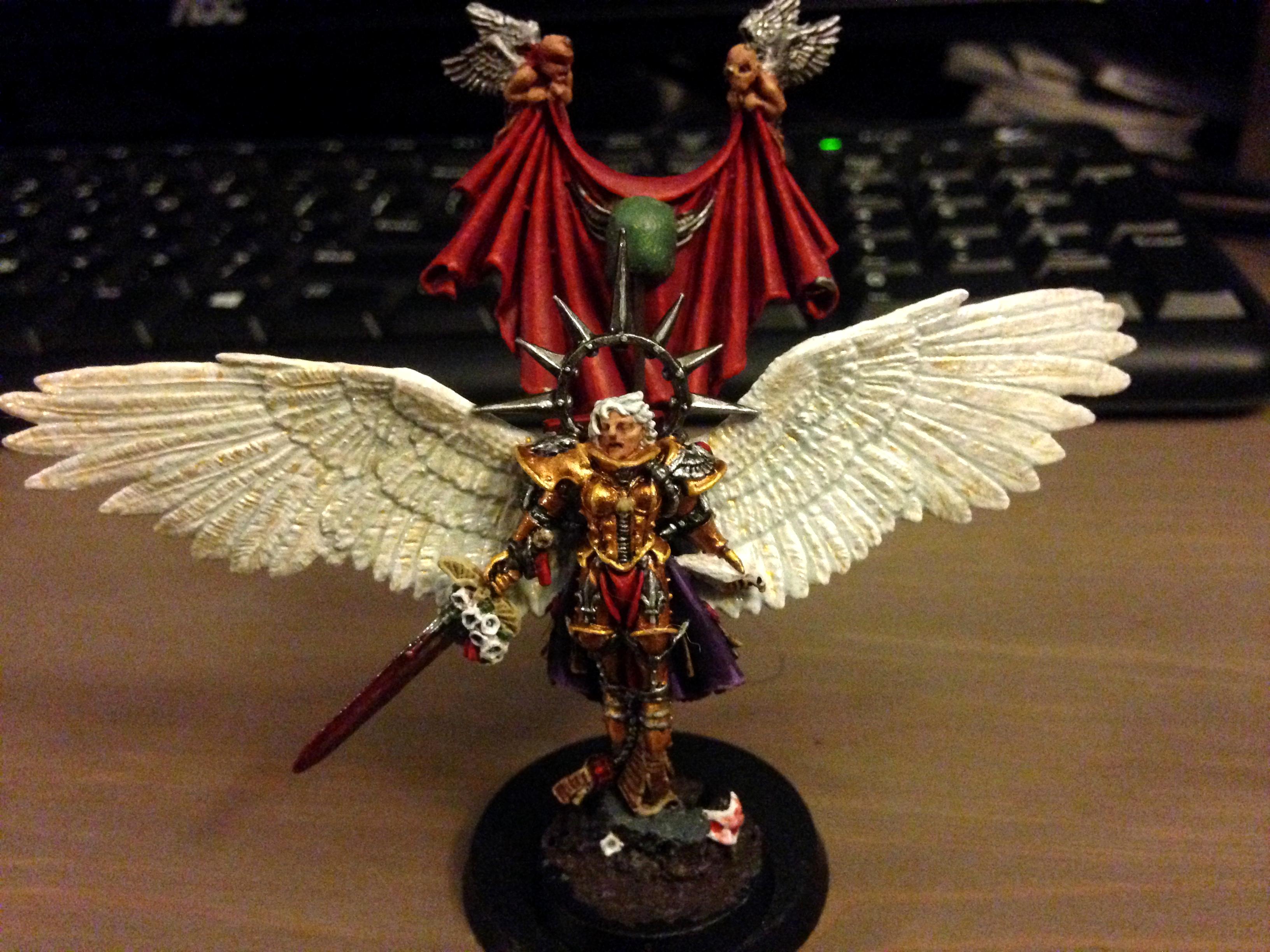 Image Description:
This past year, I saw the Celestine model, and liked it. However, when looking at the fluff that GW has for Celestine, I noted that the fluff has her with wings. Since I'm doing these models for fun, I felt the urge to whizywig her some wings. I used the plastic pegasus wings from GW ($9) for the wings. This brings the whole price up to just under $30 for both her and the wings, not including paint. I removed the jetpack which comes with the model in order to fit the wings to her back. As a result, I needed to do some additional modifying. You see, the drapes, which I've covered in green stuff, has a hole to slot into the jet pack, which slots into her back. Also, I needed to cut the Iron Halo off of the jet pack, and attach it to her shoulder pauldrons. This is why the Iron Halo does not have it's full circle, but is a half circle, since I needed to cut it down to size in order to fit it onto both her shoulder pauldrons and fit between the wings. After that, it was a simple matter of painting her up. I used white scar on her wings, with ulthuan grey to outline EACH AND EVERY FEATHER. If anyone could suggest an easier way of outlining/emphasizing the feathers I would appreciate it. I tried using washes but it ended up changing the overall wing color too much. I also dabbed on some Auric Gold to the wings lightly, not quite dry brushing, to get the golden glimmer onto her wings. Then, I added a Storm Shield on her back to cover some shaved off detail, and walla. Please let me know what you think of the model, and what I could improve on and how! Thanks!

Comments:
No comments have been added yet. Be the first! People love to hear what others think about their projects so please let them know.

You must be logged in to post comments.

Image Details:
Resolution:
3264x2448
Uploaded:
2015-06-18 10:33:08