| | |
| --- | --- |
| Chapter scheme revisit | Created by Unknown, Uploaded by Vermis |
| Paintjob Rating: Need 5 more votes | Number of Views: 560 |
| Coolness Rating: Need 5 more votes | Number of Votes: 0 |
This image needs more votes. Please use the vote box on the left to rate this image.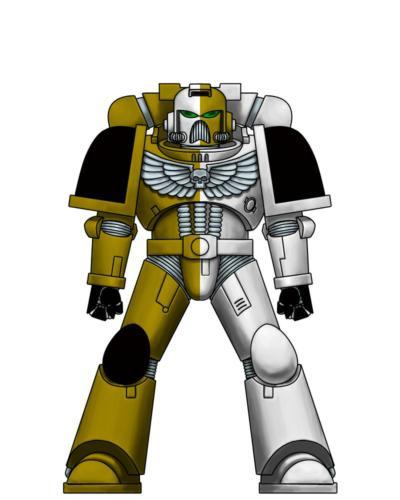 Image Description:
Finally expecting models to paint, so tightening up a few extra features. Although it's an IF successor, the codex-company-colour on the shoulder rims and the red veteran stripe on the helmet look awful on these. So company markings will be on the right kneepad - it'll be gold and black, not solid black. Veteran colours were trickier. An all-white helmet seemed both too much and not enough. (How would you tell it's a vet from the left side?) Flipping that with an all-black helmet was surprisingly unsatisfying - looked like a bobble-headed Darth Vader peering out of a gold'n'white tank. Right white and left black was unbalancing. Simply flipping the gold and white sides seems best out of the options. Skates close to the quartering I wanted to avoid, but gives an impression of codex vet-white from the right, and Blood Angel vet-gold from the left. That'll do for now.
Image Tags: This image has no tags yet.


Comments:
No comments have been added yet. Be the first! People love to hear what others think about their projects so please let them know.

You must be logged in to post comments.

Image Details:
Resolution:
400x500
Uploaded:
2015-10-28 01:58:23