| | |
| --- | --- |
| Tau Fall Out Battlesuit Commander | Created by Unknown, Uploaded by Boundless Realms |
| Paintjob Rating: 9.4 | Number of Views: 1097 |
| Coolness Rating: 8 | Number of Votes: 7 |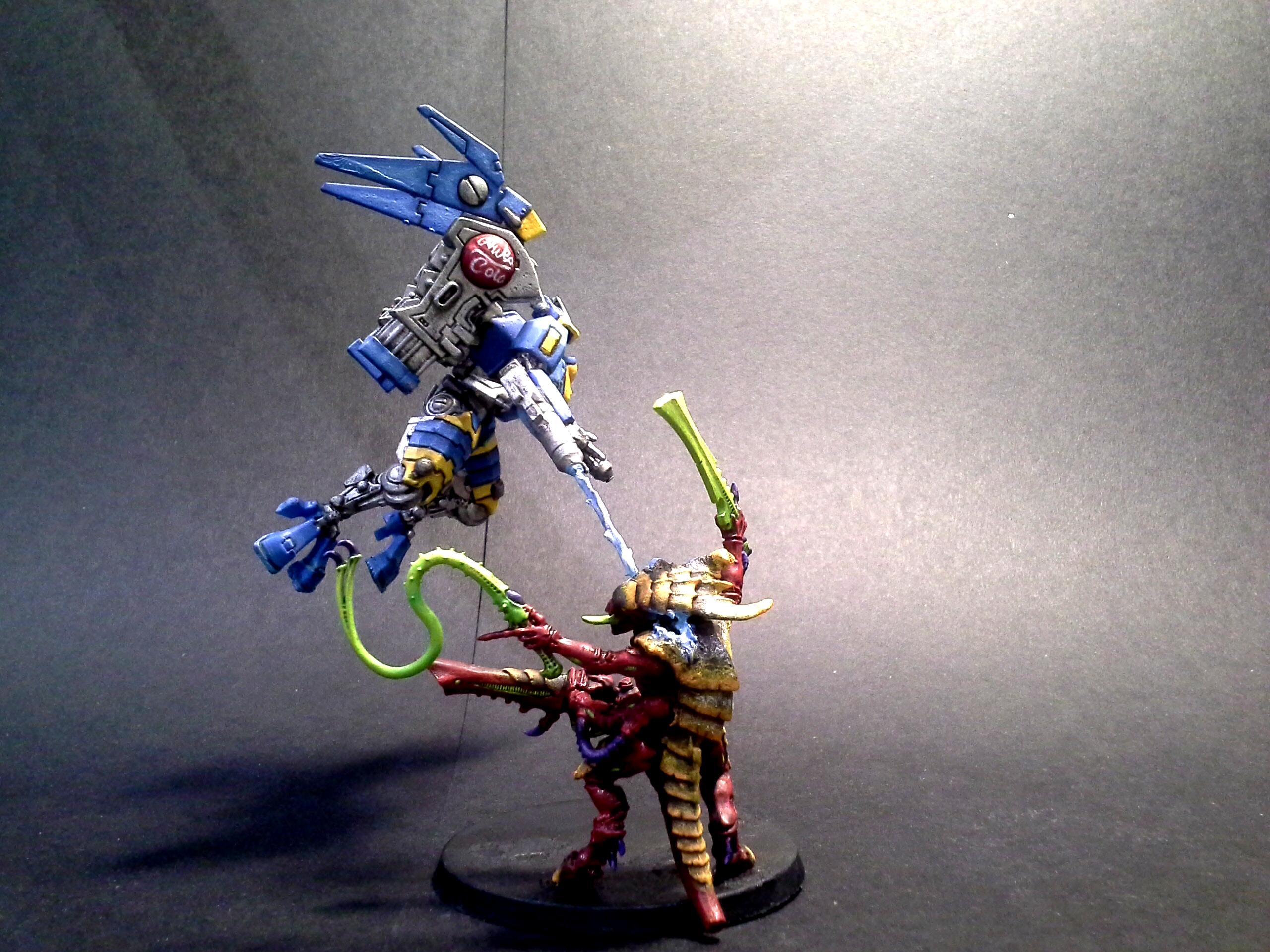 Image Description:
This customer commission features extensive conversion work. The Tau battle suit commander and Tyranid Warrior from Games Workshop's Warhammer 40,000 series were both completely ripped apart and remodeled into some very dynamic position's. The difficult part was getting two very different beings to naturally look like they were interacting with each-other. There were also fears that the model would simply tip over being so weighted on the Tau commanders side. We used one large solid pin to connect the two from the Plasma rifle's barrel to the Nid's head and managed to find the perfect spot and length for balance and the model is surprisingly sturdy. The customer is a massive fan of both Tau and the Fallout games, so we decided to do something a bit special and based the colour scheme on Fallout and spent a bit of time with some custom free-hand. Fallout fans will recognize the Nuka-Cola logo as well as the vault 111 symbol. The Tyranid's colour scheme was based on one of the customer's regular opponents and we added some vivid greens to it so that it had its own focus in this mini-diorama. This has been one of the most enjoyable projects the team has worked on so far and we hope it makes a good birthday present as it was intended. And after all, everyone love's a good head-shot!
Image Tags: 111, Battle, Battlesuit, Conversion, Diorama, Duel, Fallout, Fight, Flying, Head Shot, Mech, Nuka Cola, Object Source Lighting, Plasma, Tau, Tyranids, Warriors


Comments:
No comments have been added yet. Be the first! People love to hear what others think about their projects so please let them know.

You must be logged in to post comments.

Image Details:
Resolution:
2560x1920
Uploaded:
2017-01-02 19:19:34