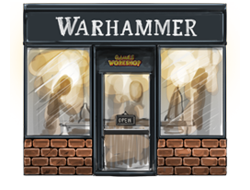 This is intended to be a list of information about your local GW stores. Please add your local store and feel free to edit responsibly (By all means mention unhelpful staff or bad attitudes, but no endless whining, and please don't single out or describe individual members of staff).
Please list state/city first, then store location. (Helps people browsing for stores in their city) Please keep alphabetical.
Update: It's been a long time since some of these reviews have been posted. If you have been to any of these stores that were reviewed 2+ years ago. Please update the reviews if they are no longer accurate!
AUSTRALIA
Ringwood, Victoria 3 4x4 tables - one for each game system, usually. These have been known to be pushed together for apocalypse etc. One Painting Table, seating 6. Staff seem friendly, but I'm not sure if that's because I've been buying stuff just about every time I visit.
Camberwell, Victoria About 6 large gaming tables and a few display tables. Very large store. Plenty of room to walk around and browse without getting in anyone's way. Painting table large enough for 8 or so. Friendly, helpful staff. Music not too load, very nice space to be in. Other gamers / players are often very friendly too.
Miranda roughly 4 large tables (which 2 are introduction, but if you ask them they can free it up for your game if other tables are full) a generally nice staff but seem to tell you every event if you go in and buy a pot of paint, which can be good if your interested in apocalypse events. The store is fairly big for a nice browse and it location is good of which is close to the fast food area. The staff are very friendly and will give you good advice if you want it. One issue is kids, they don't have an age limit so if your going there on the weekend, be ready to face a lot of snotlings (if you know what i mean). They only sell warhammer 40k, fantasy and lord of the rings products. Few competitions and campaigns when new armies are released (always a competition every school holiday). so a fairly good shop but give it 8/10 as it doesn't advertise any other gaming hobbies.
Chermside x2 6 foot long tables and x2 4foot 'intro' tables in a long line down the middle of the store. Large painting table that seats up to 10 people at once. Staff friendly and not too pushy, especially if you are a regular. All staff have been long time regulars. Hordes of kids during school holidays and weekend mornings but can get games vs regulars who are in store painting at most other times.
Hobart, Tasmania Smallish. Part of a larger store which sells comics, anime, and other nerdy culture stuff. Has several large tables in the Battle Bunker behind the counter and main store which can be changed for tabletop games or trading card games. Has a large table in the main store room for RPG players. Shelves are well-organised and the Lord of the Rings shelf is separate from 40K and WHFB. Has shelves dedicated to novels and RPG gaming books. Two large display areas under the counter on the Battle Bunker side. One small display area between the 40K and WHFB shelves. Friendly staff, nice and quiet on weekdays, packed on the weekend. RPG table is always in use by either Dungeons and Dragons or Dark Heresy gamers.
Sydney, Battle Bunker - Only caters for Games Workshop products. Very big, it has fitted over sixty people on certain occasions, but even at these times, there is still room to breath and move around. Within the store part, there are three 4x6foot long tables for general play, with a plethora of terrain, much of it quite imaginative and nice to look at, and three 4x4foot long tables for introductions (black reach, moria, etc). There is also a 'members' area' (you have to have at least a 1000 points army, the rulebook for the respective system, codices, dice and tape measures to become a member), which has 8 4x6foot tables, and you are allowed to eat in there. One large painting table that can sit 8, and a smaller assemble table that can sit 8. Lot's of display cases, displaying the store's armies (they have every army except ogres and dark eldar, which people can use within the store organised games that occur every saturday and thursday evening (and all the time on holidays)), also displaying conversions and some of last years Golden Demon Winners. Staff are very friendly and helpful, and generally don't push too hard to get you to buy things. They remember your names, your projects, and are genuinely interested in your armies, conversions and paintjobs. Many of the people that have worked within this store have gone on to become managers of other stores. A few of them even come in when they aren't scheduled for work. Caters to kids (>15) quite a bit, but there aren't any particuarly annoying regulars. Some of them are even respected regulars. Due to the fact that they organise many big games (we were playing apocalypse before it came out, just without stratagems), there are often hordes of kids. Also organises many other events, such as hobby workshops and painting/converting competitions. It also has toilet facilities. So, all in all, of a very high standard.
Brisbane,City CBD - Good store. Woefully undersized. The staff there are really helpful and friendly. Are happy to spend time talking about stuff. Prob helps I spend alot of $$$ there on my lunch breaks. 4 Tables(rather small ones at that) and a painting table that seats about 4/6. Never game there(Go to "Underworld Games" @ Ipswitch for that- 40 Min drive but well worth it.).
Newcastle, (NSW) CBD Hunter street . Small store. 2x 4x4 tables and a painting table that seats 4 (maybe more if they are [i]close[/i] friends). Staff vary from helpful and friendly to pushy and obnoxious. Smaller than Miranda. It does publicise other events (provided they are for GW games - not necessarily core. ie Bloodbowl) and tournaments and gaming clubs. They only sell HFB, 40k and lotr stuff and the staff are sometimes at a loss if you mention other games when asked "what do you play?". Not an entirely bad store - but its location down the road from a mainline hobby store (where other paints, brushes, glues and terrain can often be purchased for less doesn't help). 6/10.
CANADA
GW Metrotown, Burnaby, B.C. - This store features a painting station, a building table, and up to 7 gaming tables [though three in the front are usually used for product display and intro games, they can also be opened for gaming if it gets busy with players]. Product selection is not the best, especially their narrow section for blisters, but the staff will help you order things in. Most of the staff are relaxed, and will usually not push new releases incessantly, especially if you have been into the store before. The store is situated right next to a Toys r' Us, which can be a pain in the neck at times. However, there is a good crowd of regular players, of both 40k and Fantasy, who come and play on Saturdays [Thursdays for Fantasy]. PLEASE NOTE As of January 24, 2011, this location is no longer in business.
GW Winnipeg, Mb - This store has a painting station, a building table and about 9 (IIRC) gaming tables, but three or so are often Covered in item displays. Fairly good product selection and good staff. Thursday night 40k games and tournaments are held there.
GW Square One, Mississauga, On - This store has an area where you can paint and assemble your models. The store no longer provides paints to work with, so bring your own paints and brushes etc. The staff can be very friendly, but the manager can at times seem very impatient with people. The regulars are very friendly, and there is usually at least 5+ people there a day just hanging out, plus all the people who pop in and out. There are 2 full size playing tables and 1 4x4 table, with lots of terrain to go around. Being in a major mall, you have lots of foot traffic coming into the store, which can be a pro as well as a con. The store regulars all mainly have 40k armies, so that's what you're more likely to find a game for.
FINLAND
Helsinki - Smallish store, with two 4' x 4' tables inside, plus two that can be set outside in the corridor upon request. On occasion you can get a larger one if they're not very busy (as these often mean cutting into available demo table space). Good staff and friendly regulars, very good shopping experience. Always good for a bit of chat or conversion/painting feedback.
SWEDEN
Stockholm - Medium size shop with three 4'x4' gaming tables and miniatures you can borrow to play with. Large dioramas in their windows that you just can stop to watch when the shop isn't open. Friendly staff.
JAPAN
Jimbocho - Small store, but the biggest GW Hobby Center in Tokyo area. Rather friendly staff, with regulars that come in after University (4PM) every day. there are up to four tables, but are only about 90x120CM, or half the size of a 6'x4' table. If the store is not too busy, you may get permission to use two tables, for a nice 6'x4' table. Due to these table size restrictions, regular game sizes played here are about 500-750points. Additionally, GW Jimbocho carries some interesting items that they've put together themselves. Starter packages, conversion kits, etc.
UK
Aberdeen - Friendly store, town centre. massive stock 3 gaming tables downstairs, around 10 - 12 upstairs, 2 painting areas, nice staff, and a constant amount of events/competitions running. i've used a few GW stores and this one ticks all the boxes. Staff offer very good advise
Angel / Islington - New store situated about 1/2 km from Angel tube station. Currently one incredibly friendly guy working there, and has plenty of tables for games with a decent amount of stock. Would definitely recommend you visiting if you're in the area.
Birmingham - BullRing - Friendly staff but a small store that is always very busy. I feel somewhat uncomfortable leaving my models unattended in case someone pilfers them..... Otherwise, not a bad store.
Been to a few times, not bad place staff are friendly and chatty. Possibly my favourite of my local stores.
Birmingham - Walsall - Friendly store with plenty of room. Quite a long thin store with enough space for about 4/5 games to be going on at once. Never met anyone I Didn't like there. Staff always seem to be chatty & willing to change terrain/table surfaces etc. Can be full of children but hey, I guess were all young at heart.
I tend not to go here much as the staff launch a assault onto as soon as you step over the thresh hold. I also asked a few questions about a particular army and they didn't know. Also didn't seem interested in what I had to say. Birmingham - Walsall - Total change. Last time I went there there were new (unhelpful) staff. Loads of obnoxious kids & a general 'this is our club' atmosphere.
Bluewater - Small store. 2 small tables. Usually quite busy, can be full of children. Staff helpful, try to upsell but not too pushy, seem able to recognise veteran players. Have helped me out with bits orders in the past. Have also swapped a broken army case for me with no questions, even though i had already mutilated the foam... (Agreed. This is still current as of 4th July '10 - Fifty)
Brighton - Smallish store. There are a few tables set out, with frequent events for both Fantasy and 40K players. The staff are very friendly, although they are all new as all the old staff have either quit, been relocated or have emmigrated to Australia. Located right in the centre of Brighton, within 5 mins walk of the seafront and many attractions, such as the Brighton Centre, the Pier and many good bars and resturants. Also holds Veteran nights every Thursday from 6pm to 9/10pm.
Bournemouth Smallish store, friendly staff, but recently only games on 4*4 boards. Vets night is Tuesday, it's just off the main highstreet so people do wander past and look at you. In the hight of summer, it does get very very hot and sticky in there.
Carlisle Quite a small store but there isn't usually many people there. Only games on 4*4 boards for under 18s. There is a gaming room upstairs for over 18s. I woudn't advise buying any eldar or dark eldar resin boxes, eg. Incubi or Fire Dragons because they are right infront of the window and in the summer they get really warm. Very friendly staff but one is a bit pushy for the sale. Gaming night is Thursday.
Crawley Smallish store, painting table, a display table and 2 gaming tables. Holds regular events, avaliable for anyone. It is usually well stocked and the staff are very friendly.
Edinburgh Medium sized store, 6 painting stations, one 6x4 at back, quite spacious. Good manager, friendly staff. Manager is willing to let customers run campains. Next to a starbucks, subway and chippy. Right on royal mile so can get busy with tourists.
Gloucester Medium sized store, 3 Medium sized tables out and playing during visit (tournament) However despite high numbers of children present you could still browse store easily. Lighting in the store needs adressing despite the large glass shop front. Close to train station. Staff seemed good and willing to assist.
Grimsby - Tiny store, 2 small tables with a small painting area. If you go in on a weekend it will be full of kids and there is not enough room to browse over things if people are gaming. However the staff are very good, friendly and are rarely pushy about upselling. A good store if you can get there mid week, otherwise its brave the crowds on a weekend and in such a small place its brave the smell to.
Guildford - Medium-sized store, 2 medium boards, severs painting/modeling spaces. If you go in on the weekend it will be packed with kids, and sometimes it is difficult to browse when others are gaming. However, the staff are really nice and friendly. 10 Minutes from train station
Hereford - Small shop but with a good amount and sized tables. There is a corner for painting as well as two smaller single person painting stations further down the store. Staff is great, very friendly and helpful and makes the shop feel very friendly. The store always has a good amount of people at any one time, most of which are regulars and are more then happy to help in any way.
High Wycombe - Only played here a few times. Found it quite small & impersonal. Everyone seemed to know each other very well & i felt somewhat outcast. It's a good store to visit regularly, good staff. Main problem is the size of the store.
Leamington Spa - Small store, but very friendly and knowlegable staff. Not very busy, 3/4 medium sized tables. Holds veteran nights and new player nights. Friendly community, happy to accept new people.
I though the store was larger than others and had friendly and helpful staff. Only visited once though!
Lincoln - Larger store, 3 tables to my knowledge with a decent painting area. However dont find the staff very good, always feels like you disturbing there little club by walking in to buy things, you get the whole 'your not local' feel every time you walk in. As far as staff are concerned its the worst shop i have been to.
Liverpool - Medium sized store with ample room for painting and spacious gaming space upstairs with 4-5 tables. Extremely friendly staff, and extremely well stocked. Would recommend.
London, Bromley - Larger store, with battle bunker above. 6/7 large tables, bookable. Late opening, veteran nights, new player nights etc. Staff very helpful, very recognising of veteran players, not pushy at all. Lovely store experience all round.
London, Covent Garden - Extremely small store. Display tables only - no facility for gaming. Seems to have quite short opening hours. Usually quiet. I find the staff lovely, but insanely smiley and happy. Don't bother selling you stuff, but want to know ALL ABOUT your current purchases and progress on your work. Odd.
London, Kingston upon Thames - A few tables and easy to get some gaming in. Store is almost always packed with kids though and there is a steady stream of adult wargamers coming and going throughout the day, but all are in, make a purchase, out. It is rare to see an over 18 actually in and painting or playing. Large painting area and generally good staff who recognise veterans and are not very pushy.
London, Oxford Street Plaza - Small store, but the flagship London one. 2/3 small tables. Quiet during the week. Can be busy with kids at weekends. Closes relatively early. I find the staff helpful, but VERY pushy sellers. Hard to be left alone in store without getting drawn into a conversation about the latest releases. Often has black library releases well ahead of the official release date, and frequently has book signings as well. (Agreed. This is still current as of 4th July '10 - Fifty. They have a veterans night until 10pm on Thursdays.)
London, Croydon - Medium sized store , Has 3 large tables set up with a further 2 smaller tables , computer mail order point, painting station and a number of display cases. Setting its self up more as a mail order point rather than having a full range on sale / display , most of the stock has been moved to the walls and no longer has shelfs of stock on view giving it amble space to move about in. Can get very busy at the weekends and after 5pm . Vets nights & Painting mornings seem to be the mainstay . High staff turn over for some reason .
London, Dark Sphere - Independent Store underneath Waterloo train station. Moved to larger premises in the last year or so. Very friendly manager and staff. Excellent service and not at all pushy, though Alexi and Andy to tend to remind you how good their prices are very regularly. Has moved away from reliance on GW since the overseas ban, and now have excellent stocks of other models. Host a variety of evenings, including Warmachine, DnD and M:tG. Excellent prices. They have recently opened up another store just along the street (Called White Cube, though I've pointed out it should be Bright Cube) where they host lots of evening events. (As of 25th October 2011 - Fifty)
Maidenhead, Berkshire Small store, but back room has 4 large tables. Games night on Tuesdays until 9pm. Staff seem friendly and willing to help and answer questions, don't seem too pushy with sales.
Middlesbrough - Decently sized store, with battle bunker out back. Lots of regulars who hang out all day every day. Thursdays are veteran/gamer's nights and go on to a decent time. There is a nice spread of 40k and Fantasy, even LotR. With up to 5 6'x4' tables out back, it's quite a good store. Friendly people etc.
Poole The store itself is small and nicely set out with three boards if various sizes, the games room upstairs is huge and has 16+ tables, all with terrain.Also includes air con, toilets and even a tiny kitchen and also has semi regular events. Staff are good as well. Vets night is tuesday. People that go are generally pleasant to talk to with lots of regulars. Strong spread of all games (40k, Fantasy, LotR, even Battlefleet and Necromunda). It is also within reach or many stores for food and drink, as one can imagine considering its a minute from the Shopping Center!
Portsmouth An average sized store with 3-5 tables set up at any one time and offer ample space for building and painting. Staff are very friendly and will offer any advice if you ask. They will also listen to any advice as well. Store allows non-Games Workshop bits on their tables as long as it remains within the spirit of the game. Staff have started Adult Beginner sessions on Tuesday nights after some demand. Specialist games are also arranged when demanded. Displayed miniatures are always a treat with plenty of conversion ideas on offer. Black Library author Ben Counter is a regular at the store.
Reading Decent-size store, open gaming table in the back. Staff are friendly and only slightly pushy, and willing to let you sit and assemble/paint for a few hours. Gaming night on wednesdays.
Rotherham One of the larger stores, it has 3 4x4 tables for demonstration games. Seems understaffed at times due to the large amount of visitors but the one staff member is incredibly friendly and only pushes you into things you want. If there's nobody booked or if the store is relatively dead, you can sit and paint at your leisure.
Shrewsbury - GW Large-ish store, it has 4 tables downstairs for demo games (already set up with LOTR, WHFB & WH40K), as well as several more tables upstairs which require booking (when busy). There are 8 painting stations set up downstairs for building/painting etc. Normally quite busy. Vets night is on Tuesday. Staff are helpful and will search the stock room if you can't find what you want, also they don't try to push the sales too much (unless you're new/look lost) - good store.
Southampton An average sized yet cramped store with very helpful yet sometimes pushy staff members. Usually have two small and one large table on offer as well as space for building and painting. New update, The manager (Rod) has been there for as long as I have been gaming (26 yrs) and is very friendly and helpful. Recently the staff have all changed and they are in the keen stage, they are made to talk to every customer and will ask you about what you collect but if you are finding them pushy just tell them you would just like to browse and I'm sure they will leave you to it! There are some nice models on display in the cabinets and they regularly have painting competitions for which you might just win something, worth keeping an eye on the posters or asking the staff what the next painting competition will be. Usual arranged gamming like Vets night on thurs and begginers on Sun. I quite like the store hope you enjoy if you go along!
Tunbridge Wells, Kent Smallish store, but the new manager has managed to fit 4 6x4" tables in. Staff are friendly, but for some reason vet's night is currently a Friday (?!?!?!). This will change I'm fairly sure. Tables are available all week to play on, which is really nice.
Norwich Quite a small store, not much space to move around when 15+ people in there. Constantly rearranging the tables. Doesn't sell anything metal, so stock can be limited. Has a computer in which to order stock. Store manager can be rude, and has kicked people out of the store. Forces sales. Although one of the staff members doesn't force sales, and is very popular.
Warhammer World, Nottingham Very Large, as one would expect. A large shop that includes an in store order point that when ordered in the morning, arrives in the afternoon. The store packs models from most specialist ranges and the staff are helpfull and always eager to help. Many tables, including apocalypse tables in the main gaming area, and events are often held for beginers in the shop. Bugmans bar is located on site, providing good quality food, albeit at a premium. The best GW I've seen. Oh and a rhino outside
Newcatle Decently sized store. AOBR table set-up near entrance, interchangeable table further to the middle (sometimes holds terrain, other times modelling sessions) and 3 tables set up near the back (40k, fantasy, 40k). Painting and modelling station set-up and open in the corner. Finally, up a spiral staircase are rooms that hold a few decently sized tabled. No windows on the top floor, but still a good gaming area with terrain set up. Very popular and almost always have gaming and modelling activity without being overcrowded.
Nottingham One of the small stores, not much space between shelves and tables. Not easy to shop at. Staff quite friendly and dont try force the sell. Stock can be very limited. Best bet is to pop to warhammer world a mile or two away, as per the reivew above.
Manchester, Arndale Medium/small store. Shame its not as big as the former arndale store which could handle huge events including 10+ gaming tables! Staff pleasant and convient for all your other shopping if your just popping in while on a big shop in Manchester (Lots of clothes shops next to it to keep the GF busy).
Manchester, Trafford Centre Very small as it's packed into a small corridor next to a shopmobility. Most of the shop is taken up by the large table in the middle which sort of acts as a centrepeice, surrounded by the very packed shelves. Despite this the staff I met were very friendly and didn't attempt to force sales, and were quite happy talking about what I had planned gamewise.
Wolverhampton Store which is shaped in a L shape and doesn't have much room to get around the main part. Has about 4-5 tables, some staff members are more helpful than others. One in particular is just pure dumb.
US
AZ, Queen Creek, Baxter's Games One of the best stores in the Phoenix area and the only store in the south Gilbert/Queen Creek/San Tan Valley area. The store is big and has a lot of inventory. The most innovative thing I have seen about this store is their selling of used Warhammer models. You can sell your used models to them for 25% of the price and they resell them for 25% off. The store has a large 40k and AoS community along with a thriving Necromunda and Warcry community, not to mention a large player base for MTG. A Warhammer Fantasy community is growing there but isn't that large yet. The store has 6-7 tables but can easily fit 6-7 more. I do wish there were more organized 40k tournaments at the store, but there always seems to be both an AoS and 40k league going on and players are constantly communicating via the store's basecamp app to get additional games in. The store's player base is relatively competitive but I have seen people play super casual open play games there too. The store is next to a great pizza place and fast food is not too far off. The store is run by great staff who seem to care for the community. I highly recommend this store.
AZ, Gilbert, Games U A great games store with a large community. This isn't one of those stores that only play 40k. Every time I go there are lots of people playing Star Wars Legion, X-Wing, Infinity and even Battletech. There is also a big community of 9th Age players. The store has a lot of products and sells both Citadel, Vallejo and Army Painter paints. They have a lot of old Fantasy products, 40k products, and products for niche games as well. There are constantly tournaments going on as the store has around 15+ tables and could fit more. I've never had a bad experience with the staff there as they are nice and keep the store clean. Lots of places to eat nearby so that's also a plus. This is a great store in the Gilbert area.
CA, Pasadena, Game Empire - This is another great store where I got my start in Warhammer 40k here on the west coast. Tucked into a small retail space next to a tanning salon and an empty floorspace, and relatively close to Pasadena Community College, this place is surprisingly large given the size of the building it occupies. One half of the store is all retail with an even Mix of GW, Privateer Press and loads of everything from card games to custom made Chess Boards. The other side of the store is the gaming building area. Here you'll get to see several shelves full of Painted Armies by the staff members, several of which are painted fantastically well. The place is well stocked with terrain pieces and there are about 10-12 gaming tables as well, bit on the small side, but great for games of any flavor. Sadly, 40k has underwent somewhat of a recession of popularity there, though fantasy is alive and well. Each night has several "theme" nights and they host many tournaments from Pokemon to magic, to Warmachine depending on what folks want. The staff is exceptionally friendly and you can come in most any time and chat with the store members about pretty much anything that tickles your fancy. All in all, a fantastic place to game or just chill out.
CA, Santa Clarita, Green Tower Games- Green Tower Games is a great store that has frequent 40k events. It also has frequent MTG, X-Wing, D&D, and Age of Sigmar events. Sadly there doesn't seem to be a Fantasy or 9th age community there. I've seen them fit 8 tables in their store before for tournaments and they have really nice terrain and gaming mats. The store is very welcoming. I frequented this store for 2 years and while I was there I felt like I was in a real community, it was a very friendly environment. The way the staff handled tournaments there in my experience was always fantastic. The store is in a great neighborhood and is right next door to fast food places. It's the ideal store for small to medium-sized tournaments.
GA, Buford, Mall of Georgia - The store is a little cramped, but this is where I first learned about Warhammer 40k, so I still like to visit. The guys running the store at that time have since formed Phoenix Games

a few miles away, which is awesome, but I won't comment on that since this is a review of the GW store. The store is always clean, but always seems to be pretty crowded. The Red-shirts are very friendly and remember my face even though I only wander in occasionally. They always ask about my armies, how my painting is progressing, if I've read about the new releases, or whatever. I've never seen them push for a sale, but if they see I'm interested in a box, they're happy to offer suggestions about how playable or functional the unit is. They have a several display racks showing most of the armies nicely painted, and have the standard demo table for showing how to play LOTR, 40k, or WH. As I said, the space is a bit cramped, particularly during the evenings when games are in full swing, and there are some times when there's just no hope of getting back to see a particular model without interrupting someone. They have a lot of stock, but sometimes that gets in the way as well - so there are the big battle board setups blocking some of the displays from time to time, and things like that. During the afternoon hours, it's easy to walk around and not get too claustrophobic, but at night it's a bit crazy.
IL, River Pointe: Algonquin A newer store, having opened in December of 2008. Five gaming tables, two demo tables (One being several panels of Realm of Battle). Staff is friendly and engaging. Local hobbyists are as well. Several eating establishments within easy walking distance, and grocery store located in same strip. At time of writing however, there are only two staffers at this location and so the store is not open on Mondays and Tuesdays. Occasionally they do close for lunch as well. I do love this store, and it's staff and would wholeheartedly recommend stopping in. Standard size paint bar, and no time limits for tables.
KY, Louisville: Stoney Brook East Fairly small store. Two game tables, display table, and two craft tables. Friendly staff. To keep the tables available for multiple games per day, there is a loose 15 minutes per player turn guideline in the store. Knowledgeable craft folks provide a good 'idea bouncing' environment for modeling. Pizza Hut three doors down, a Mongolian grill next door, and a Burger King across the lot - good for those half hour lunch breaks when the store locks the door.
NJ, Voorhees: Echelon Village Six free gaming tables, one demo table with all three systems, excellent painting area (counter height table surrounded by 8 chairs). Don't really know what the current situation with red shirts is because they were downsizing staff last I checked. There is a blackshirt who is a really cool guy. No time limits on the tables for games. Hours are kinda annoying, being that they are closed on mondays, and they close for lunch, which is an hour at 3pm generally, but I for one really like this store, and would recommend it to anyone.
NY, NYC - Way too small for the amount of runts/snotlings they pack into it. Only 2 tables, games are limites to 2 hrs. Staff is rather pleasant and remembers my name, even though I only buy paint there.
PA, Philadelphia, Cottman Ave. - Formally GW Franklin Mills - The new store is rather small, sporting only 3 tables, no hobby stations and only a single showcase of models. It's tucked away on the side of a tiny strip mall making it slightly difficult to find. It's the same Black Shirt that ran Franklin Mills and he's pretty decent guy from what I gather. I've altogether stopped going to this GW since it moved as its new location is in a poor area and with its decreased size, no longer makes the drive worth while. R.I.P. GW Franklin Mills.
TX, Frisco, Preston Ridge Hobby Center - Three tables and a smaller painting table. Just opened recently so it's very clean. The staff are generally friendly but are inexperienced. Mostly 40k and some Fantasy.
TX, Houston, Royal Oaks -1 demo table, 1 display table, 1 workstation, 4 playing table (2 40K, 2 WHFB, exclusively). The manager is a friendly gentleman. Mostly WHFB. Not many older veteran players. Have a weird affinity to 2 vs 2 games.
TX, Houston, Tomball Crossing -1 demo table, 1 display table, 1 workstation, 3 playing table. Manager is a very nice person and an excellent hobbyist. Mostly 40K players. Crowd can be loud sometimes. Quite a few veteran players that know the rule very well.
VA, Springfield, Springfield Plaza I've been a regular at this store for over a year and I can say it's a great place to hobby. The store itself is probqably medium in size with roughly 5 playable tables and a Hobby area for 6 people. What makes this store so good is the people. Not just the staff but the patrons also. The manager is personable and knowledgable and even though the store has gone through some changes with it's workers, both the older workers and the new ones are very helpful and energetic. The patrons are unique and fun. From the overzealous kids to the grizzled veterans, all are helpful and eager to share and play. If you're ever in the area be sure to stop by and check it out.
MALAYSIA
Kuala Lumpur, Publika - Been running since late 2016. It's a one man store run by a really nice guy, friendly, remembers names, knowledgeable, sort of person you actually set down to some proper hobby with. In terms of the store it's well stocked, good looking (AoS & 40k banners outside, two display cases, big displays in the windows), clean and very safe (I don't mind leaving my stuff if I need to pop out for some food or something, I know it'll all still be there when I get back). There's one painting table and three gaming tables: one 4'x4' with dense urban terrain for 40k (it looks amazing but feels cramped for bigger point levels), one full size 6'x4' that's grass and can be used for either AoS or 40k and there's a small table dedicated to Blood Bowl. I'd say I see a lot more going on for AoS than 40k but you can easily find a game if you want one. I've only ever been to two other GW stores before, and while this one isn't that big I like it a lot.