Okay so I decided to make one of these just because I like them as a way of keeping a log of my progress, as well as providing motivation and a place to get feed back and stuffz!
I'm pretty new to Infinity as a friend of mine got me into it slightly once before, where we played a game that was so horribly miss-ruled that it didn't even count as infinity in my book xD.
So anyway after that I got looking at the models and not until recently decided to get a little further into it by putting together a small force, Nomads! I will get games and do some infinity bat-reps when its actually done? I haven't seen many of those personally but I'll see how it goes. Me and my friend have an idea about making our infinity games a little more interesting by introducing an additional rule set alongside Infinity's. For those that might no what that is, it's 5150 New Beginnings (2hr wargames). Basically we fell in love with the idea of a story driven campaign featuring our own characters as the 'lieutenants' and our own group of people, set within a semi true to the infinity world setting to go about whatever ventures we like. I won't go into too much detail xD those that know what 5150 is will already know and those that don't can always just google it! The rules are all free and downloadable and in regards to what we plan on using them for really is the random encounters, spawns, social/reactions, missions/scenarios etc etc.
Ontop of that Ill probably be uploading some terrain and what not cus as we do have a base board to play on, I'm likely to be helping furnish it so expect some terrain uploads eventually >.<
I am sort-of a slow painter but my modelling and painting will probably be cataloged and uploaded for here on top of how I went about painting things but I will update as regularly as I can!
So to get started I'm basically putting together a 150pt list of the basic people that I'm going to be running. Most of which are Nomad Bakunin hybrids/irregulars/modified humans and I'm more then likely to wind up being a space pirate-esque military presence within the campaign of course, starting nearer the bottom! As it progresses i'll raise it up to 300pts before looking to start something new so yeah, heres the list for 150pts
NOMADS
──────────────────────────────────────────────────────────────────────
GROUP 1 (Regs: 3/Irrs: 4):
BRAN
Combi Rifle+ E/Mitter / Pistol, DA CCW (36)
MOV:4-4 CC:17 BS:11 PH:13 WIP:13 ARM:1 BTS:0 W:1

Regular, Not Impetuous, No Cube

Martial Arts L3, CH: Camouflage, Superior Infiltration, Meta-Agility
CHIMERA
Combi Rifle, Nanopulser, Zero-V Smoke Grenades / Viral CCW (21)
MOV:6-4 CC:18 BS:11 PH:13 WIP:12 ARM:1 BTS:0 STR:1

Irregular, Impetuous, Cube, G: Synchronized

Natural Born Warrior, I-khol L1, Total Immunity, Climbing Plus
3x PUPNIK
DA CCW (3)
MOV:6-4 CC:17 BS:4 PH:13 WIP:10 ARM:0 BTS:0 STR:1

Irregular, Impetuous, G: Synchronized

Total Immunity, Climbing Plus, Hyper-Dynamics L3
MORLOCK
Chain Rifle, Smoke Grenades / Pistol, Shock CCW (7)
MOV:4-4 CC:18 BS:11 PH:13 WIP:14 ARM:1 BTS:0 W:1

Irregular, Impetuous, No Cube

Martial Arts L2, MetaChemistry
2x MORLOCK
Chain Rifle, Smoke Grenades / Assault Pistol, AP CCW (10)
MOV:4-4 CC:18 BS:11 PH:13 WIP:14 ARM:1 BTS:0 W:1

Irregular, Impetuous, No Cube

Martial Arts L2, MetaChemistry
2x ZONDBOT
Electric Pulse (3)
MOV:6-4 CC:8 BS:8 PH:8 WIP:13 ARM:0 BTS:-3 STR:1

Regular, Not Impetuous, G: Servant

CH: Mimetism
DAKTARI
Combi Rifle / Pistol, Knife (14)
MOV:4-4 CC:13 BS:11 PH:10 WIP:13 ARM:1 BTS:0 W:1

Regular, Not Impetuous, Cube

Doctor
MOBILE BRIGADA Lieutenant
MULTI Rifle + Light Flamethrower / Pistol, Knife (43)
MOV:4-2 CC:15 BS:13 PH:14 WIP:13 ARM:4 BTS:-3 W:2

Regular, Not Impetuous, No Cube

V: Courage, Lieutenant
150 Points | SWC: 0


ARMY CODE:
Army Infinity v.3.0.
I looove this army builder its so nice, one of the best features of any board game I have ever seen. Okay so basically here to abide by the rules the Mobile Brigada is the lieutenant. I'm not sure why but for some reason I have to have a regular as a lieutenant because I include a regular and the natural order / chain of command states that generally irregulars cannot command over regulars. Why not have a Morlock lieutenant then my friend asked me, simple -.- for some reason the Daktari doctor who has a cat tail, cat ears and is quite obviously an irregular / modified human for some reason is listed as a regular, so that meant I couldn't have an irregular lieutenant uuuugh.
At the moment in time though I only have 2 minis so far, that I'm sure will be added to over time, in fact I'm certain xD. Those would be the chimera and her pups as well as a customized Morlock, am getting the rest though all in one go rather soon from Shae so xD it wont take me too long to have those either >_>
Starting with the Morlock though, I only have the one and its completely customized, meaning that its not actually an infinity model while I swapped the head with a chimera simply to give it a linked feel and make it a modified human. It does however still need a tail that I haven't decided on because her bum does look kinda good without one >_>'
1x MORLOCK
Chain Rifle, Smoke Grenades / Assault Pistol, AP CCW (10)
MOV:4-4 CC:18 BS:11 PH:13 WIP:14 ARM:1 BTS:0 W:1

Irregular, Impetuous, No Cube

Martial Arts L2, MetaChemistry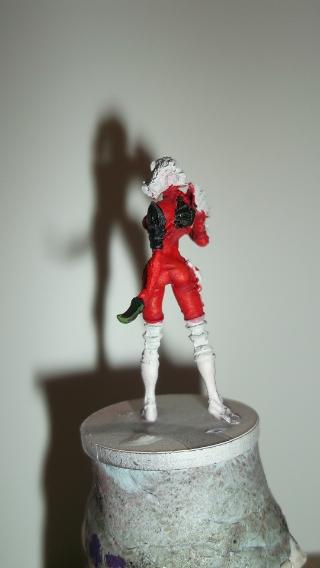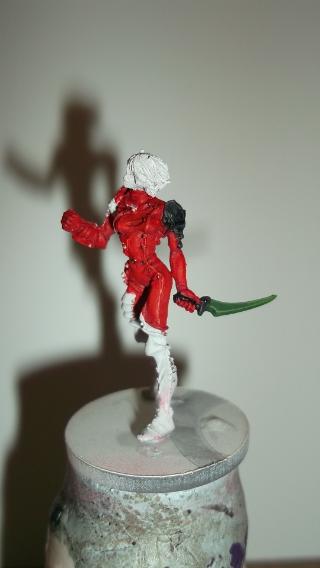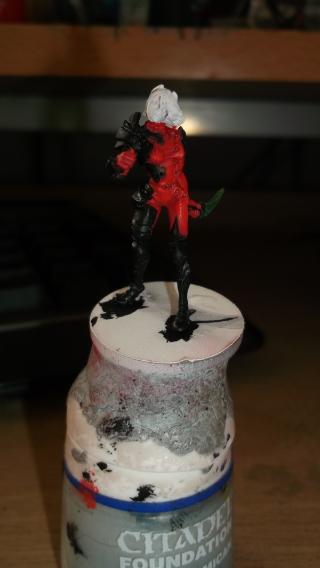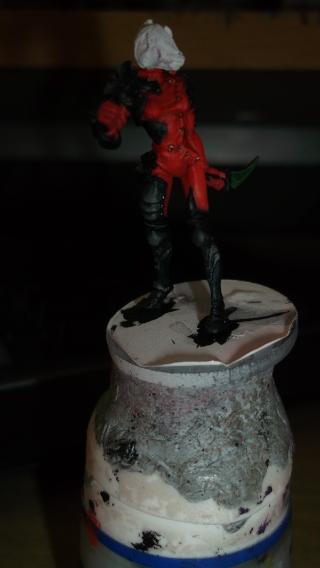 With this the base isn't present but as a part of my colour scheme I picked out a few colours generally that I plan to keep things with. Red, Black, Green, White/Bone is generally the colour limitations for my people with the ofc differently coloured accessories.
For these I did the body suit a base blood red, shaded with a 1:1 blood red and Malachite red, then shaded again in the most deep recesses with pure malachite red. After that I simply highlighted back up with blood red to an almost orange for the highest area's. Similar process was used for the dagger however it was Goblin green, inked with thraka green, touched up and highlighted some with goblin green again then progressively highlighted with increasing mix of green:yellow and finally green:yellow:white. Armour plating itself I decided to go for black for these, given the murlock's are going to be in different uniforms to the others i felt a simple black would be good, if only it were so simple to paint xD was suuuch a pain in the backside. Basically had to shine a desk lamp over the model and "Blindly" paint over the area's of light that were reflecting light with the darkest of shades I was going to use to highlight... then from there touch up with some gradual edging and progressively lighten it from dark to brighter highlights by adding more of the base gray, which for this was Administratum grey though I was never able to work my way up to a 'pure' highlight as it just began to look "too much". I don't think I'm very good with giving bold highlights.
As for the body of the model itself, I don't have a clue any more what that's from but I know its OOP.
I'll add more to the progress of this here as it's done! so itl all be here when its finished xD.
CHIMERA
Combi Rifle, Nanopulser, Zero-V Smoke Grenades / Viral CCW (21)
MOV:6-4 CC:18 BS:11 PH:13 WIP:12 ARM:1 BTS:0 STR:1

Irregular, Impetuous, Cube, G: Synchronized

Natural Born Warrior, I-khol L1, Total Immunity, Climbing Plus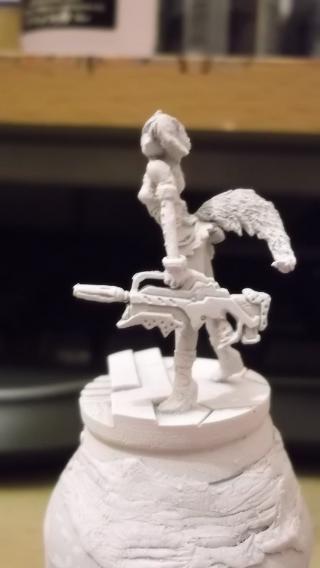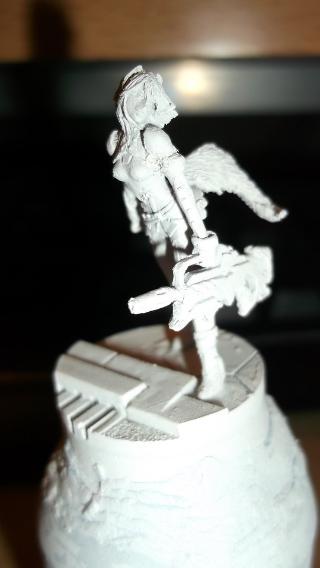 Didn't get too far with this one yet, this is my chimera but the whip drove me crazy and looking at her equipment setup I found myself a scape goat. Taking the same weapon as in her profile from a custodier(sp?) I was able to convert it on, clip off and remove the marker so all was good here! Looking forward to doing this one, it will be painted differently to the Morlock purely because it's "position" and uniform is different. Alas no pups >.<
----------------------------------------------------------------------------------------------------
So yeasm xD thats my start so far for my nomads, more to add as its done! Looking forward to getting the rest of the 150pts of Nomads so I can at least be Infinity game ready while we work out the campaign using a hybrid of infinity level ups and 5150 for social, encounters and events etc~
At the moment we are looking for good places for Infinity terrain as well as any like, tutorials for making some nice sci-fi stuff. We have these ones made from hard-card or plaster or something I think my friend has but were trying to setup more of a "cityscape" that can be broken down into segments so theres toons of work to be done there >.< so help and suggestions would be wonderful! as well as opinions and such on my to-come batreps and infinity army etc! xD