This is a log of building a Soviet army for Flames of War. My previous
FoW
armies (2 German, 1 British, neither finished!

) have all been Western front armies; specifically from the Normandy campaign. I fancy a change in both nation and environment. I have some of the
FoW
Vietnam PAVN but I would like to do something else WW2. Initially I thought about doing winter-war Finns, or converting a Norwegian force for Early war; but decided against it. I did like the idea of a winter force; greatcoats and snow-flock aplenty and looked instead at Mid-war Soviets. I wanted to use some of Baueda's fantastic Urban bases as well; and so what better battle to pick as a theme than the battle of Stalingrad. It's got it all, urban combat in a ruined city in the depths of winter. This, then, will follow my progress as I attempt to build and learn about the Soviet forces of the period. I may also build some terrain for it if I can find somewhere to put the stuff!

On to the pictures! What I have to show you right now is just the basic stuff. Nothing has been assembled yet (I've put half a platoon together as of the time of writing, but no pictures until the whole platoon is assembled and ready for painting.)
First off; some research material.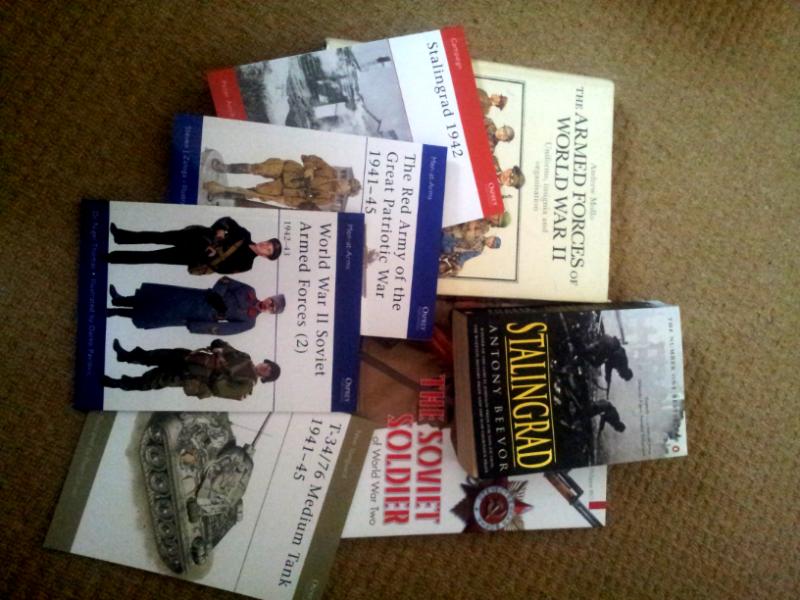 Apologies for it being on it's side... Whilst waiting for the bases to arrive I've been doing plenty of research. I knew virtually nothing about the Red Army a few weeks ago and now having researched it a little more I'm happy I picked them as I'm finding the subject very interesting.
Next; the models.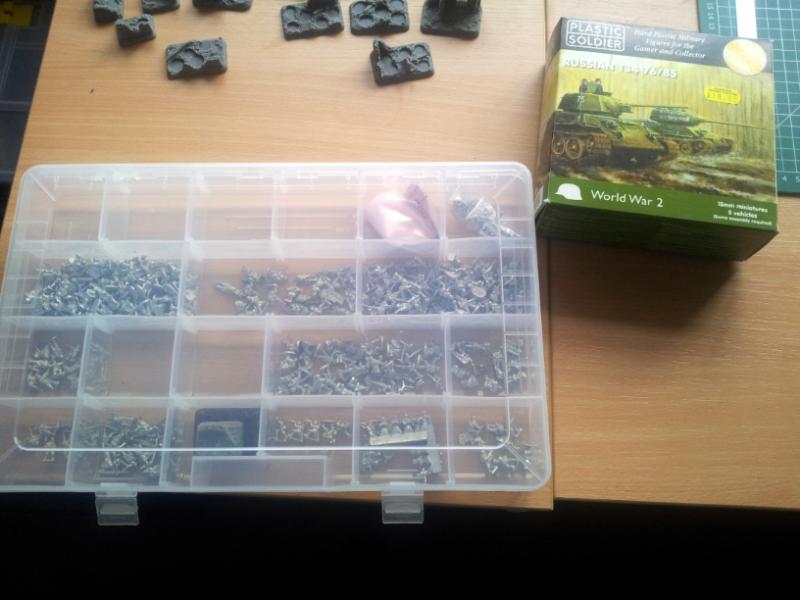 The bulk of these are a bunch of mainly Peter Pig Soviets I scored for a reasonable price on eBay; bolstered by a
BF
Mortar platoon and a bunch of Skytrex infantry. I'll need more to finish the army, but I'll make some progress on these first! The
PSC
T-34s are going in the army because I want to have a few tanks. Mainly because I want to have a go at painting them with a whitewashed look and weathering it, because I've seen it done fantastically by other modellers on Dakka and elsewhere. I have plans for the tank rider options as well but I'm not going to go into that yet because I haven't properly figured it out, I'm hoping to make a cast of the top plate and magnetise it, so that I can have tank riders as a removable option.
Next up; the urban bases.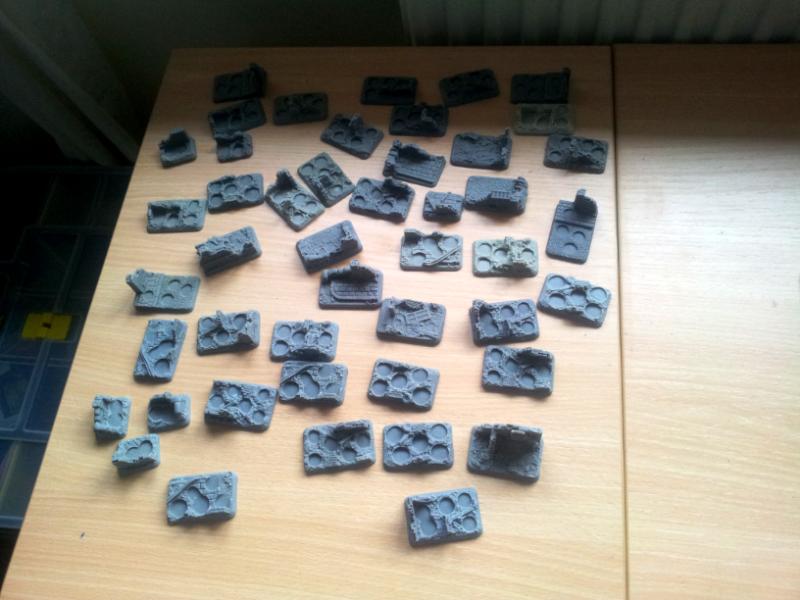 This is what I was waiting on before I could start properly and they arrived this morning. I love Baueda; they do some fantastic stuff and I've had plenty of bases and other things from them previously. Doing Soviet infantry on these isn't going to be cheap, I vastly underestimated how many I'd actually need so I'm going to need to make another order at some point but hopefully the look of the army will be worth it.
Finally; some Peter Pig tank riders. I won't be using these in the army because the base on them makes it very awkward to put them on tanks. I got these with the rest on eBay so I figured I'd use some as a paint scheme test whilst I was waiting for the bases. I'm quite happy with it but the photos don't really show it too well.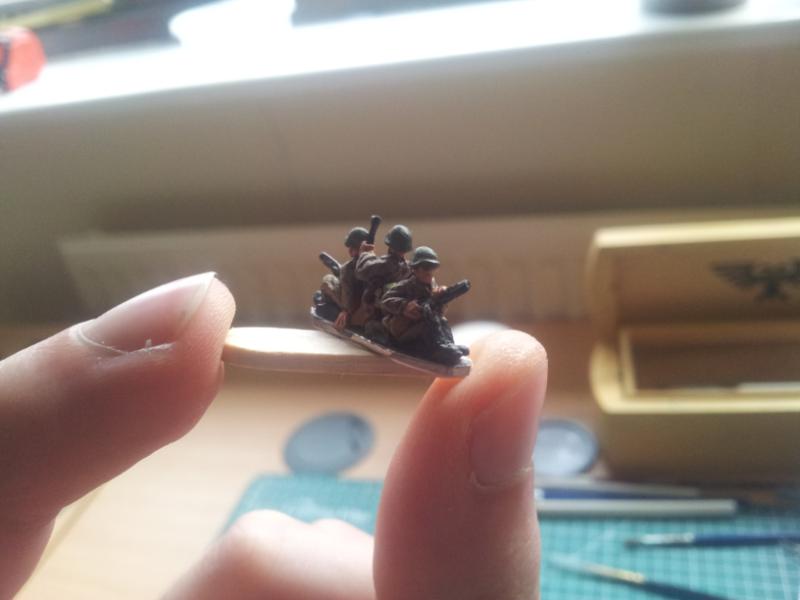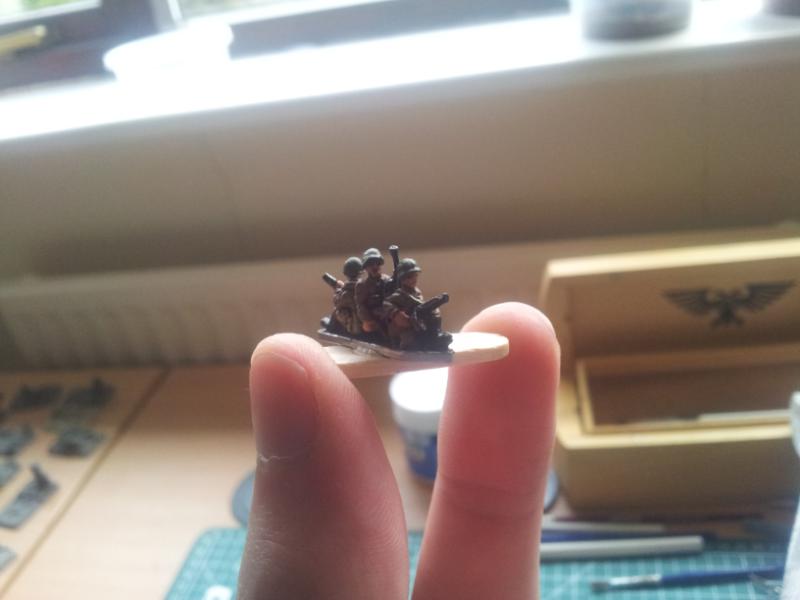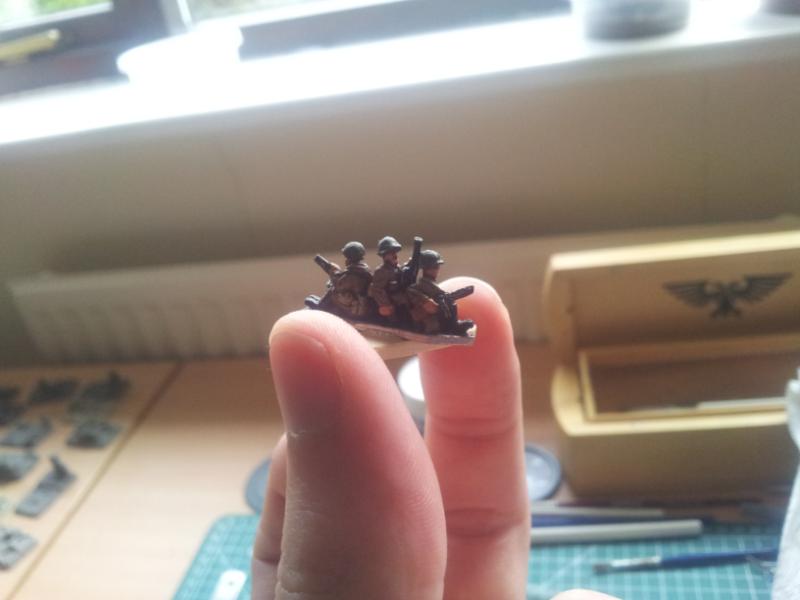 And that's it for now. I hope to get some photos posted of the first platoon in the next couple of days when they're ready. We'll see how many bases I can finish before I go back to work in the new year!