Hello everyone, my long time of lurking is done cause I thoughed to share some of the stuff I have been doing lately. Used to post quite actively here at dakka but the got bit lazy on the forums.
Some of my earlier stuff can be found here:
http://smg.photobucket.com/albums/v112/Northen/
Ok, so I have started doing Bretonnian army (started in late august). This summer I read George R.R. Martin's Song of ice and fire ( the four books which have been released so far) books this summer and was blown away, awesome stuff, probably best fantasy since LOTR I have read. I can realy recomend the series. Books tell about knights & lords and of the power struggle between their houses, great dialogue and backstapping.

Books realy inspired me to do some Bretonnian stuff, and as I have had an army of these lying around for some time it was time get it done

The theme will be that I'll be concentrateing only on one great house of Bretonnia and it's vassal's (I realy liked how Martin made the different houses appear in his books, each having their pros and cons). My choice is Hagen of Gioreux led by Duke Hagen. I tried their heraldry colors (black , grimson and white) on some models and it works. Most of their vassal's share their lords's colors, but there's also some yellow and little bit of blue. Concentrating only on one house rids me of doing the parade style Bretonnian army that you usually see, which dosen't quite appeal to me. All the peasant's will be done with brownish and beige colors, to give them contrast from their lordy lords.


List looks something like this:
Griffon lord/

Paladin with Grail vow

BSB on Pegasus(also will be doing one with warhorse)

Damsel on warhorse

9 knights of realm

8 knights of realm

6 knights of errant

10 bowmen

3 Pegasus knights

8 Grail knights
List will propably change a bit as the project goes along. Aim is to have 2000p + some playable army next summer. Plan is to update this blog atleast once in month.

Some backround information
Bretonnian Map, dukedom of Gisoreux is shown on blue.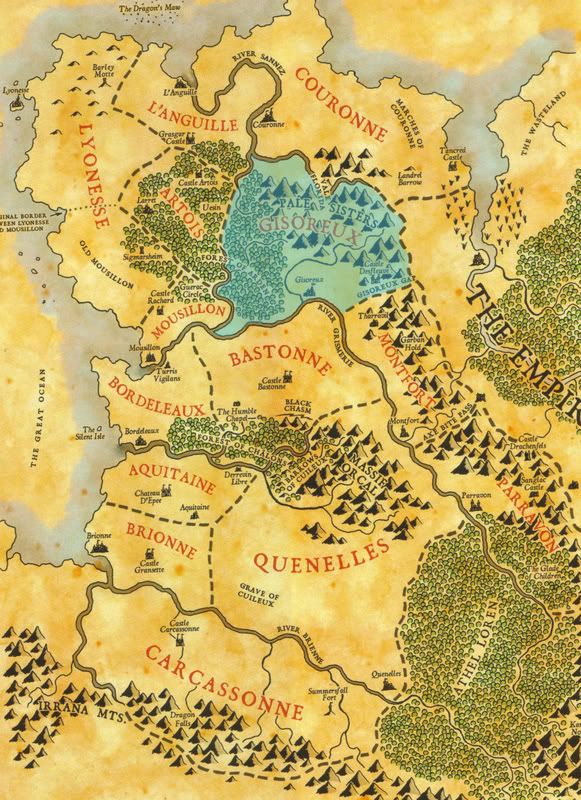 Land
Gisoreux, the dukedom ruled by duke Hagen, is quite divided by it's geography and so are it's people. The north is quite wasteland and very few nomands live there, there are cold and hard winters and many beasts plague the place, so bretonnian lords have given up trying to make the area habitable. West there is part of the mysterious forest of Arden which have quite isolated but still civilized villages and local militia is patroling the roads to fend of beastmen and greenskin attacks. In the east are the grey mountains which are also border for empire and home to many greenskins so castles guarding it's passes are heavily garrisoned. And finaly in the south there are grassy plains where also lies the city of Gisoreux , biggest one in the region(Bretonnians are quite simple with names, for example Earl Orlando rules region of Orlando from town of Orlando which has castle of Orlando. Empire nobles make fun of this habit as they think their bretonnian counterparts are quite dim, but bretonnian nobles think that empire nobles use so many titles because they try to make them sound more important than they are) Over half of the population of Gisoreux live in this southern part.

People
People are very different depending which part of Gisoreux they live. Southern people are very friendly even to travellers and foreigners and take great pride of their hospitality. The less populate area you go the less friendlier the people come.

Duke
Ruler of the dukedom is Duke Hagen, a great grail knight. His ancestor was the duke Beren one of the great grail companions of Gilles the uniter. Gisoreux is has been unconquerable as long the first breton tribesmen got there and formed the dukedom, and the people have allways taken pride of their hunting skills. Duke Hagen is like his ancestors, ultimately loyal to the king and upholds the knightly virtues and vows (even if it should be better to not follow them so strictly in some situations) to the max (the ultimate hardarse

" border="0" src="http://s3.images.proboards.com/smiley.gif" /&gt

, and excepts his vassals to do the same. Hagen is good friend of king Louen Leoncoeur, and spends most of his time in Couronne adviceing his king. Hagen does this, cause he has been worried as the king doesn't allways do his rulings by the book but uses "common sense" sometimes so Hagen has to be there for his king to remind him of chivalrious ways.

Some wievs of Gisoreux found from WHRPG bretonnian suplement:

"We all are Gisoren, and our very diversity grants us strenght."
-Duke Hagen, in speech to the North Gisoren in which he encouraged them to abandon the uncivilised practice of mock marriages on Lily Day

"So many differences, so easy for Chaos to hide. These people have much to learn."
-Ermnegard of Krungenheim, Witch Hunter

"Great place to work. The inns actually make you welcome, rather than treat you as a porter who just happened to bring customers. If most of the routes there didn't also go through forest, I'd work there all the time."
-Eldegar of Busreq, Coachman