Write-up by Mark, Photos by Russel
Red Guards Tiger Killers
10-27-08
A variation on the battle with Fred and his son of earlier this month, this battle marked the debut of my Russian heavy Tiger Killers – the KV85 Guards tanks and a pair of 85mm
AT
guns….the Soviets had the same two mixed tankovy btns as last time, but reinforced with these new killing machines.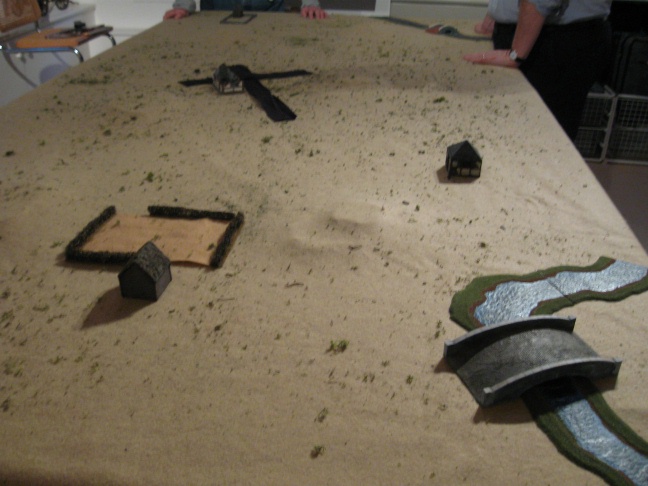 Erik, Jack and Russell had the Germans. Russell had the infantry command, with orders to hold an airfield in the center and two bridges, one in each of the right and left rear corners of the German side of the table. Across those bridges would come as reinforcements two panzer companies: Erik with two tigers, 3 Mk IV, 3 MK III and a pair of mobile AA on the German right; Jack on the left with four Panthers, 2 Mk IV, 4 MK III and two mobile AA. Russell gave Jack the 50mm
AT
guns and a platoon of infantry to help hold that bridge, and sent another platoon of infantry with the 88's to hold the other. The rest he deployed with one platoon in the buildings at the airfield, another on a hill behind it, with a pair of Stugs in support.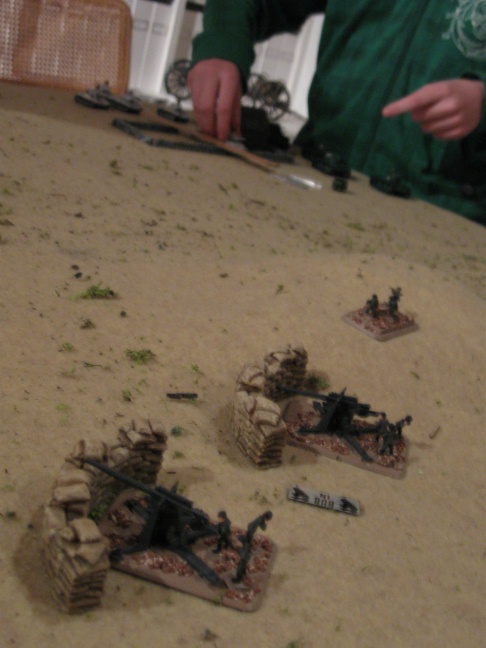 Chris and Austin came in on the Soviet left (vs Erik). Chris took the t34s and armored infantry against the airfield. Austin took the KV2 and KV85 tanks on the far, far left to head for the bridge.
Ed and Grady went against jack with KV1s, T34s, SU-122s, armored infantry and the pair of 85mm guns.
Soviets roared on all at once, sturmoviks overhead.
Chris got into a steady battering fight against the German platoon in the airfield. Hammering away with tank and machine guns, dismounting and advancing his infantry in a caustious yet steady move….and then finally taking it by assault.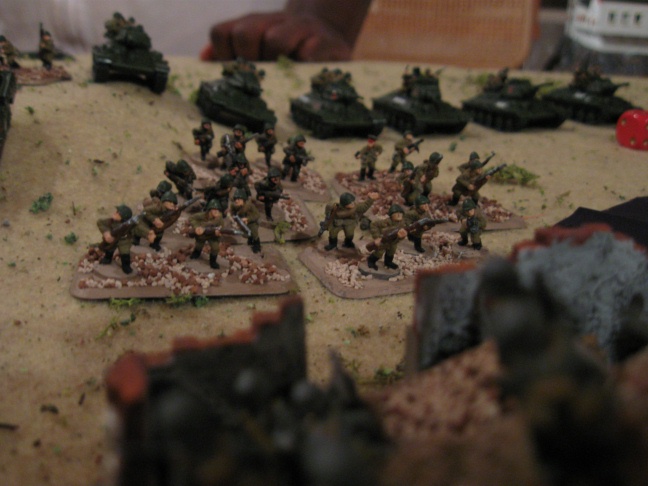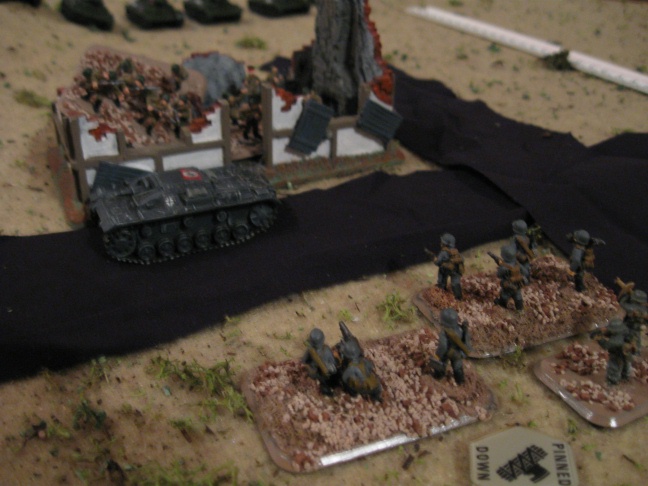 Austin engaged Erik on the far flank in a long distance tank battle, with Austin slowly coming forward turn by turn. Erik kept his MK III and MK IV tanks pretty much behind the river, most of their shots bouncing off the heavy Russian armor, while his tigers slowly picked the Soviets off….a hill that shielded the 88s flank also blocked much of their fire against Austin, allowing him a more even fight….a fight that became even more even when the sturmovik's took out one of the Tigers.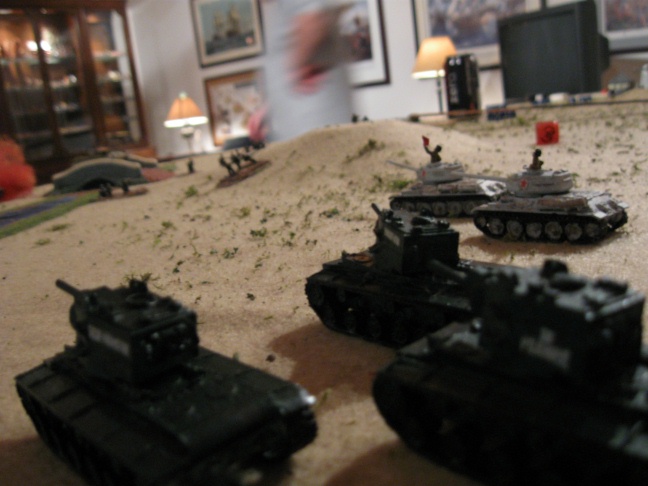 Grady and Ed had less luck. Russell's Stugs took out the 85mm guns while they were still being towed into position. Jack's Panthers knocked out the SU-122s in a single turn…their t34s dueled valiantly, got shredded, fell back and joined up with the KVs to take on Jack's IIIs and IVs….and wiped out both platoons in one round. Sturmovik's took out two of Jack's panthers, but the panther's then knocked out the KVs….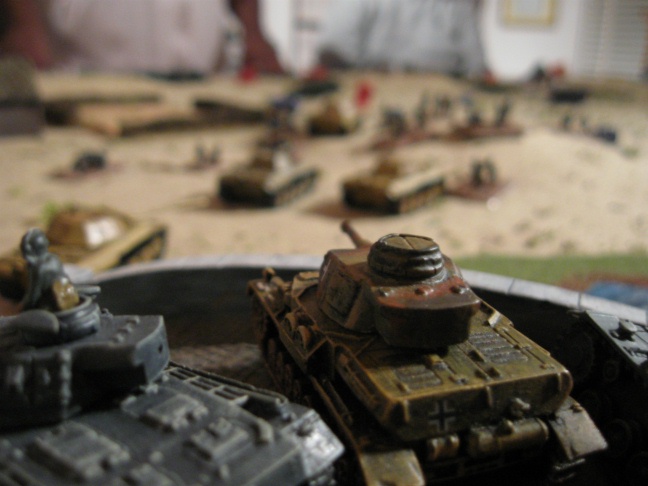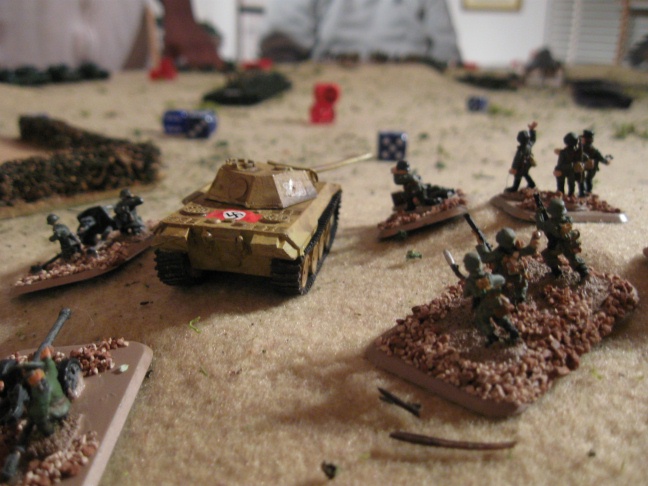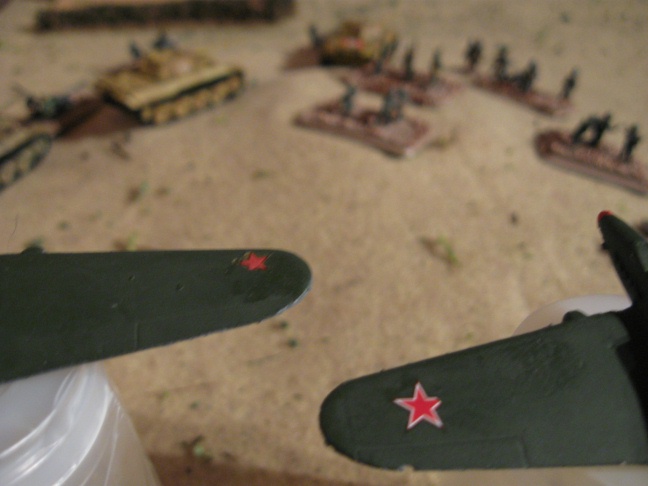 Grady and Ed's battalion broke….but by then all Jack had left was a pair of panthers out of his entire company…yet the panthers stayed and held the bridge.
Chris sent his t34s to engage jack, but then double-timed back out of range, once the Ed/Grady btn collapsed. He sent some armored transports forward to keep pressure on the German 88 & AA gun position, while Austin finished off the MK IIIs and IVs, leaving the lone Tiger to take and fail morale….Austin then rolled over the hill with the last of his big KV2s and his Guard tank unit, wiped out the 88s and began closing on the bridge.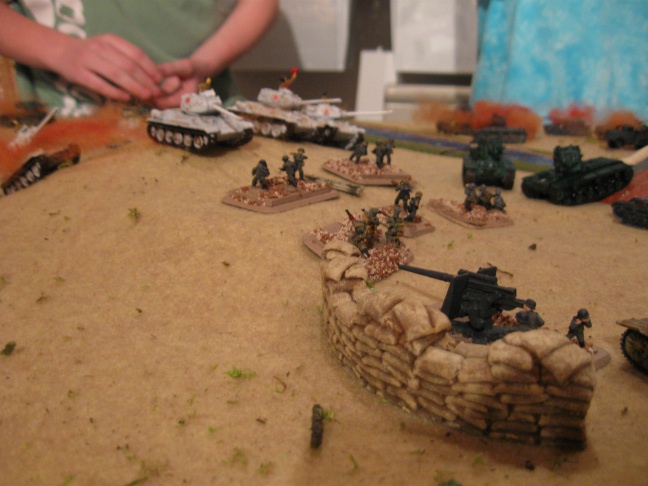 And that was game.
A helluva fight, with lots and lots of burning wrecks…a true armor battle with a lot of maneuver, and with sturmoviks playing a key role … knocking out two panthers and a tiger and a couple of medium tanks….
Russians had 4600 points, Germans just over 4100….but started deployed, and had all three objectives at start…Germans had to roll to bring on their panzers, but they came on quite quick….
Big tanks, big guns and lots of fun.