All of us painters know that brushes are expensive. And if you use cheap brushes, never use the expensive stuff because you will never go back. Well after a night of painting I use to leave my brushes in a cup of cleaner only to wake up the next day with not only clean brushes, but destroyed tips. The bristles were either separated in random directions or all curved. Soon after I went to a arts and craft store and found a brush holder that held the brushes that included a dish below them to put solution. I didn't buy this item but decided to improvise what you see below.
I took some Elmers
Tac
putty, basically like 3M blue
tac
or any other used to hang posters. Which I think we all either have or know where to get some. Pushed it in and along the rim of a glass food jar. It works great! Just add a brush cleaning solution of your choice.
NOTE: You want the bristles to sit fully submerged and just a little bit of the metal in also to get paint you might have over dipped into it. If you go too far and the solution soaks into the wood handle it will expand and crack the varnish on the handle.
Protect your investment and after your painting or decide to take a break, just place the brush in something like this. And keep the cash in your wallet

GO MAKE ONE AND SHOW US!
edit: If you want to form your tips to fine points after cleaning you can use dish soap or Brush Shaper.
Get Brush Shaper here :
http://www.dickblick.com/products/mona-lisa-brush-shaper/?wmcp=yahoo&wmcid=SiteSubmitProducts&wmckw=Mona+Lisa+Brush+Shaper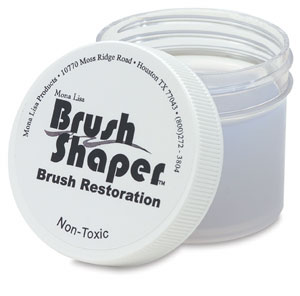 Before and After