Thanks, everyone!
@Riddle of Steel - You can probably find much better supplies online if you know what you're looking for. This was mostly the result of me wandering around craft stores for a few hours looking at every weird little bobble that I might be able to dismantle for parts. Smaller ball bearings would have worked better with the snaps I got, and a wider variety of bells and snaps would have looked really cool. Still, I can't complain. I never would have thought of using snaps at all if I hadn't stumbled across them in a fabric store.
@theocracity - The smiles are mostly pretty easy conversions, except for the nob (who required a decent amount of dentistry). It's mostly just a matter of filing off part of the lower lip and resculpting it a bit higher. Ork faces actually make pretty good practice, since huge lips and teeth are easier to sculpt than tiny human features.
Also, since Jambles, Riddle of Steel, and a few other people have expressed interest, here's a brief recap of da boyz latest adventures:
This time around, the gloves were off from the start. The first game was a four-way free-for-all between the four gangs. Grizwoad and Marvolork were on one side of the table, facing down the two Gorker nobs, Chad and Urzig on the other.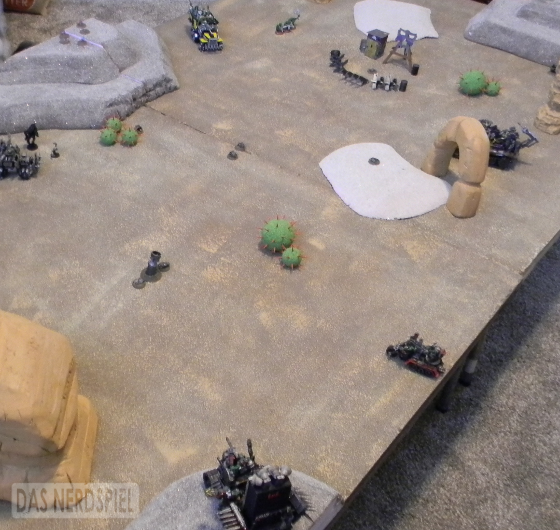 There were a number of dangerous cacti and mushroom patches on the table, but the biggest hazard was a rather ominous unexploded bomb that was right between Grizwoad and Chad. Two pieces of scrap were there along side it for the ork daring enough to get close enough.
Perhaps not surprisingly, both of us just shot at the bomb until we managed to set it off. Probably for the best, as we rolled so high for the blast that it nearly engulfed both our vehicles anyway.
Meanwhile, on the other side of the table, Urzig and Marvolork charged headlong into each other, immobilizing Marvolork's big trakk. Over the course of the campaign, Urzig had managed to become a close combat monster, so this encounter didn't bode particularly well for Marvolork and his boyz.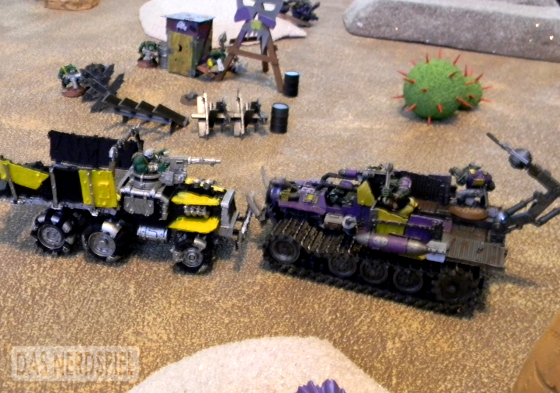 As hand-to-hand combat broke out across the far side of the table, Chad and Grizwoad's boyz were still blasting away at each other while trying to avoid the sizable crater left by the explosion. The shoutas and spikes on my big trakk were enough to discourage any attempt at boarding, so I was able to force Chad and his mob toward Urzig's truck.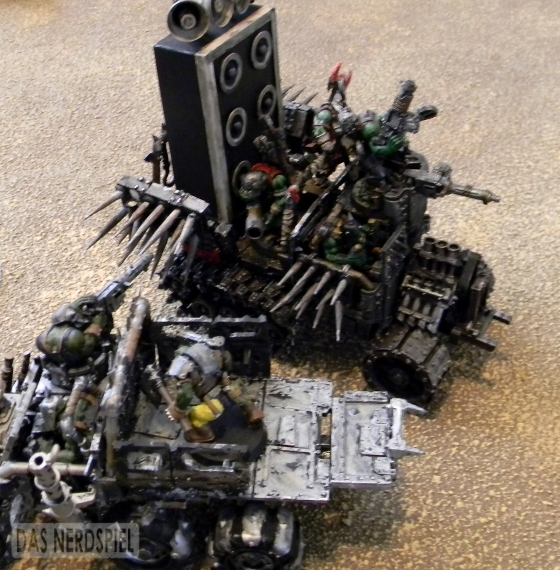 In the end, I was able to snatch up most of the scrap on that side of the table while the rest of the mobs started bottling out. It was the first win for Grizwoad and his boyz.
The next two games went fairly quickly and were much less eventful. First I faced off against Urzig and his crew. Though they had the upper hand, they simply grabbed the nearest piece of scrap and ran off back to their mines (which everyone else agreed was quite un-orky). The third game against Marvolork was apparently so intense that I forgot to take any pictures.

In any case, I found myself in a good position going into the big race at the end of the day. I'd come out on top in all of my games and hadn't suffered any major losses (a refreshing change of pace). This time, however, I wasn't the only one with two entries in the race. Everyone but Urzig had picked up a second vehicle, so there were seven racers this time around.
Once again, Marvolork took an early lead in the race. As my big trakk tried to pass it, his grabba arm reached out and plucked Grizwoad right out of the back of his rig.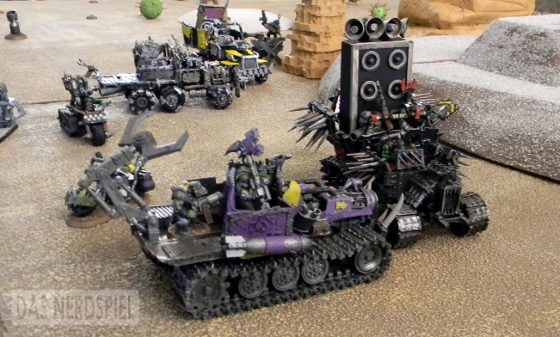 Naturally, the boyz were in a bit of a panic as their leader was being crushed to death in Marvolork's giant pincer, so they threw everything they had at the enemy trakk. Fortunately, one lucky shot managed to hit them right in the gubbinz, and the grabba was blown clean off the back of Marvolork's trakk, freeing Grizwoad, who ran quickly back to the safety of his spiky car.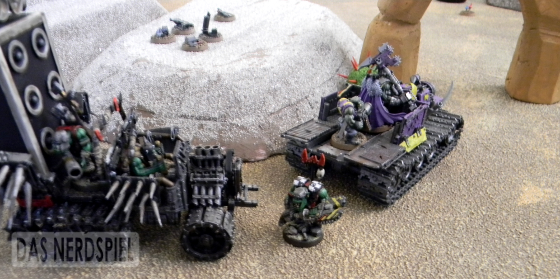 Going into the first curve, the race had turned into a fairly orderly procession with Marvolork leading the way. By the end of the first turn, however, everything had erupted into chaos. True to form, Marvolork's boosta rokkits exploded the first time he used them, forcing everyone else to dodge the flaming wreckage of his trakk. Urzig's boyz also fired of several boostas, plowing their way to the front of the pack before spinning out. Meanwhile, a lucky shot managed to knock Grizwoad's shoutas off the back of his vehicle, ruining the vibe for the whole mob.
With nearly every vehicle at a dead stop after collisions or spin-outs, Urzig came charging across the middle of the track and started wreaking havoc. He nonchalantly tossed Grizwoad, Toast, and Shifty out of their vehicles, while beating Abby and Spike into unconsciousness. The height of the chaos saw Urzig and Chad locked in personal combat on the back of Abby's trakk (which no longer had any of my mobsters aboard).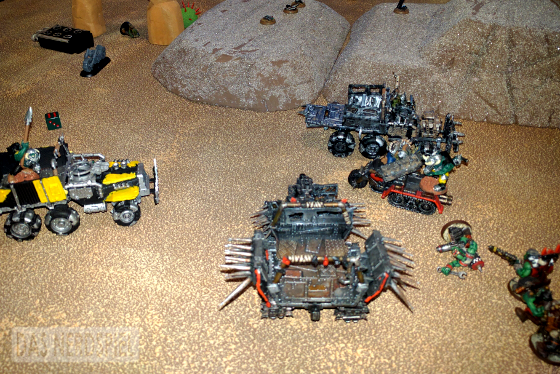 With no drivers left standing, Grizwoad climbed aboard Urzig's trukk and started dispatching his boyz in the same fashion. Within a few rounds, the two nobs had obliterated each other's mobs.
Somehow in all this confusion, Chad's two drivers managed to sneak away (ignoring the fact that their boss was getting the tar beat out of himself by Urzig).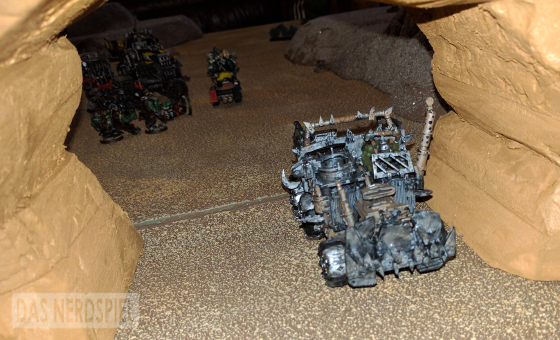 Grizwoad and Toast, who at this point were the only two boyz in the mob left standing, made a mad dash to the finishing line to try and stop them. Toast managed to get off a few shots before being flattened and Grizwoad got one swipe with his big choppa, but it was no use. Chad's gang managed to pick up first and second place. There was no third place prize this time, because there was no one left standing who could drive the abandoned vehicles that littered the raceway.
With an even more decisive win in this race than in the first, Chad and his mob are poised to win the campaign next time we get together. Despite a good showing this time around, my mob wasn't able to catch up to the frontrunners. It would take a miracle to pull ahead of both Chad and Urzig next time, but if nothing else, we'll give 'em a run for their money. I've got a lot of stuff to build before next time...