Glad you like them
Gwyn chan 'r Gwyll
- you could even adapt the technique for Necrons if you wanted - just replace the black to white drybrush with a black to mithril drybrush, then apply Contrast paints to your heart's content for something which would probably look quite "natural" on them!
Thanks
Guardling
- as it happens, I've got a pair of Arbites conversions sitting on the grey/unfinished pile of shame. Parts for Hawkmoth also include an Orlock servo-arm and pistol-wielding arm, a Reiver skull-head, Cadian and Catachan knives, Orlock and Enforcer grenades, and a big old Enforcer holstered pistol. The navigator starts with a Delaque body, arms and breather-canister, adds a Cadian laspistol, a Cadian Command standard topper, a Van Saar stave and female head, and some Kroot shoulder pads with the thread trimmed off. The currently un-painted merc has another Delaque torso and shotgun, Genestealer Cult Neophyte legs and arms, a head from the old Dark Vengeance Chaos cultists, and a cape from Anvil Industries older line. The Inquisitor is based on the Genestealer Cult Primus with Ad-Mech arms (Sicarian and Skitarii) and head, a space marine power mace / thunder hammer haft and standard topper, a manipulator arm from the Kataphron kit, and a MkIV space marine Plasma Pistol. I think the big plasma coil he's holding is from the back of a Negavolt Cultist from the Blackstone Fortress set. If there are any other particular minis you'd like a breakdown for, just name them (or quote-reply one of the model's pictures). Oh, and these are the Arbites (Godwyn Fischig from Eisenhorn in his hard-to-see undercoat on the left, and a generic on the right):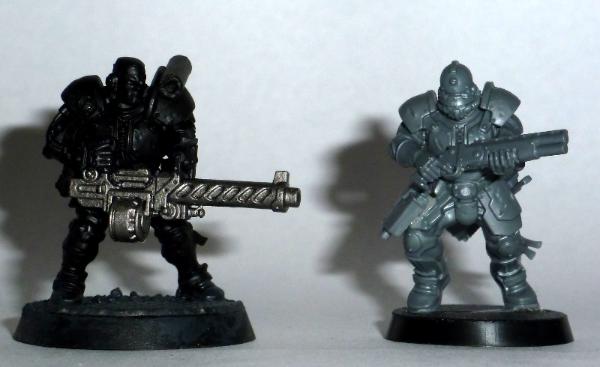 Kid Kyoto
- straight in with the Bloodbowl body. I don't think I've seen anything using the newer Imperial Noble team yet, so I'm intrigued by their conversion potential - got any good ones you can share or link to?
Took me a minute to realise which model you meant
TheCheapskate
. In game, I guess she's more carrying than preparing to use it, and out of game it fitted with the
DE
arm's positioning (which unsurprisingly started out with a dagger attached). Also, she is a radical Inquisitor, so surely defeat is as inevitable as Adminstratum paperwork being filed in triplicate, right? As for the Catachan, I borrowed the concept from someone else, so feel free to keep that chain going!