I saw people with Lava Battle Maps for Reign in Hell, thought it looked cool and decided to make my own.
The standard battle map size for Reign in Hell is 22"x30". It seemed like an odd size to me, but close enough to 20"x30" that using a sheet of foam core was an attractive alternative.
I got a sheet of Foam Core Board from my reserve. Not the expensive Elmer's brand, but the stuff you can get at Dollar Tree. It's softer and easier to carve up, making it ideal for this project.
Sketched out the basic design lightly in pencil. Thought the Skull-shaped rock was clever and would work in the setting. I've done rocky obsidian and lava terrain for Warhammer
40K
Chaos Daemons in the past, and I found that engraving chaos icons into the rock looked good, so I figured I'd try something similar here. The crown over the alchemical symbol for sulfur is the semi-official logo for Reing in Hell, so I went with that. The game is miniatures agnostic and I couldn't find any other symbols in the book, so I stuck with the single symbol.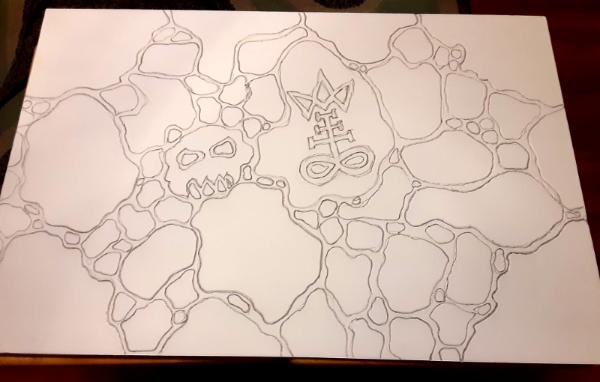 The next step was to go over all the line art with a stylus, in this case, another pencil, piercing the top paper layer and digging through until it went all the way through the foam layer.
Glued another sheet of foam core board to the back to reinforce it all. Then I peeled the paper layer off the top.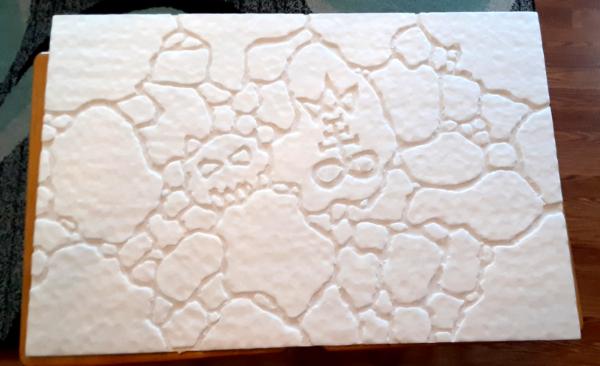 After that, it was time to fire up another episode of The Witcher while I dug out the lava sections with the same trusty pencil. The tip broke off early on and it actually worked better with the broken tip.
The plan was to use a ball of aluminum foil boil to texture it, but I was into the show and didn't want to get up, so I mashed the texture into the foam with my knuckles. Started with some light punching and then rolling my knuckles into it. I'm happy with the result, but after it was all done my knuckles are a bit sore. Who knew punching 5mm of foam on a wooden table was a bad idea?
Now, the prevailing wisdom is that you coat the whole thing by hand or airbrush in black acrylic paint and maybe modge podge. It was 2 am in the morning at this point and I did what any sleep-deprived miniatures enthusiast would do: I spray painted it with a rattle can from 12+ inches away. Do it right, and it doesn't each the styrofoam.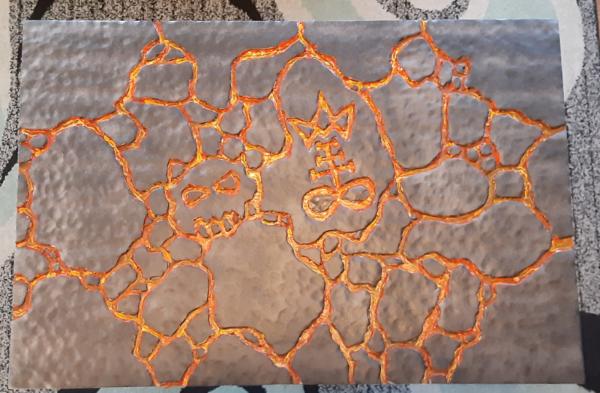 Then it was a case of painting all the lava with the finest Vermillion and Yellow Oxide available at Dollar Tree.
I'm pretty happy with how it came out given the quick turn around time on the project.