I've not seen anyone post anything about these sets, and having just received them through the post from magical internet land, I thought I would post a review for your consideration. If you have any questions about the kit, please feel free to ask and I will answer if I can. Both kits are made from a pretty cheap looking (but still sturdy) silver/grey plastic which with the application of even the simplest wash/weather powder weathering can simulate rusty/dirty metal with minimum of effort. I've yet to paint these, but I would certainly recommend washing the pieces before painting to remove any mould release that might be clinging to the plastic.
First up, the
Hexagonal construction set (large):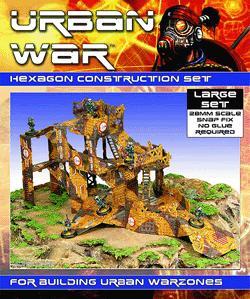 I can't even begin to tell you how many panels and clips you get in this kit - I've been cutting it out now for about an hour and still have about 50% of the kit still to do. Each panel appears to have a "technical" side (valves, wires, etc) and a plain side (tiles/rivets/doors) which means you get 2 different looks from a single kit - a great idea and adds quite a bit of interest to the kit.
There is very minimal flash on the panels (there was a very small amount on one of the panels, but that is it so far). A few of the clips have quite significant flash on but again it is pretty easy to trim and seems to be the same clips on each identical frame, though some are worse than others. Overall the clips with flash on are probably less than 5% of the total number (and there are about 6.7 metric butt-loads in total

). There are 5 types of clip which let you assemble panels in different orientations (there are 5 types of clip included, with plenty of each, though significantly less 4 way "X" connectors than other types).
When fitted together using the clips, each panel has about a 1-2mm gap between each other. The clips snap in place fairly solidly and easily and allow a small amount of movement in the panels (good if you make a structure which "should" not
quite
match up - you can get enough movement in the joints to get it all to clip solidly together).
The instructions, while small, are in colour which is exceptionally good as it shows how to create all sorts of shapes using panels and different clips (which are all coloured differently). Very handy.
Moving on now to the
Biotoxin Plant: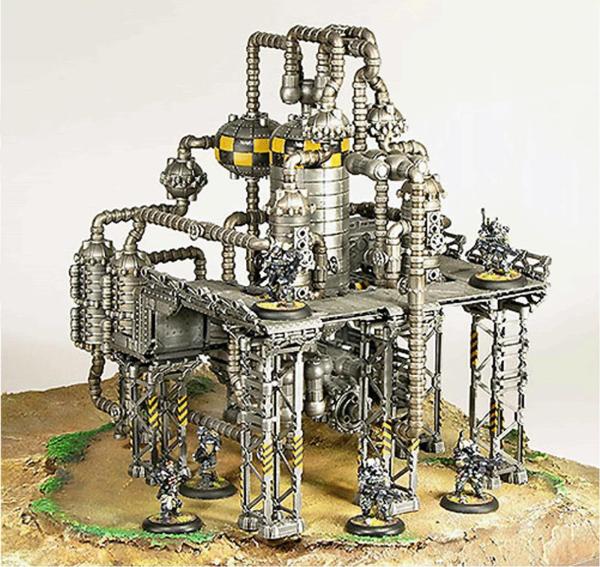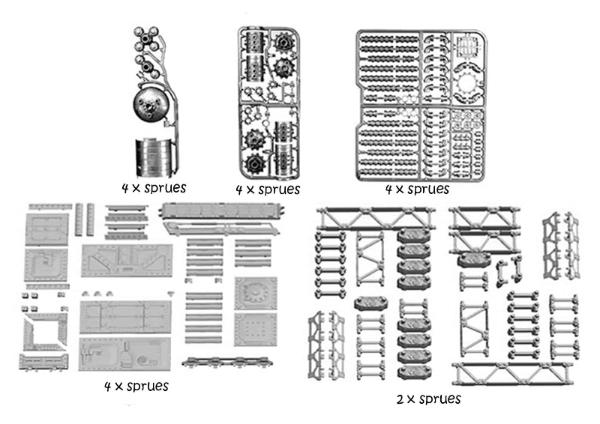 Unlike the hexagonal kit, the biotoxin plant is not held together with little "clips", but using a kind of wooden flooring connectors. The floor plates are also different as they are constructed from 2 individual plates which clip together to form a much thicker slab. This also means you can choose to have panels which are the same on each side or, like the hexagonal kit, which are different on both sides. Again like the hexagonal kit, there are 2 designs for each plate, a technical or a "plain" design.
Just like the hexagonal kit, the biotoxin plant has about 4 million pieces, though unlike the hexagonal kit, each "component" (ie tube, drum, plate, etc) requires assembly from at least 2 pieces which all clip together relatively securely, though it is suggested that you use glue.
There is also at least 1 piece which requires some cutting before use (the large tank sections need 2 small slits cutting out so that it can be slotted into another component).
There are a large range of connectors to join pretty much any component to any other component, which is cool

The instructions for this kit are actually very good and show a few example configurations for building your biotoxin plant, as well as how to assemble each individual component within the kit, and also forming a few more complex shapes/designs with several components.
As I play with both kits, I will update this thread with my findings.