Hello All my fellow Warmongers!
I just wanted to share what I have been working on for the past 7 months or so! Well, I started collecting (and attempting to model and paint) Warhammer
40k
when I was about 14 but realized than that I sucked and packed it up in boxes and didn't see them again until recently! I decided to give all my stuff to my 12 year old brother in law last Christmas as I figured he would be into it and after about a month, tells me that he wants to start his own army and asks if I would start playing with him.....so here I am now getting back into it! Which I am ok with as I love it!!! I never played the actual game, just always interested in collecting, modeling, and painting the minis! So I just wanted to post what I have been working on and am continuing to work on. Im finally getting ready to paint and have chosen the techniques of Les Bursley over at awesomepaintjob.com. He is the man and Im gonna give the old airbrush a go! So here is my squad so far. I will try and label these the best I can and like I said, I have never played the actual game so If I have squads with weapons that arent allowed in play or whatever, please forgive me as I am still learning that aspect of it!!!
Oh and any and all criticism and comments are welcome!
First ill start out with the Dread that I picked up from ***EDIT*** on eBay last summer. His current blog is ***EDIT*** His work and green stuff ability is top notch and I picked up this unit to study and to further my
GS
skills. I added a few more spots of rot and decay and added a resin basin as well.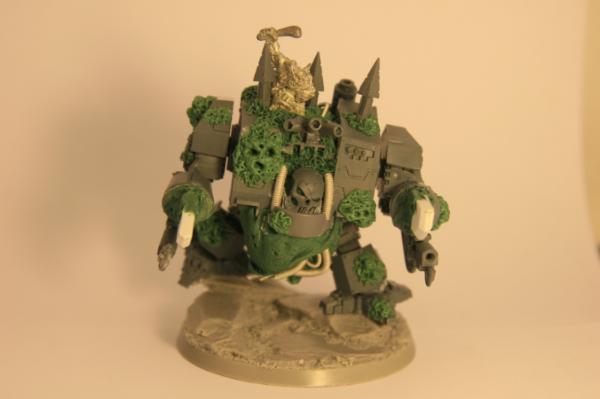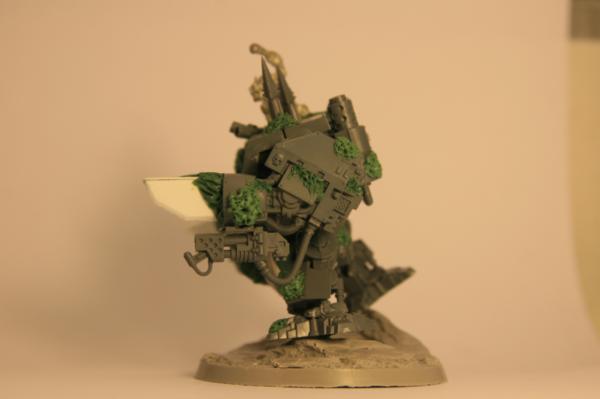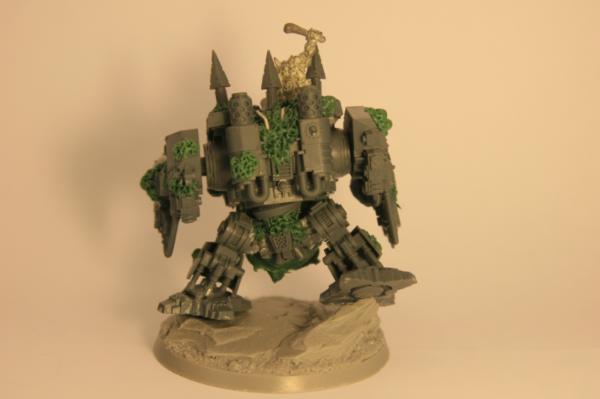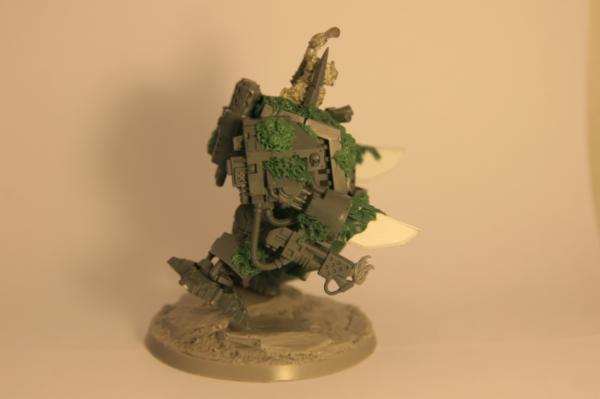 I wanted all of my infantry units to be different and unique! I have been cruising around the interwebs for a while now and got tired of seeing the same old units and poses that we always see so I tried to be different and unique. I think i achieved that! Also the resin bases are a great touch! So here are my 4 squads
First Squad of 10 w/Champion in First pic on right.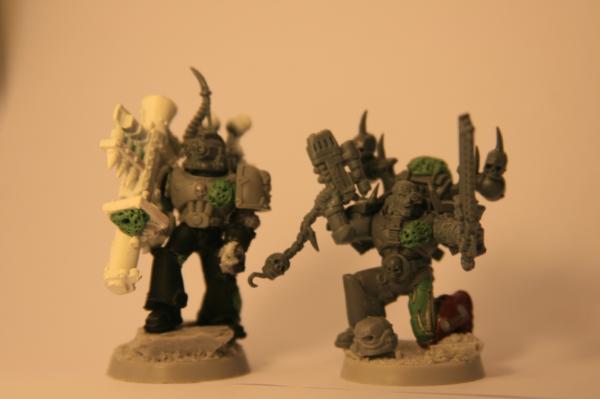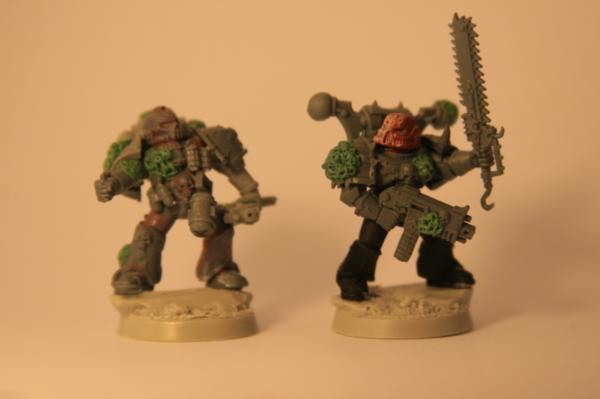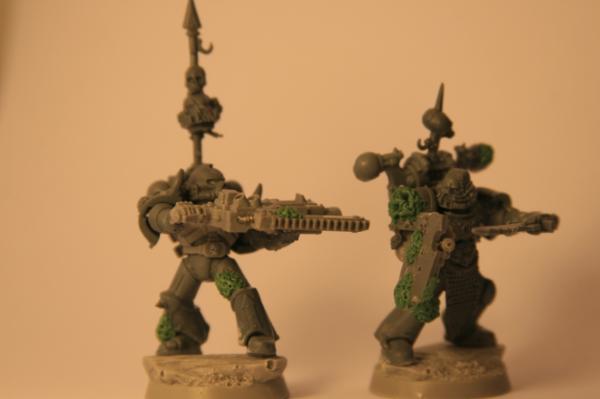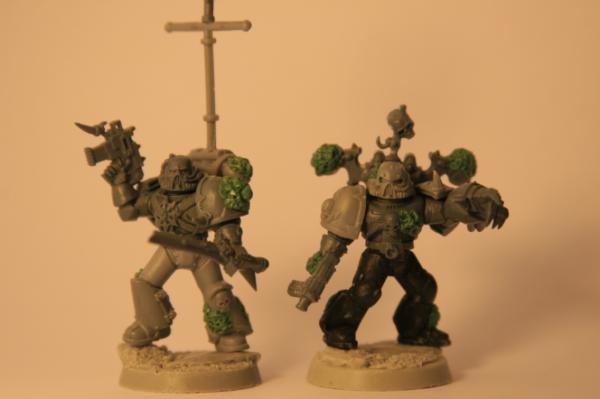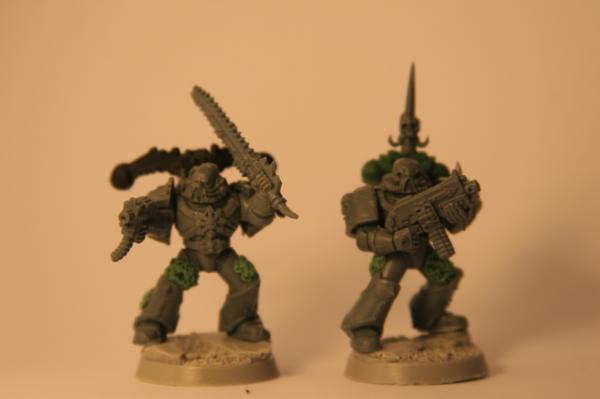 My Second Squad of old Berzerkers w/Champion on right
Banner holder i thought turned out pretty sweet!!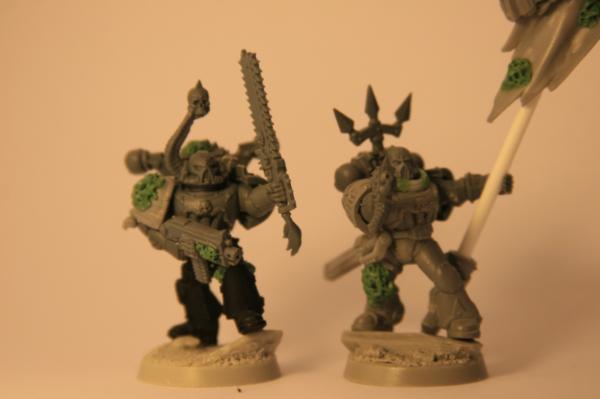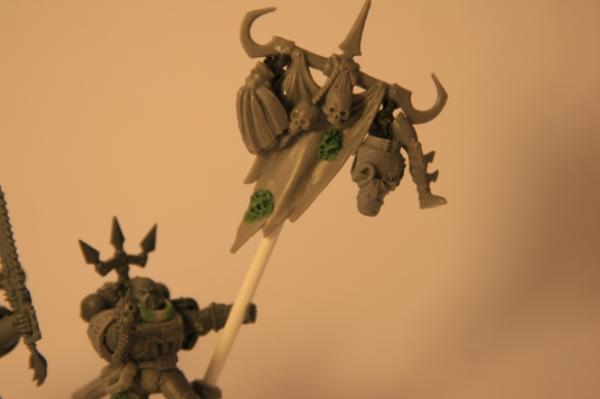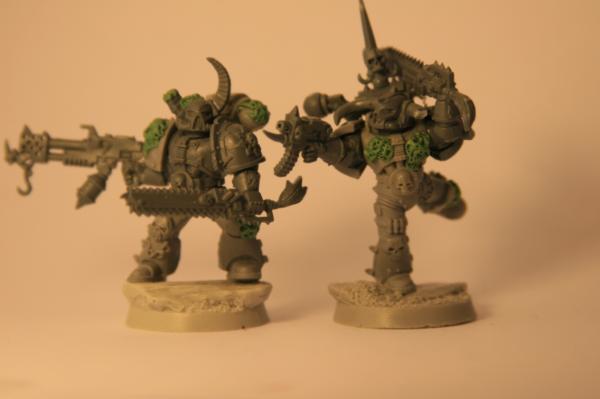 I love the double bolter i had this beast carry! (again dont know if its table top legit or not but I havent seen it anywhere online and wanted something different)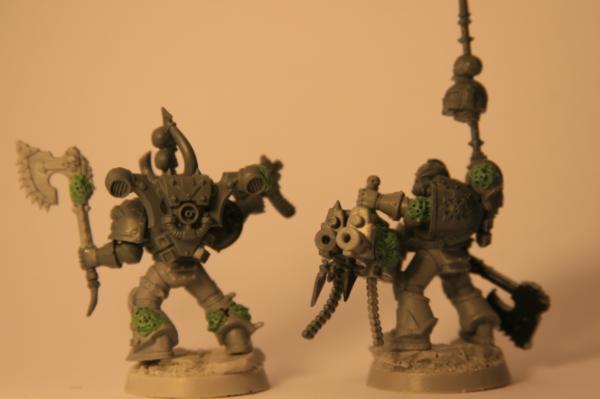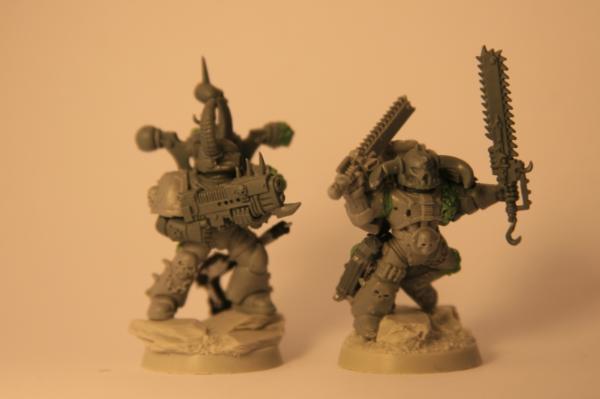 Third Squad w/Champ on the right of first pic
Another unique banner holder and a bloated belly. I did him close to the end and he is really the only one with that big bloated belly. I dont know if he quite fits... But looks cool. I might have to go back and add some bloat to the other units or remove his and minimalize the nurgleness...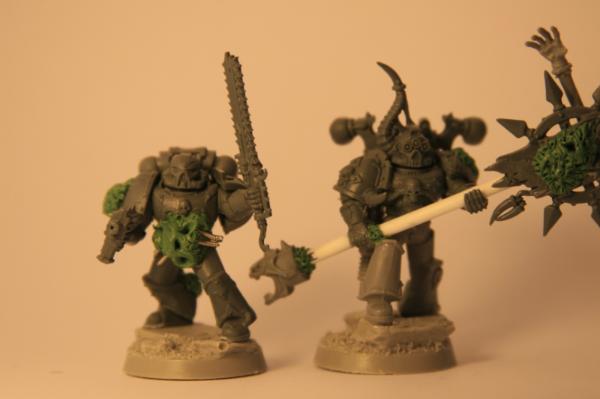 Full shot of the banner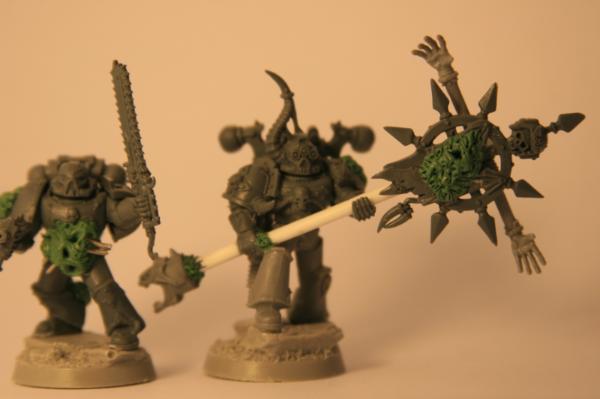 Another cool pose I have never seen with a bolter. Dudes got pipes and can throw it up on his shoulder. Oh and the Chainsword attachment to the bolter too! You know, to decapitate enemies and have show and tell!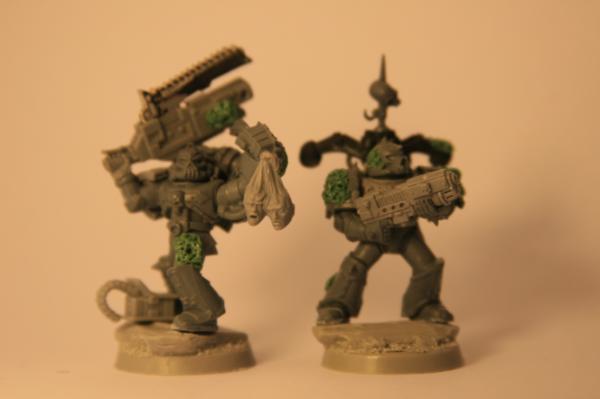 I also like the flame units with the guitar string hoses feeding from the backpack!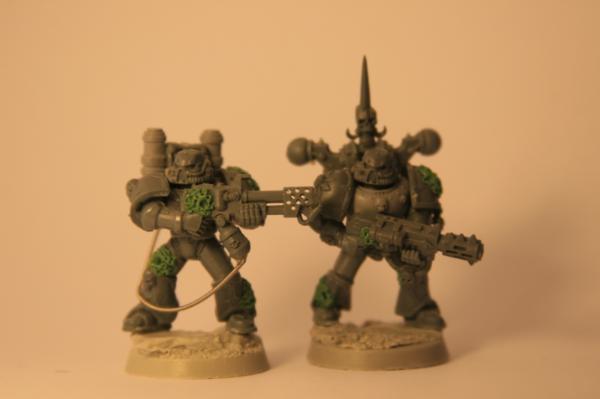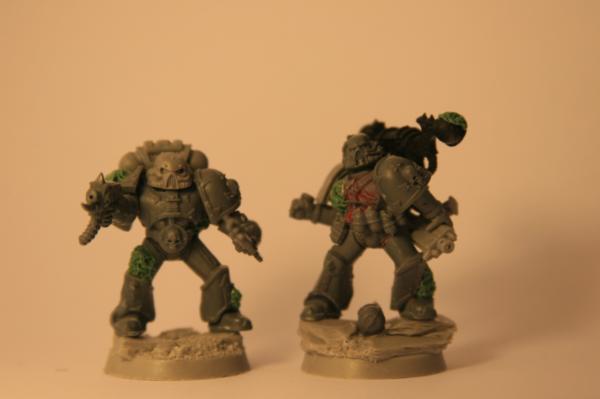 And last is the Forge World set! I love these units!
Champ w melta and special backpack on right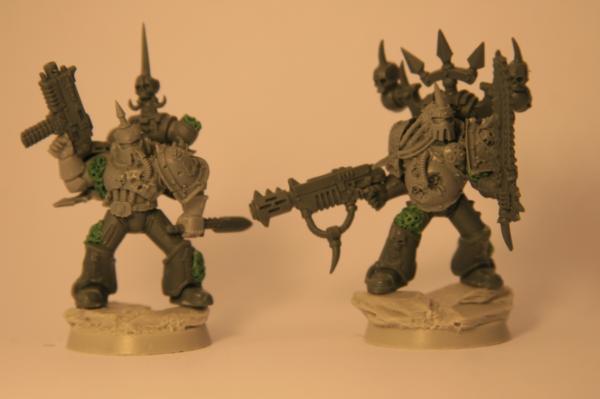 Another Flame unit
I haven't completed the backpack banners that I got the ideal from over at santacruzwarhammer.com yet but they will be next for this guy and a couple others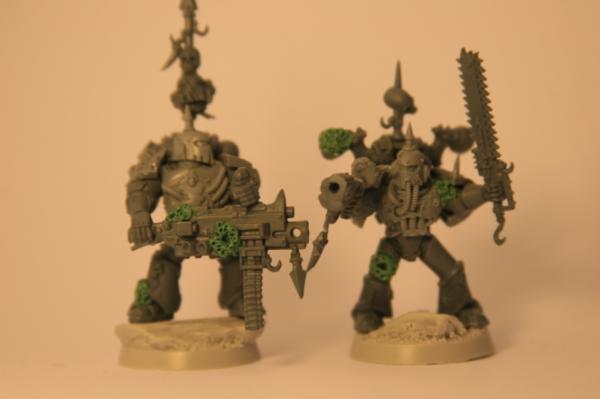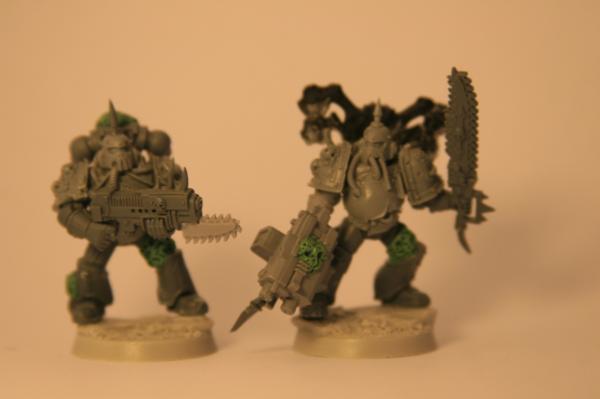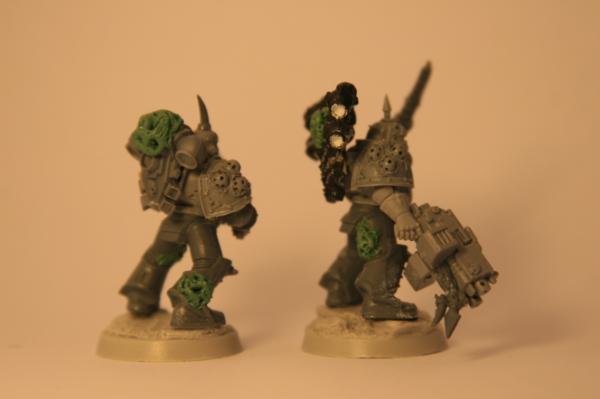 So that is it for my Squad of Basic infantry. Again let me know if I need to change any weapons or add something to make these playable in games. Ill prob be just playing with my Bro-in-law at first so it really won't matter but eventually ill prob play at the local nerdery...
Next is my Termie Lord and 10 Terminators.
Here he is w/out his cape that is. That Scythe is awesome and my favorite part of the model!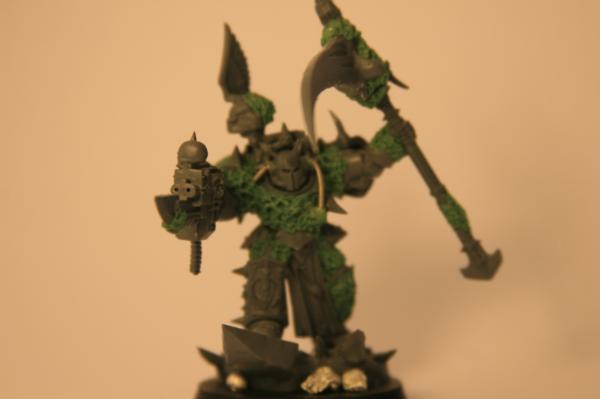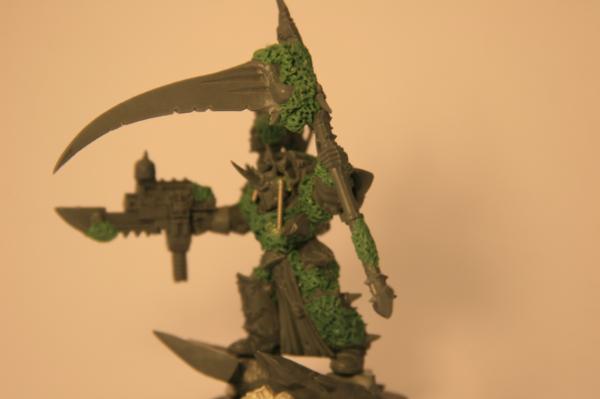 The idea behind my Terminators is I have the 5 beautiful Forge world models that I bought a
CSM
set to use for parts. After building them I had a lot of bits left over so I figured i'd scoop up some termie legs off eBay and make 5 more. The idea is that the
FW
terms are the Veteran squad and have been rotting for years and the
GS
will show that. Where the other 5 haven't been festering for all that long and are just starting to show the signs of decay and rott. But its starting fast! Here they are
I decided to cut that huge blade off the assault gun and add a flamer!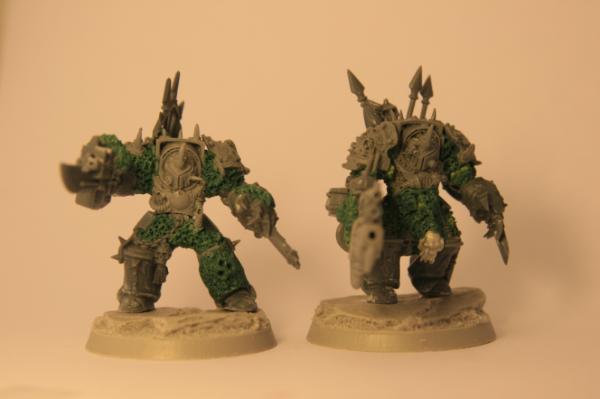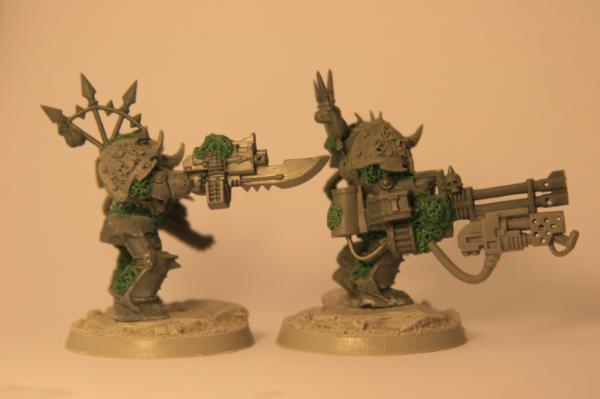 Guy on the right looks a little stiff but...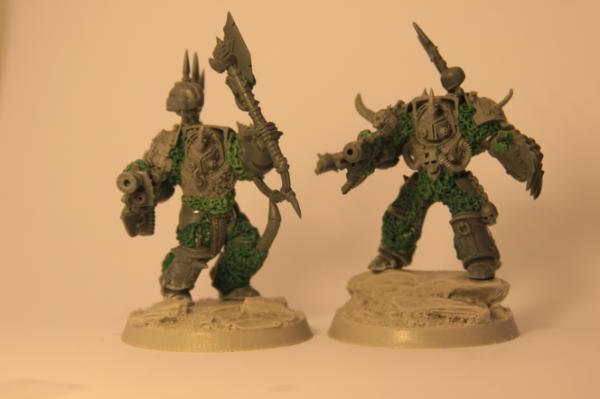 The guy on the left is the non-vet termie. Thought I would show the back as well. I tried to duplicate the round fly hives coming out of the back of them as well.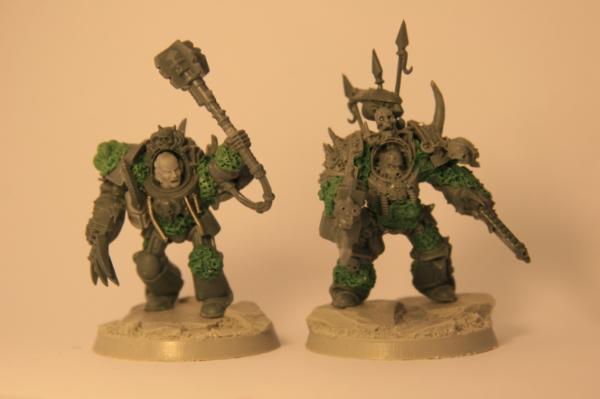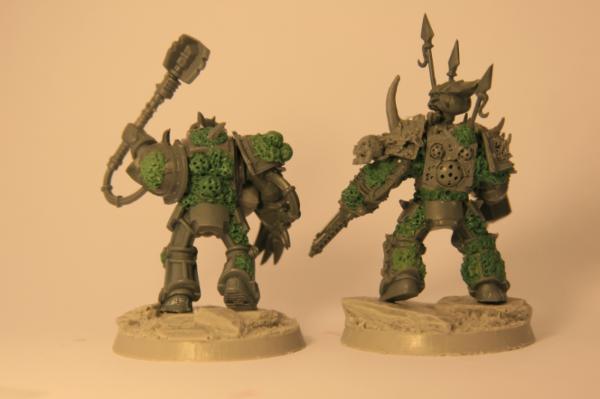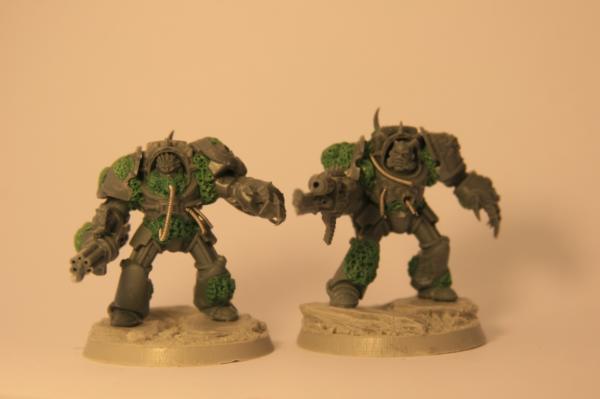 The dude on the right i decided to put a couple of old school banner poles coming out of his back. I am going to create a stretched flesh type of banner canvas as if the skinned someone and used their flesh as a finger paint project.... thats the idea anyway...we will see how it turns out....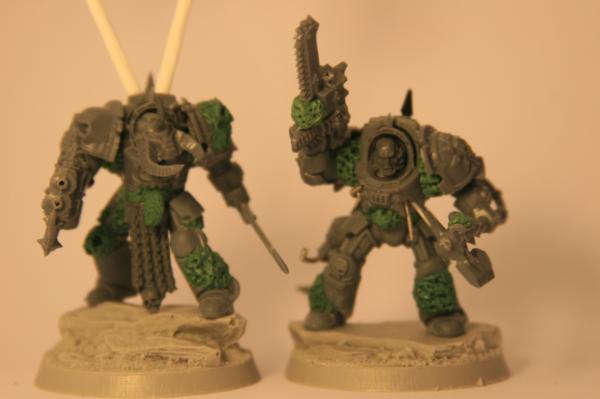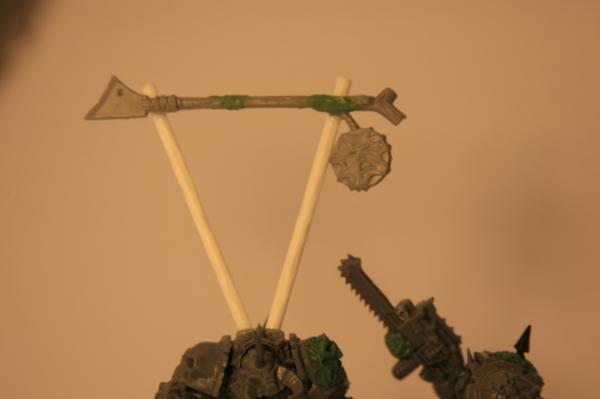 SO there you have it! Thats what I have thus far! There are front a back pics of all of these so if you want to see the backs, there are on there.
I have no clue how many points this army is so far and how many it will shape up to be! That is the part of the game that I haven't looked into yet. So if anyone would like to help out and give me a basic idea, that would be SWEET!!!
Thanks for taking a look and any comments you may leave!
Next up after I paint these, I am planning on adding a 10 squad of Raptors with the Max Mini backpacks and
FW
torsos. I have 5 more old metal termies that I will add. Along with a Black Reach Dread that I am going to cut the crap out of and customize similar to the current one and maybe add one more. And last for troops a set or 2 of Custom Obliterators based on this idea...
http://youngwolf7.com/?page_id=1859
These are friggen amazing!!!!