Always looking for an excuse to postpone real work, I've decided to start a new army. Once the first Grey Knight rumours began to percolate in January 2011, I began purchasing odds and ends to create a new
GK
army. The initial inspiration for the army's theme was a Spartan miniature from Scibor Miniatures.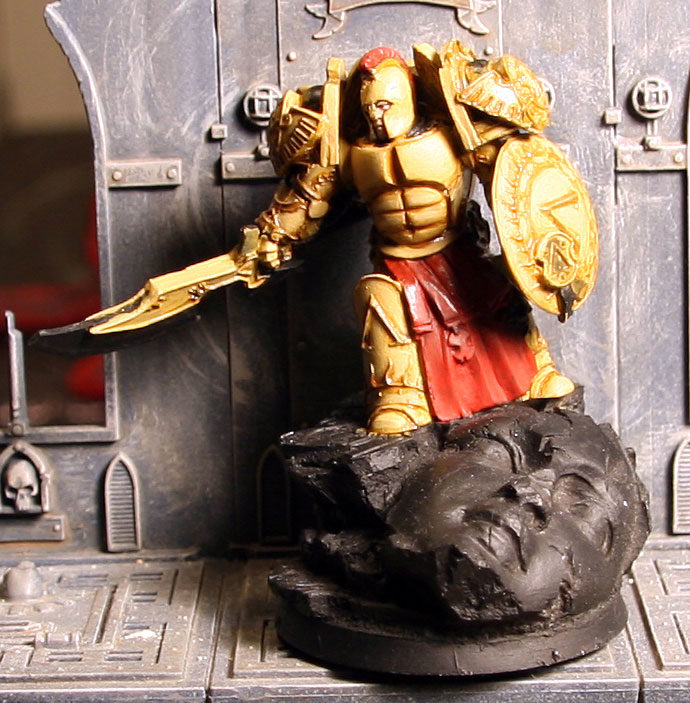 I started a sample paint job to see how it would look. It is still just the beginning of a
NMM
gold. I think I will use this model as my Librarian.
Liking the basic look, I decided to get a few more pieces and theme a whole new army around it. So I purchased some Spartan torsos, heads, and shoulder pads from Scibor Miniatures. I then decided I would add them to knight legs from Micro Arts Studio. I also purchased some cool Spartan shields, but then no storm shields showed up in the codex. :(
Once the Grey Knight minis appeared in the stores, I started to construct my first squad, a squad of purifiers.
BTW
, a dremel and mask was a necessity fitting those torsos onto the legs (there was a lot of resin that had to be removed).
Unfortunately, the scale of the Scibor shoulder pads was totally wrong: they are scaled to fit terminators, not their own Scibor torsos!
Luckily, my
FLGS
had a number of metal shoulder pad blisters, and low and behold, the Genesis chapter pads have a lambda symbol on them, much like the Spartans!
Here are the first squad of eight purifiers (1 daemon hammer, 2 psycannons, 5 halberds).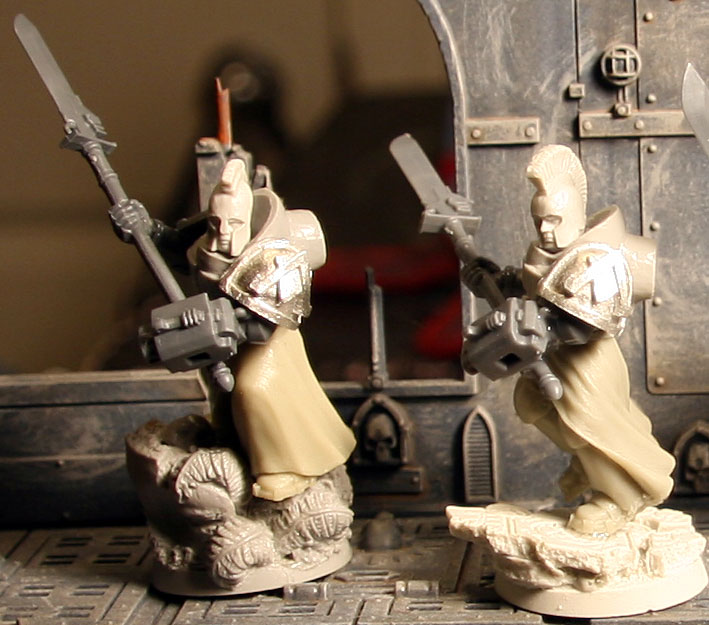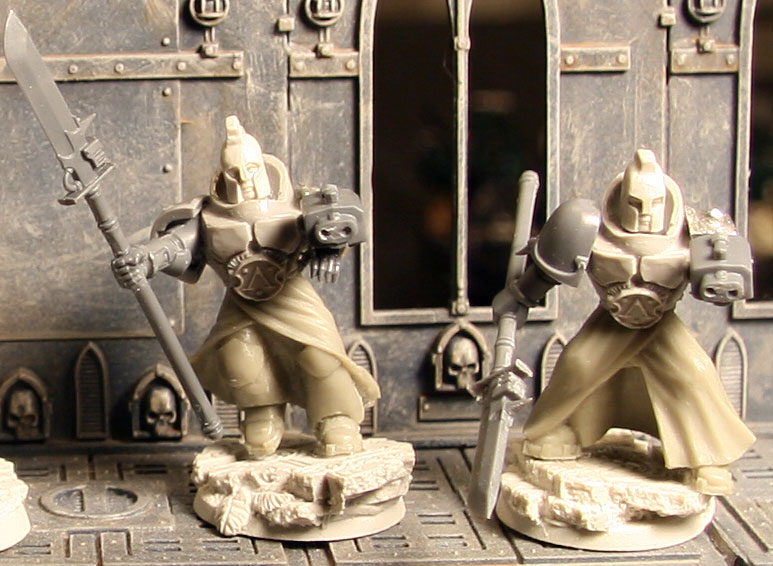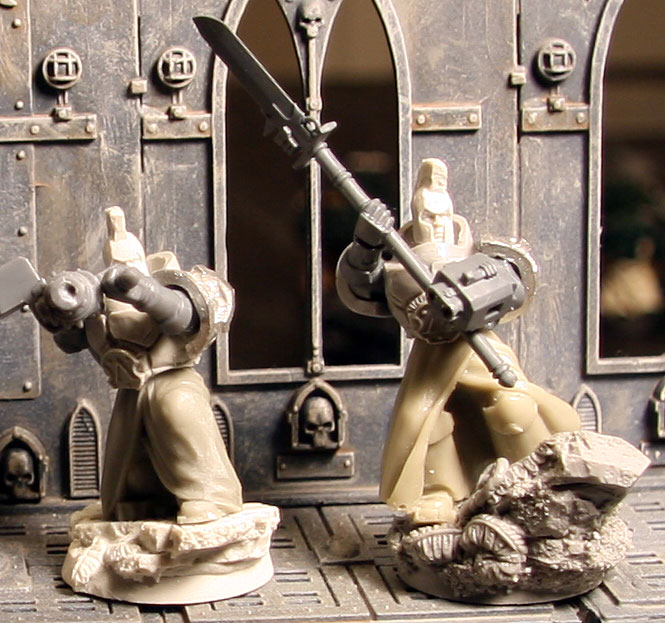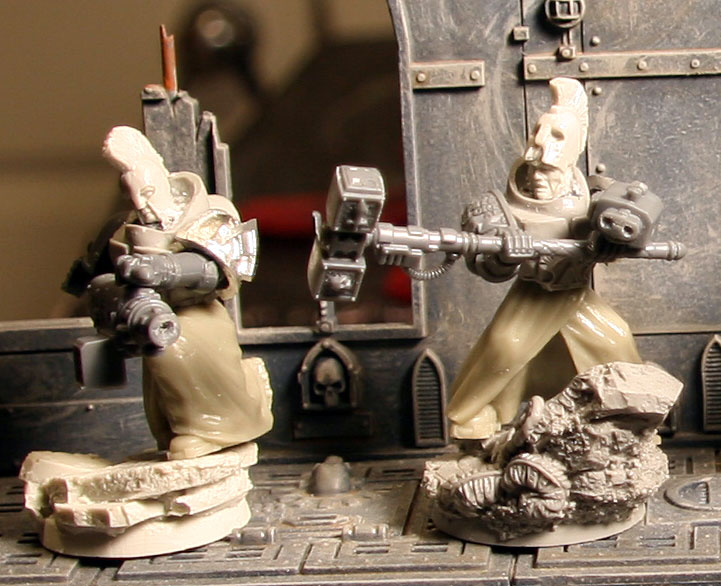 The nice thing about a closeup is that it allows you to see the flaws. I see a few places where I didn't remove the flashing. And of course, I haven't glued on the ammo to the stormbolters yet.
For my daemon army, I spent a ton of time on my bases. This time around I'm just using bases from Scibor.
My plan is create an army with Inquistorial elements. Like everyone else, I'll be running Coteaz. I don't have the official Coteaz mini so I'm deciding to use this one. Coteaz has a big hammer as so does this chap.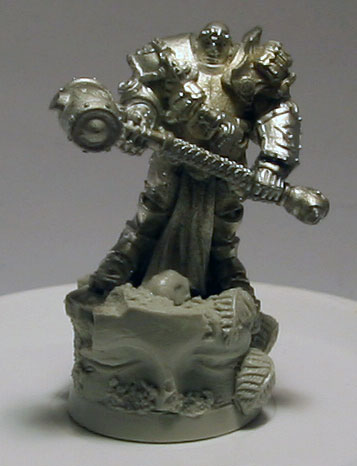 At present, I'm not completely sure about whether my two
HQ
will be Coteaz and a Librarian or Coteaz and a Xenos Inquistor. Several years ago I found the ForgeWorld
Inq
Solomon Lox model in a cutout bin but never did anything with it. Now it will be my Xenos Inquistor (with grenades).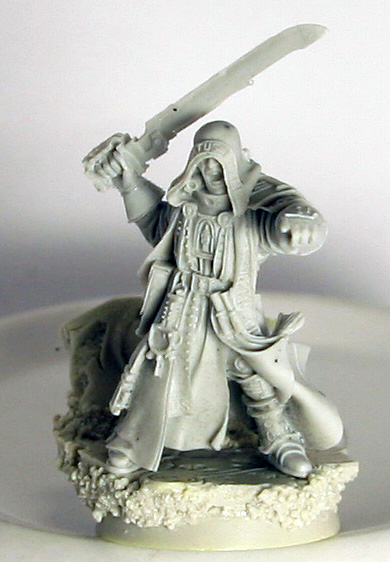 After some playtesting with my son, I've found the Death Cult Assassins (
DCA
) to be the best close combat element in the army. We have found that Grey Knights are not really a close combat army, but a good midfield shooting army that are uncomfortable (for the opponent) to assault. However, the
DCA
are a great counter-assault unit and can be paired with Crusaders or perhaps just cheap ablative acolytes.
I'm not a real fan of the
GW
DCA
models. Even worse, there are metal and have only two poses. If I ended up running two squads of them, it would look pretty silly. So I need an alternative model. Now, I have a couple of models I used as Eviscerator-armed zealots for my old WitchHunter army. Perhaps I can use them.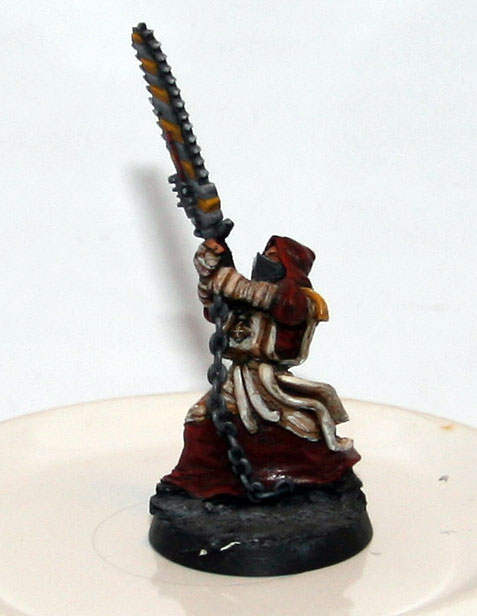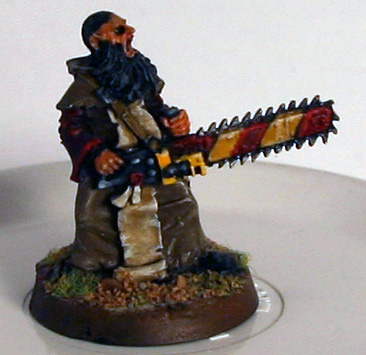 That would be a bit ragtag I think as each model would be completely different. Instead I'm going to use Doom Reavers from Privateer Press, since there are four different poses, and the unit will look more cohesive.