I thought to start a single thread where all the imaginitive and inventive Tau players may post their own home-made Tau designs and models with rules, for consideration and evaluation by their own Tau player peers (and any others that are interested, just no Tau hate, there are plenty other threads for that.)
This Thread is a attempt at compiling all these great designs from all over the various threads into one, not merely to act a re-post but a sounding board.
Parameter #1 : Models first , all entries will require a related model demonstrating the prototype, no just proposed rules blocks, this is to display both your new models design and its rules, painted models are encouraged.
Parameter #2 : Rules second , all entries then will need the pertaining rules or modifications to existing rules to be explained within. Any fluff or explanation for rules is greatly encouraged, this adds well to the discussion and the story immersion.
Parameter #3 : Playtest your rules, and be able to give feedback for any intrested inquires, and encourage others if willing to playtest as well.
Parameter #4 : Keep all suggestions constructive, and useful, again please no Tau hate for Tau hate sake, plenty other places for that.
now that being established I will get the ball rolling with 2 of my own designs.
Mont'Ka armor superiority vehicle.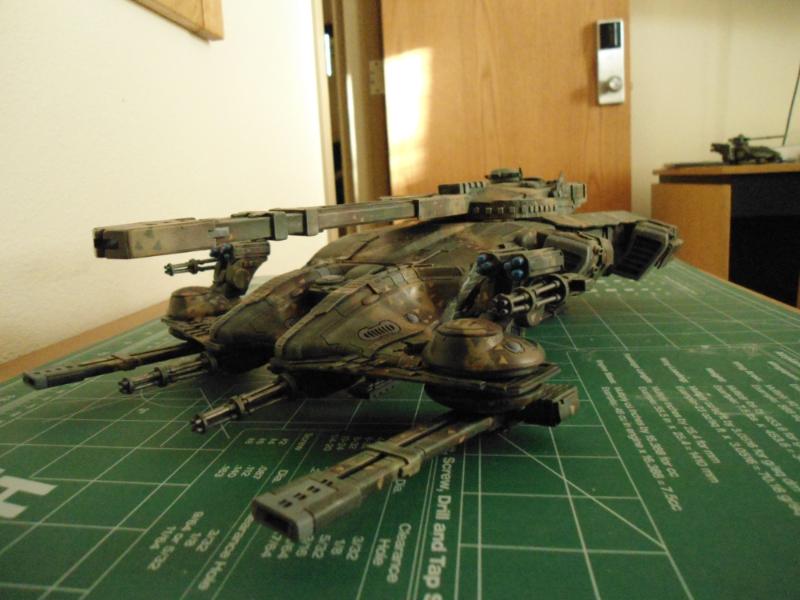 Requsition cost : 900pts ( note: point reduction from playtesting )
type: War Machine
structure points: 3
Armor: Front 14 Side: 13 Rear: 12
Tau Fields: 2 (av12)
Transport: 20 ( standard load out 10 fire warriors, 8 Pathfinders 2 marker drones )
Acess ramps : 3 (sides, and rear )
Fire points : none
Movement class : skimmer
Weapons:
BS
4/3 drone systems
Turret mounted Naval grade Rail cannon ( Range 110"
Str
: D
Ap
:1 Heavy 1) Primary weapon system
submunition packet (
str
: 8
ap
: 3 Ord 7" blast )
Co-axial Long range heavy ION cannon (range 90"
str
:8
ap
:2 heavy 3 )
Wing turret ( X2 ) mounted Long barreled AA burst cannons (30" range) * may fire in missle shield mode, see special rules below.
twin linked long range AA missle pods (50"range)
Rail gun with submunitions.
Chin turret mounted ( x2 ) long barreled burst cannons (30" range )
dual rear hull mounted Smart missle systems.
Special rules : Missle shield mode may be activated for the wing turret mounted burst cannon systems, declared in owning players turn , the burst cannons may not be used to engage enemy units, but during the opposing players shooting phase may be used to engage any missle bomb or rocket based projectiles passing within 30" of the weapon mount, owning player announces he will intercept and rolls dice equal to the
ROF
of weapon, in this case 3 dice, using the
BS
of 3 ( drone system +targeting array) each hit removes one potential enemy shot from hitting its target. 2 hits from this system are required to intercept Ord class projectiles.
Equipment : decoy launchers, and disruption pod arrays, heavy flechette launchers ( turret mounted ), landing gear, and black sun filters.
Upgrade bay: for future system enhancements.
Narwhal LDMS (Launched Drone Munition System)
The LDMS is the Tau Empire's response to the overwhelming superiority of it's Imperial opponents indirect fire assets, but wish to avoid collateral damage and friendly fire incidents have approched the challenge with a high technology approach.
Using established Drone systems, and a Variable loadout programable payload subsyems, the Tau earth caste have developed an accurate, adaptable war fighting system, that is designed to complement the other units fighting for the greater good.
Weapon : LDMS Range: 12"-96"
Str
: varies
AP
: varies Special: based on payload.
Explosive/Thermic charge
Str
:8/6
AP
: 4/1 (Thermic charge) Special rule: Explosive : Ordnance 1 large blast Thermic charge: hev 1 Melta small blast(
2d6
pen if center of blast template is on vehicle.
Multi-Drone Munition (MDM) see special rules.
special rules: self-guidance systems, after scatter and distance dice have been rolled the controling player then may roll 1d6+3 for the self guidance systems of the drone munitions, this correction may be made in any direction the player wishes, to reflect the drone choosing its most effective target.
Once a target is determined the owning player decides which form of explosive to deploy either the Explosive or Thermic charge, effects are then determined on target.
Variable loadout: before firing the player may determine if an Explosive/Thermic charge, or Multi-Drone Munition will be deployed, both benifit from the self guidance special rule.
Multi-drone Munition: MDM is a cluster of limited life span interdiction drones, that are programed for fire support or close quarters assault, the MDM is represented by a 60mm base with 3 drone models affixed with the following profile
ws
:2
bs
:2 s:3 t:3 w:3 i:4 a:3
ld
:7
sv
:4+ twin linked pulse carbines (Assault 3)
The MDM cluster once placed does not move from its position and if not destroyed by enemy fire or assault will self-terminate after 3 game turns, while deployed it may fire as normal and defend itself in
CC
, and counts as fearless for purposes of
LD
checks.
If the MDM Cluster is placed upon a enemy troops it will count as deploying flechette launchers for the first round of combat effecting all models in base to base contact or within 2" , also the cluster is treated as charging, difficult/ dangerous terrain will remove the MDM cluster on 1 on a
d6
( rolled before combat )
Friend from foe: if when using either Explosive or Thermic-charge loadouts and the blast templates cause friendly (Tau only not allied units such as kroot) to be effected, then the drone will self terminate prior to detonation and no template will be placed ( The Tau do not tolerate friendly causulties, and have programed even their artillery to discriminate friend from foe.)
Markerlights: for each markerlight placed on target 1" is added or subtracted from the self guidance roll, this is the only use of markerlights with the LDMS.
Ok, all you creative Tau players feel free to post up your model pics and designs, and Q & A encouraged and welcomed.