So, the flying start kind of fizzled for a little bit there, but I'm still working. I'm calling the fabric parts done and have moved on to basecoating the leather and silver metallic details on the cultists: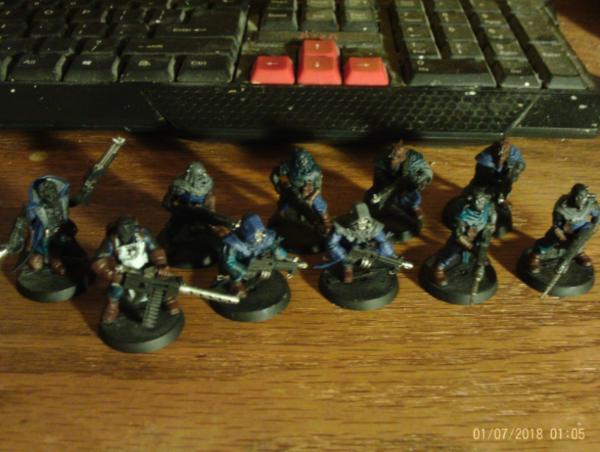 I need to get a move on, as I've got lots more cultists to do after these guys. I'm gonna be sick of the damn things by time Adepticon rolls around.
No more work on the Sorcerer as of now, but I have assembled some Hellblasters for my Dark Angels: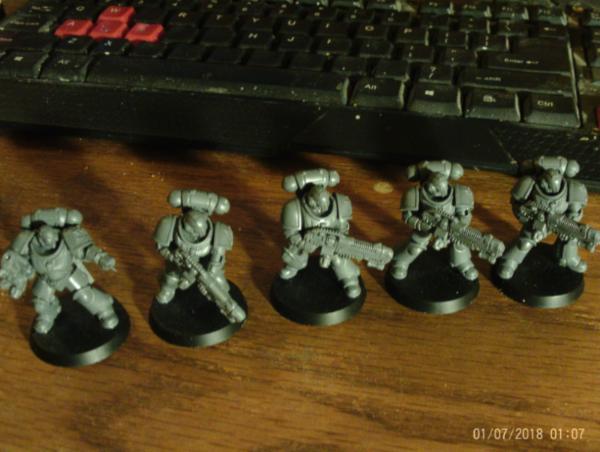 These are from the Dark Angels Hellblasters kit, so they have the nice chapter upgrades like sculpted shoulder pads and some accessories. I needed some built for a team tournament in a couple of weeks.
One thing I thought I might do this year is compile a wishlist of models I do wish to buy as of right now. Obviously I might get more stuff as new things are released, but this is a core list of models I either need or really want for my lists. In no particular order:
Daemon Prince with Talons: I need one of these for Adepticon potentially, as at least one of my list ideas for the
GT
there involves a Slaanesh
DP
with talons and both of mine have weapons (one sword and one axe).
SM
Scouts: I need more of these guys for my Dark Angels, as they are perhaps the best troops for them (although Intercessors aren't bad). I actually have some metal ones on their way to me right now thanks to eBay.
RW
Black Knights: Again, I need more of these as I only have 3.
Inceptors with Plasma Exterminators: With the plasma stratagem for Dark Angels, I really should pick up 6 of these guys (two boxes).
Great Unclean One: Although not a rush item due to the price point, I do want one of these for my Nurgle forces. The new model is totally awesome!
Various other Nurgle Daemons: I need more Plaguebearers, as well as some Drones, plus perhaps the new characters.
Bloodletters: I need a couple more boxes of these guys, as I'm actually considering running them once the new Daemons book drops.
Magnus the Red: Now that it's been confirmed that the Daemon Primarchs can use the Daemons Deep Strike stratagem, I need to pick up the other Bash Brother. Not a rush item though.
And now the much less likely to acquire Forge World section:
Chaos Decimator Engine: The model is cool and I've heard it's very competitive.
Fire Raptor Gunship: It's a cool model and probably the best flyer in the game. I'm definitely gonna see about getting one for my Alpha Legion or my Dark Angels.
Sicaran Battle Tank: Mostly for the cool model, but it isn't half bad in games either.