Hello, how is everyone? Er... well... I've always been bad at starting posts, so let's just get to the point XD
For a while now, I've been slowly putting together a Deathwing army. Waaay back in 2010, I had used some
AoBR
termies and borrowed bikes to play in a local
40k
league, and I fell in love with the style of play that Deathwing armies afford. The only problem is that until recently,
I
couldn't afford it.
So over the past while I've been slowly getting minis and assembling them, since I'm cheap and want this to be fairly inexpensive. Because of this, the army has and will have a
lot
of conversions--I've actually learned a lot about green stuff and conversions over the course of this project.
So, enough background and onto the project itself!


The chapter I'm building is a Dark Angels successor chapter called the Seraphs of Thunder, which I have yet to come up with a satisfactory backstory for, but eventually will. Their paint scheme is red and a corroded bronze for the armor, with other metallics, etc. I've put a lot of work into creating weapons and gear for them that looks good, as I don't plan on buying the individual thunder hammer bits for my terminators... Actually, I guess you could say the army started out as a converted unit of THSS terminators, back when I had a crappy conversion from a storm bolter as the hammer: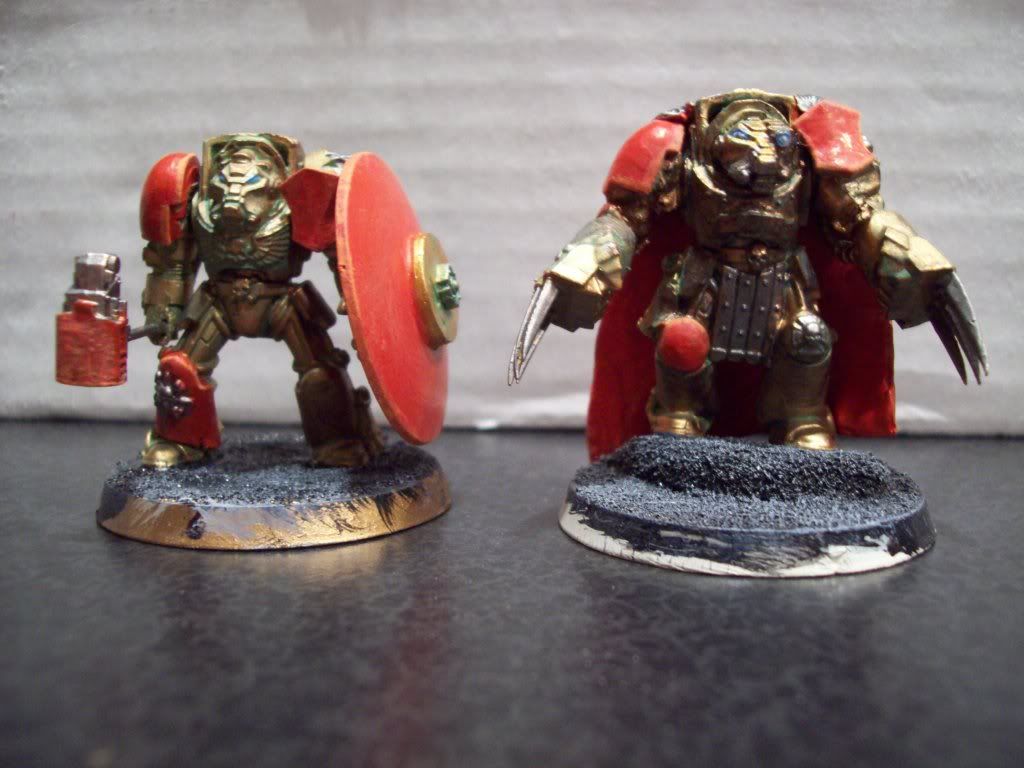 Thankfully, I've gotten past that stage of converting, and through the wonders of 3D printing, I designed my own hammer from scratch in sketchup and got myself a set:
This is the some of the stuff I have to work with: some converted
AoBR
termies, some Dark Vengeance ones, some Space Hulk ones that I got with the game when it came out, six bikers, and then the minis I've painted. I also have something like 20 tactical marines from
AoBR
I need to assemble and a razorback I need to repaint.
I have a bunch of pictures to share, but I'm not sure what order to go in, so I guess I'll just go in
FOC
order. Here's my Librarian... he's getting a repaint sometime in the near future since I don't like my work from back when I did it XD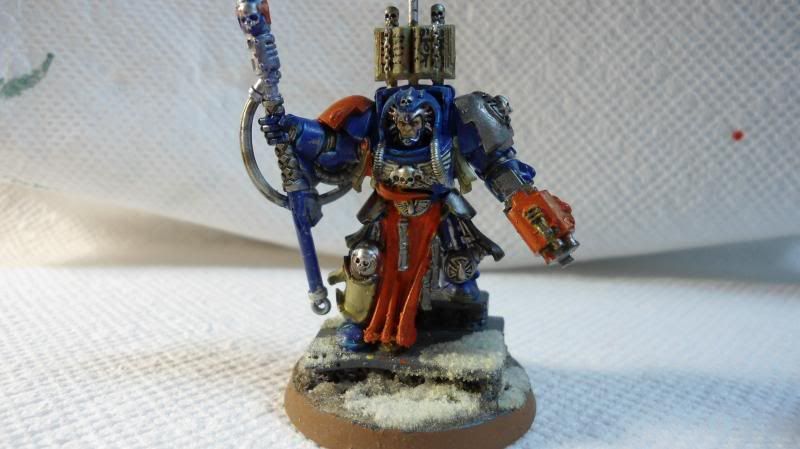 And here is my "Belial," still very much a work in progress. He'll get a name and backstory some time in the future, but first I need to finish working on him. I still need to work a bunch on his cape and give him a shoulder banner thing, as well as a bunch of details.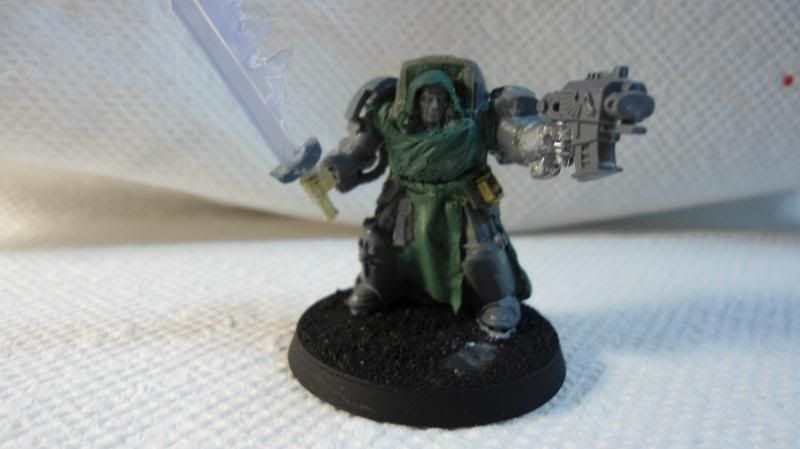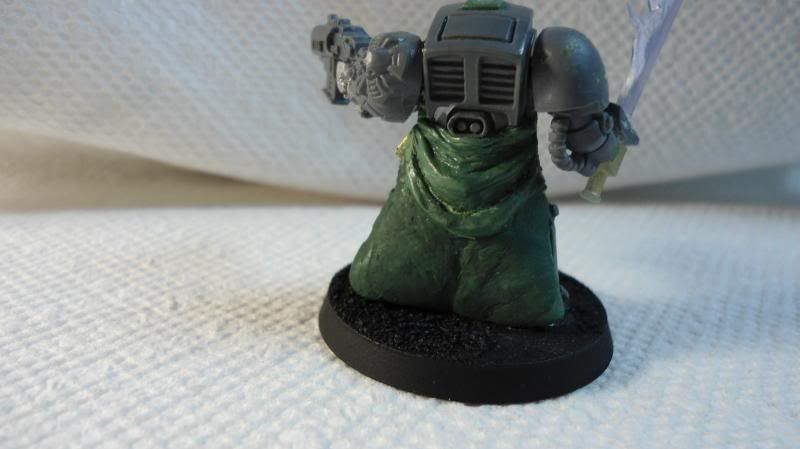 His sword is probably the coolest thing about him so far--it's going to be painted to look like it's made of lightning, with some
OSL
to go with it.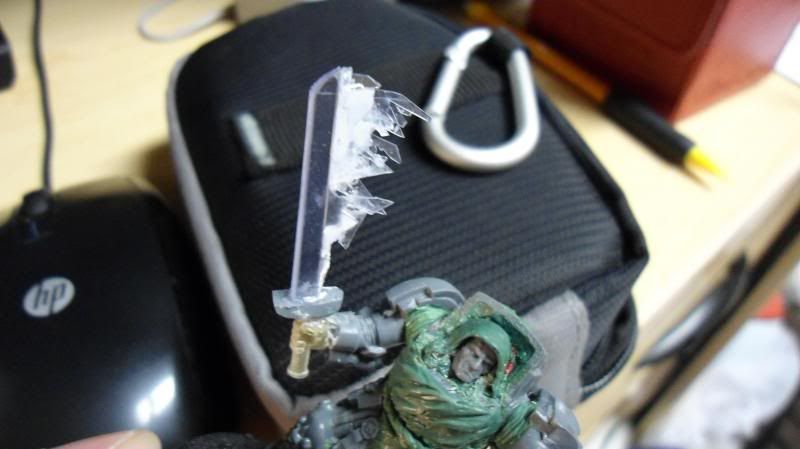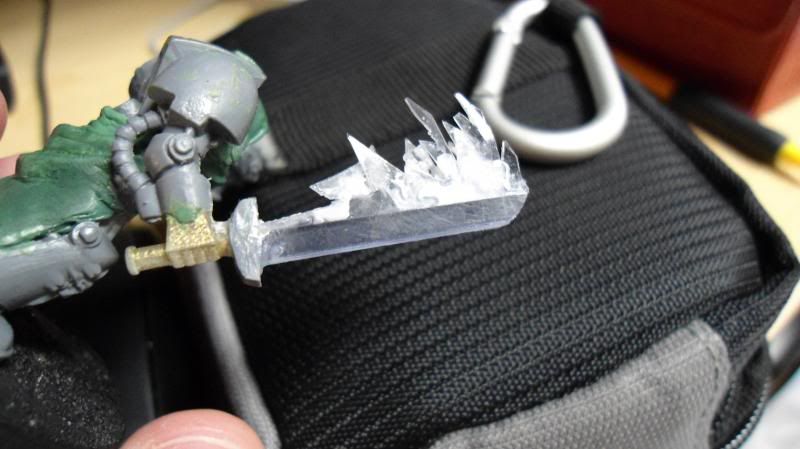 It's actually kinda funny... I had a different model lined up to be my Belial back before the codex got updated and he got a model, so I decided to demote that one to a Deathwing Knight and make my own to look similar to the real one:
This guy originally had dual power swords to count as Belial's twin lightning claws, but right now he's getting a Flail and Storm Shield instead. No pictures of those right now, sadly, since I could not get a good shot for some reason.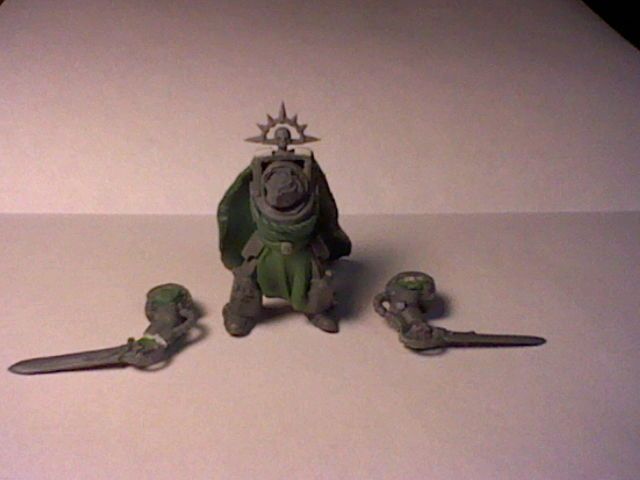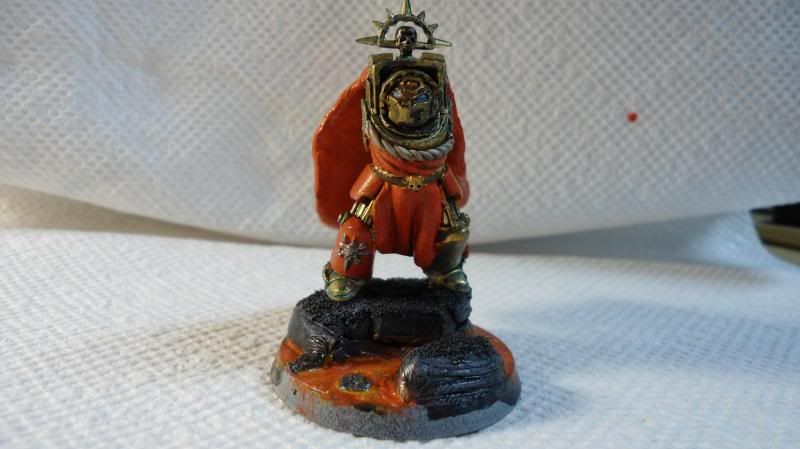 Although speaking of Storm Shields, one thing that always bothered me about them is that the Space Marines actually
held
them, with their hands. They have super high-tech armor that interfaces with their nervous system and they can't use a magnetic rail or even a locking mechanism to let them keep their hand free? Bleh. I decided that mine would be going with the "magnetic rail" system, and so I built it out of power fists. Here are the storm shields of normal terminators in the army: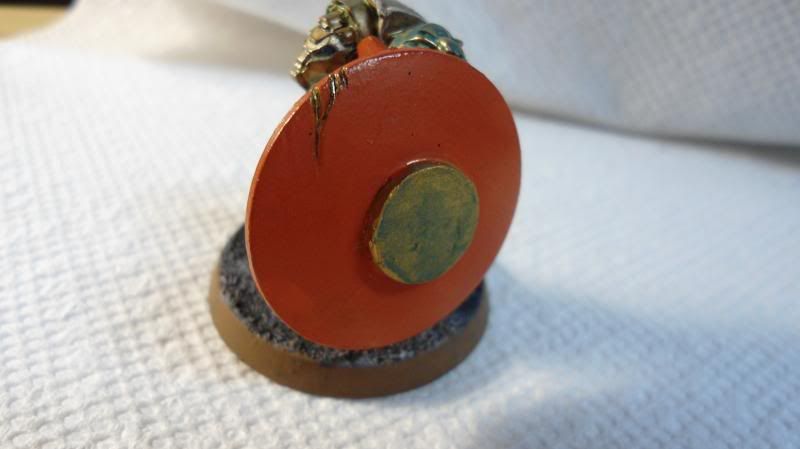 And here is one of the Deathwing Knights ones, showing the rail mechanism: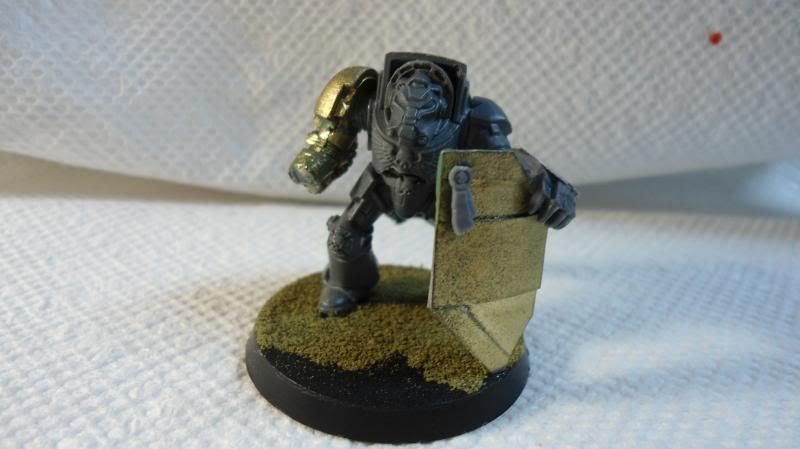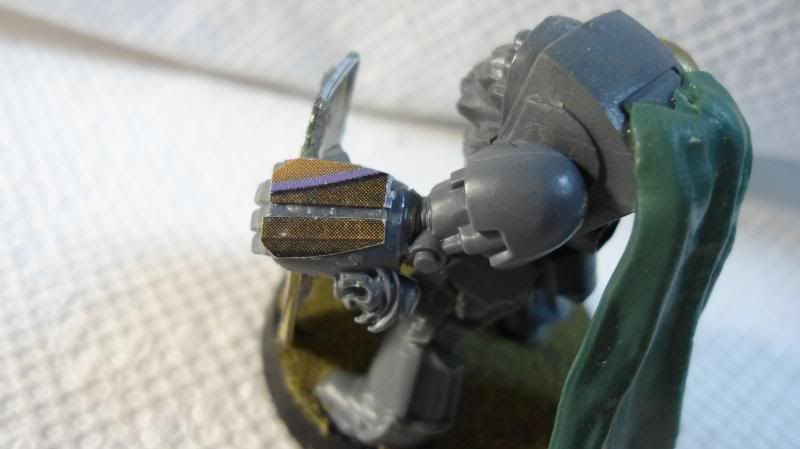 All the Deathwing Knights have different shields than the rest of the army, and they'll have capes as well, to differentiate them from the normals.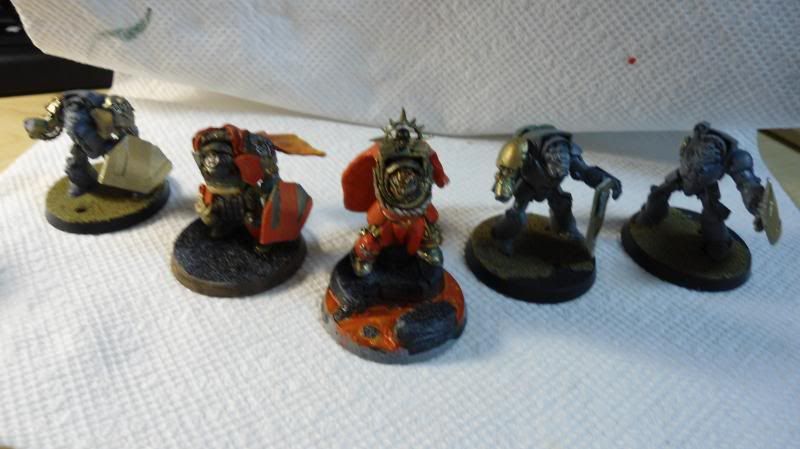 And they will have custom Maces of Absolution that I designed, currently in the mail and scheduled to arrive next week: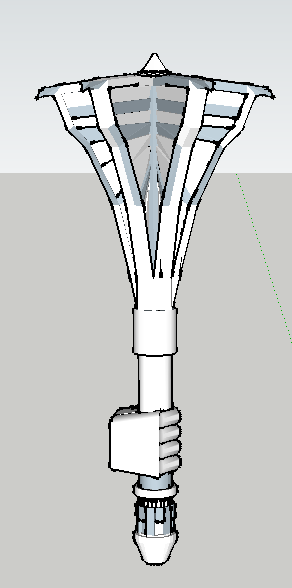 It's kinda hard to see from the screenshot, but each flange of the mace has a wing design on either side, trailing the feathers down to the shaft.
This is one of the Knights I've been working on in the past few days, trying my hand at blending for the first time. I think I'm probably going to do that for all the capes, and possibly the shoulder pads as well: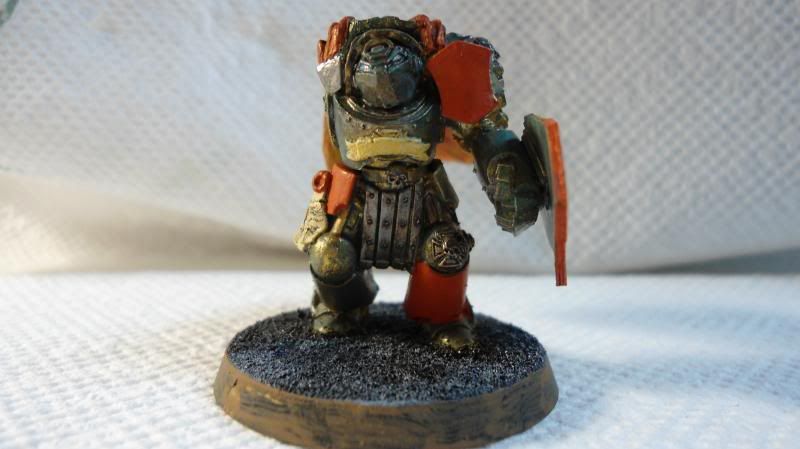 This was originally a sergeant with a cape instead of a deathwish (he kept his helmet on), and now I'm not sure where he'll go. Probably as a normal member of a squad.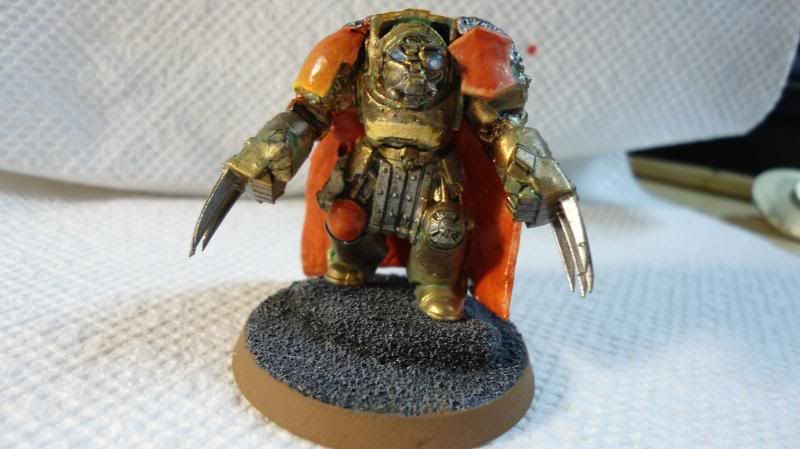 I still need to do his cape like the other one, and to think of a name for him. I'm gonna wait to give names to my marines until after they do something cool in a game, and this guy tanked 33 wounds to the face from two units of Orks, then lived until the end of
next turn. I'm thinking that he'll probably get a foreign word for "wall" or "immovable" or something like that

This guy is also without a home, since I'm not sure how I want to equip him, or if I want to magnetize him and convert or buy some more weapons for him. In any case, he hasn't seen battle yet, since I've never been much of a fan of Dreads, I just have him from
AoBR
And here's a pic of two normal terminators, still works in progress. I had them magnetized, but decided that it was just not worth the effort when I can get more cheap termies to convert, so they will get some green stuff armpits to make them more dynamic.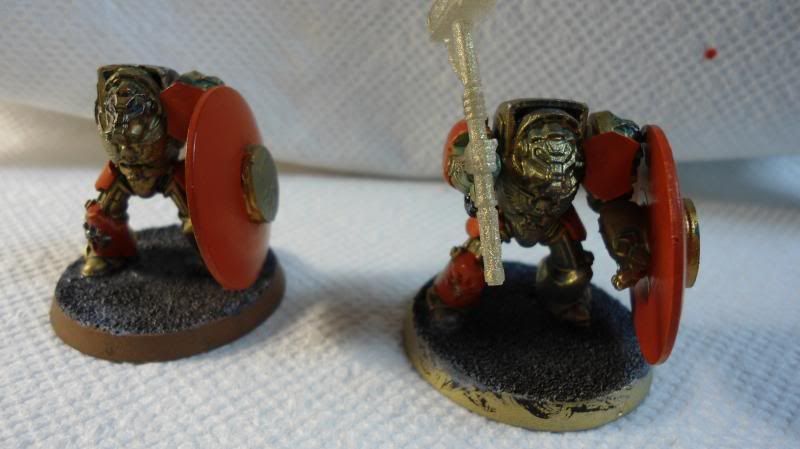 And of course, no army is complete without bases, so here are some of mine. I'm doing lava bases for some reason, probably because it was a cool idea at the time and it stuck.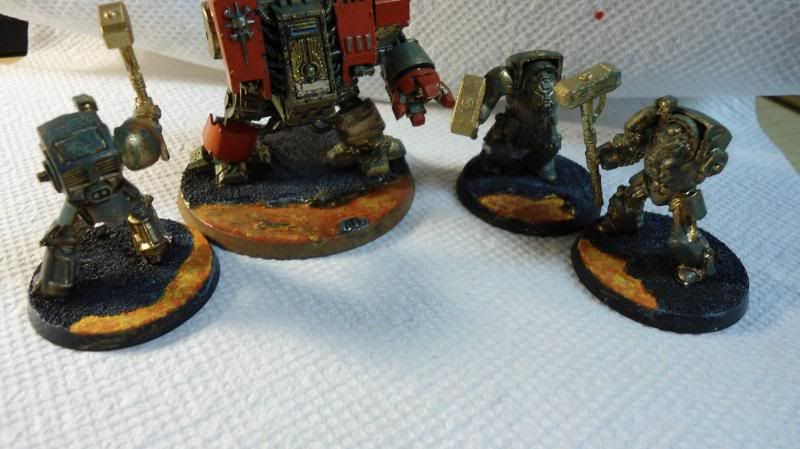 As a closing thought, I am continually amazed, if I do say so myself, that almost all of this is converted out of
AoBR
stuff. I would never have believed it if someone had told me a few years back that I would make conversions like this.