Hey guys!
I think this log needs a text-heavy introduction, and I apologize. I've had kind of an epiphany as a hobbyist. Until recently - and I'm not quite sure I've completed my metamorphosis, nor if I ever will - but anyhow, my usual approach to the hobby was to try and build an army I might one day actually "finish" and take to the table. That has been my way of looking at my hobby for the past 15 years. And I've never even finished a game-legal 1500 points army. That is because often new releases, or old loves, usurp my interest in my ongoing project.
Meanwhile I've always been marveling at stuff done by people who have a completely different approach than I do. People who invest hours of work into single models, shaping them into unique characters. I am, of course, talking about Inq28. I love the idea behind it. Get rid of restrictive rules, take your time, be inspired by the background and artwork of Warhammer
40k
or Warhammer Fantasy. I've always loved
GW
's Specialist Games, and I fondly remember the times when White Dwarf featured them on a regular basis, be it GorkaMorka, Necromunda, Mordheim or Inquisitor. Those of you who have been following my work on WarSeer, especially my fantasy stuff, know that I'm addicted to the rich background of the universe(s)
GW
have created, and I usually spend quite some time writing background stories for my armies.
It must seem obvious to you guys, that Inq28 must be my thing, but it took me quite some time to figure that out! So here we are today, a new hobby me it seems. There are a lot of people whose work has greatly inspired and motivated me, so thank you for that! There are a few logs on the internet that are particularly inspiring to me, so I thought I'd post a few links for those of you who haven't yet stumbled across them...
First up, of course, is Migsula's
Legion of Plastic
blog and the amazing works of the
Spiky Rat Pack
. Then there's Molotov's brilliant
INQ28 blog
. And both here on Dakka and over at WarSeer there's quite a lot of Inq28 stuff going on. I can't possibly mention all the people who've been inspiring me, but I thank you all! And then there are the novels. First and foremost, Dan Abnett's brilliant Eisenhorn and Ravenor trilogies, and, more recently, Pariah, first of the Bequin trilogy. Some of the best
40k
stories out there. There are also others, like Enforcer by Matthew Farrer, but it would be too much to name them all...
So. To business. What's this all about? I've decided to start my own little story and create models to represent the characters I come up with. I'll try and feature some written background for each of the protagonists.
The Torturer
There are some great archetypes that fit the background and overall feel of the Emperor's Holy Inquisition, and I've started work on the first one - the torturer. I imagine this guy to be really gritty, unfeeling and cruel, with blood-stained clothes and hands, ready to wreak havoc on the flesh of the next suspect his master needs interrogated.
As a starting point, I used the Chaos cultist wielding the flamer / heavy stubber from the Dark Vengeance box:
I chopped off his arms and head: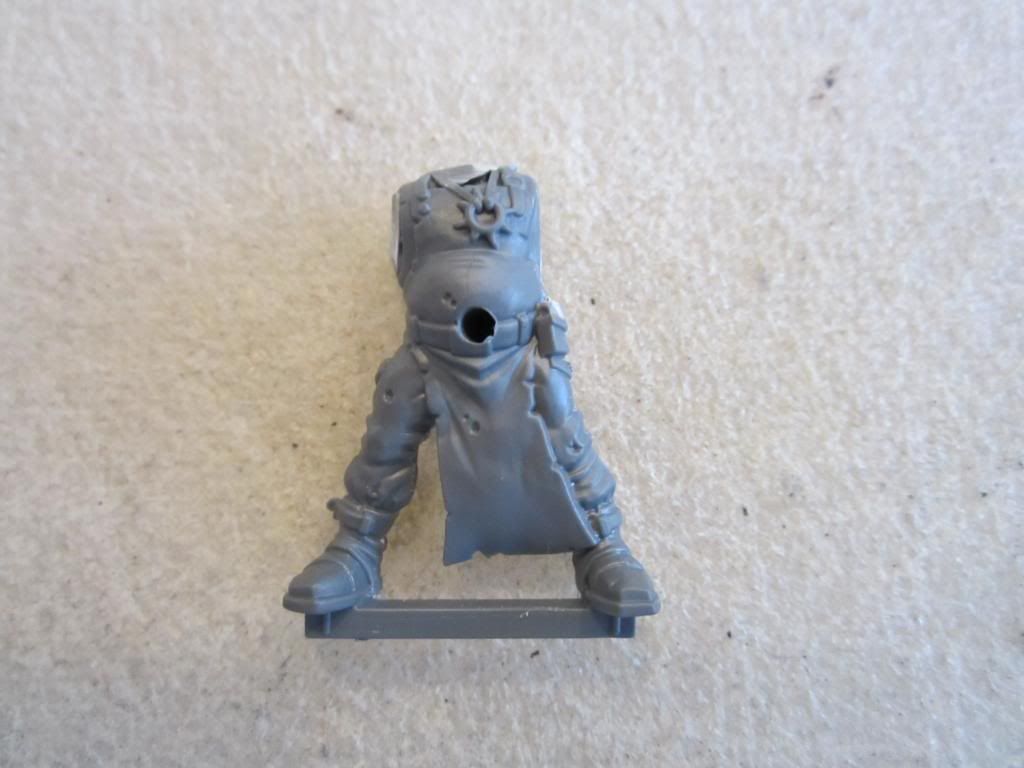 And added new ones from the Catachan Command Squad box. I really like the head, which - to me - enhances the almost mechanical approach this guy has to torture. And the syringe further adds to that. Maybe it's a truth serum. Maybe it just causes pain. I don't know, but I think it works well: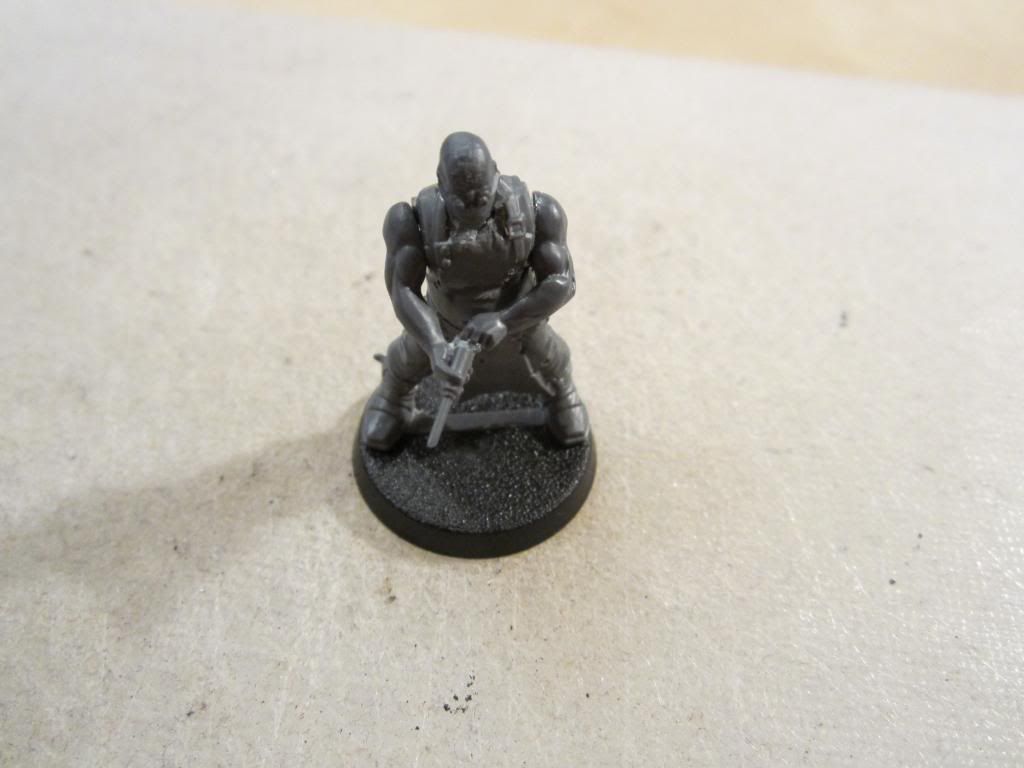 And finally, after filling some gaps with Green Stuff, I added some more tools of his trade. These are from the Kroot box: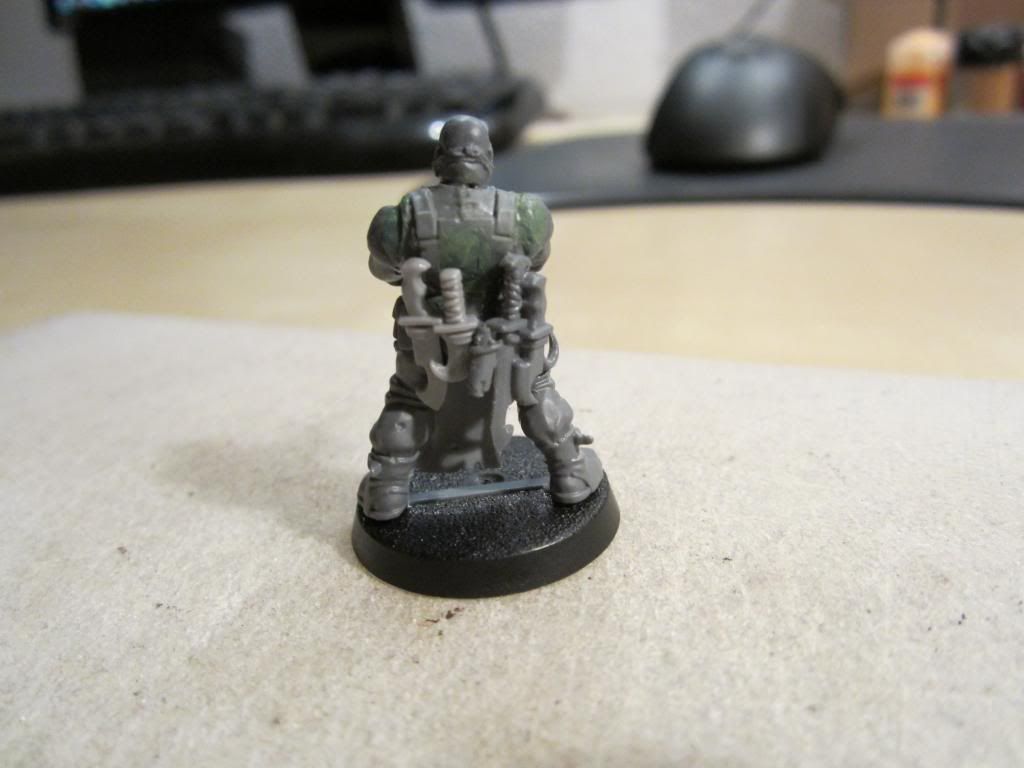 I'm pretty satisfied with the conversion and I hope I can find the time to get painting. This might not be too easy, though, since I'm currently working on my PhD, and that leaves me with pretty little spare time...
Let me know what you think!
Cheers,
Monsterzonk