Hey all, cheers for dropping in.
Here I'm gonna be chucking in all things painting and modelling (suprise surprise) that I get around to along with a heap of questions, probably. I've been involved with Warhammer
40k
for ages, but this is looking at something new that I've just got into; Infinity. Basically its a sci-fi skirmish game with quite a bit of manga influence and from what I've experienced so far; a good ruleset and pretty nice models.
Over in the infinity forums, there's a thread there about me looking at armies that interested me, namely the French styled Merovingian Rapid Response Force of Ariadna and the Jurisdictional Command of Corrigedor from the Nomad faction. Below is a sneak peak at the starter sets for those two factions for those interested (spoilered since they're not mine).
In terms of the models and the back stories to them, I couldn't really determine which I liked more. Historically I've always struggled to come up with an original paint scheme and was intending to just copy the studio style more or less. I went with the nomdas faction in the end for 2 reasons; 1/ hellcats, love the newer models and 2/ managed to come up with a paint scheme. Seeing as they all have smooth rounded face masks I'm thinking of trying to do Army of Two style with the painted face plates. Having not done much free handing in great detail before, it'll be a challenge but as long as the paints are thin enough and the brush pointy enough it should work out cool.
Are these hands capable of such badassery?
Anyway, I've just got my order of guys/girls, just the JCC starter and a few singles. Still waiting on a tomcat with a D.E.P though.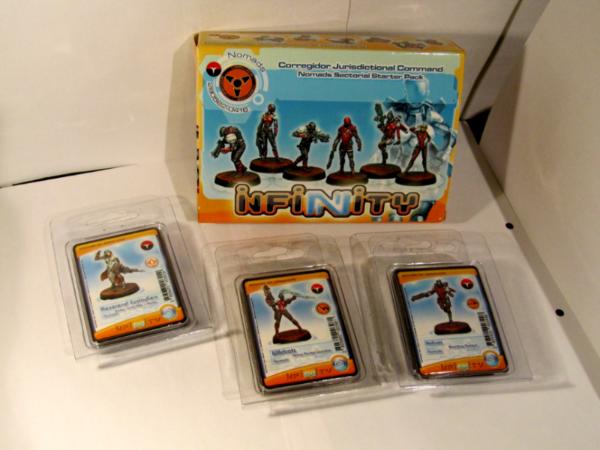 Ace photo booth
You'll notice a Reverend Custodier in there as well. Funnily enough I don't really like the majority (okay just the moderators and Moiras, the Sin-Eaters, Zeros & Prowlers are great) of the Bakunin models that much but this was one of my favourites models in the whole Nomad range, probably equal to the hellcats. So yeah, it probably wont be fielded as a sectorial army, just a regular one.
Breaking them out of the box...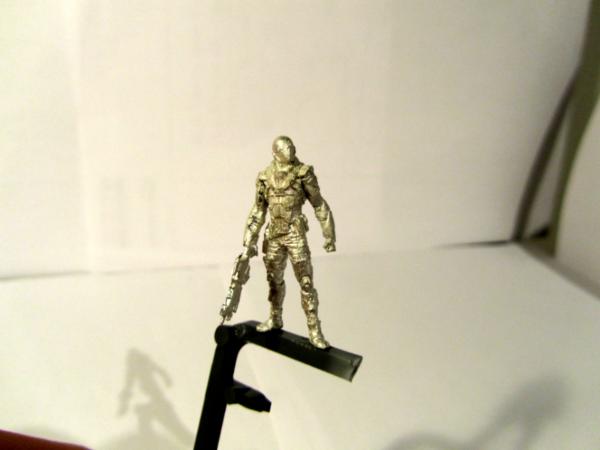 Intruder
Its hard to see on a bare metal photo I know, but the detail in these models is very impressive. For something that was all metal, I didn't think it was possible. Maybe thats just my narrow scope of miniature ranges speaking (only been with
GW
before this), but I'm led to believe Warmachines and Hordes are also pretty good. They're all just stuck on sprues for priming and painting, kinda like a lolly pop I guess... nhn yeah that moderator with a lolly pop probably was one of the things that turned me off Bakunin.
ATM
I'm just starting to paint the first one (it's actually the Alguacil) so no pictures yet. Other than some sort of painted mask pattern what I can say is this: For the female models I'm looking at a fluoro-yellow and dark purple scheme and for the males, a dark metallic blue with green. Colour-wise its pretty different to everything else I've done so far but in my minds eye, I can see it working. I decided to do the genders different to add a point of differentiation outside of their... physiological... assets. As to why the genders should be separated? No reason, just how it's gonna go. Then eventually when I get some TAGs or remotes, I'll do them a third scheme to give them some sort of identity. Hopefully having the Army of 2 masks will tie it all together, even if they are all different.
If anyone has any ideas of how to mix up a fluoro yellow that'd be cool. In the studio version of the JCC, the Alguacil has the sort of fluoro-yellow almost greenish colour that I'm looking for. I've tried it with flash gitz yellow and a tiny bit of goblin green, but its pretty hard to get it that bright. I don't know of any other brighter yellows in the
GW
or vallejo range, suggestions?