livanbard wrote:

Centurion of course XD. All models are looking great, but the Feral Kroot really caught my attention.

And when I saw the name of your blog, immediately remembered the Metal Beast Mercenaries project. Hope yours end well too.
When I chose the name, I realized how close it was, but it fit too well to not use it. However, I was HUGELY inspired by that army when I found it a while back, and I still am now. Since I began this project I have found my love in project armies and conversions like these. I'm having a lot of fun with it.
Scrazza wrote:

Are you going to include some bikerboyz? Kroot riding a bike or a beast would look awesome.
I'm kinda trying to go for trukk boyz and speek freaks, it just seems like the Kroot thing to do. So yes! Of course! My ideas at the moment are converting the Skaven doomflayers into some sort of one wheeled bike (trying to keep to the trend of one wheel or tracks) however that is rather expensive, so I'm thinking of only doing that for Feral (Nob) Bikers. Forgeworld beasts are simply a wish of mine. I can't really seem to think of any good excuse to have the Great Knarloc or Knarloc riders. I'm hoping the Orks get a cool
MC
(Squiggoth thingy, perhaps?) so I have an excuse for a Great Knarloc at least. I'm sure I'll get some in the future one way or another.
For the escalation league I'm building the army for, I've played 3 of my 4 kill team games. I got wrecked by Space Pups twice in a row. My opponent had a pretty powerful thunderwolf cavalry for his character. Those games unfortunately got me some bad upgrades like Fleet (have it with WAAAGH...I mean BAAAWK) and +1 Initiative (Red Sky is using a power klaw <.&lt

. However, I won my third game against a list of 6 Wraithblades, and fortunately Red Sky got 4 kills, boosting his role to get an awesome +1 Wound to give him 3 Wounds with Eternal Warrior (thanks to the starting special rule).
Finally, while this isn't Kroot, it is another project I decided to do with the rest of my centurion bits.
I decided to make Belial for my Dark Angels. I really think the
GW
Belial model is really static and boring (and badly painted D: oops) so I made this. I'm pretty happy with him.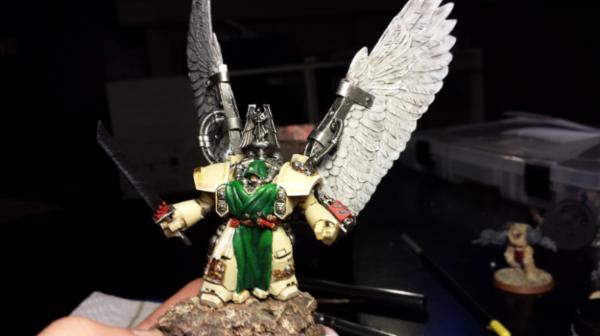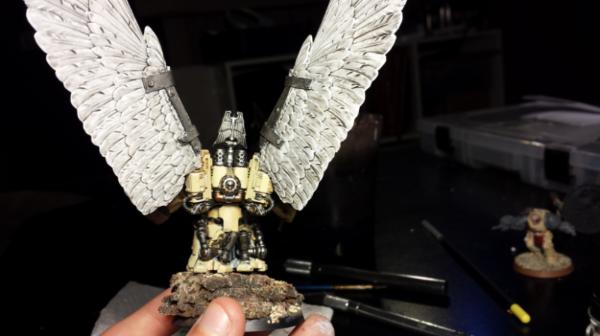 I got a couple squads of Carnivores, the Battlewagon, and a new transport to paint up and I want to get those out soon.
Thanks for the comments and support! Means a lot!