After some recent inspiration i have decided to work on a
BFG
Tyranid hive fleet to use both in
BFG
and in other Spaceship games.
After an initial Google search for inspiration; i got started on the fleet.
My current ships have just been started but they have a long way to go. The fleet is going to be focussed around what 'nids do best-getting up close and eating. To this extent most of the ships are going to carry some form of melee weapon-either Feeder Tentacles or Crushing Claws. The smaller escorts are the exception here due to their lack of hard points, but even still i forsee having a few squadrons of fast gribblies for picking off transports and mauling stray cruisers.
Cruiser one: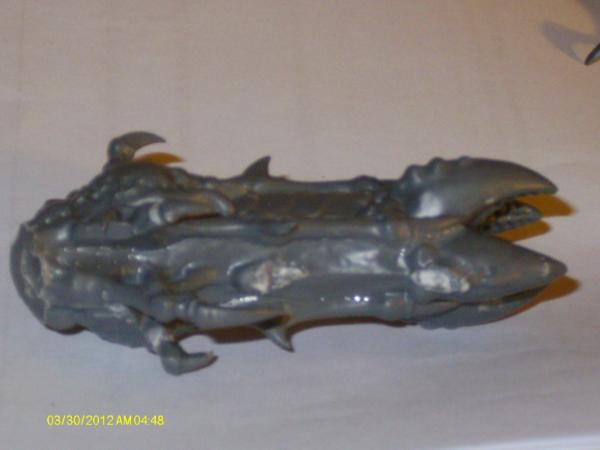 Cruiser one is built from a Tyrannofexes Acid Sprayer-in fact that is literally all the body is. This cruiser will have Crushing Claws as its prow weapon, and either Torpedoes or another Claw set or Tentacles as its thorax weapon. For damaging the enemy prior to all this, its broadsides will be Bio Plasma arrays.
Still to be done is the Green stuffing and the Thorax weapon.
Cruiser two:
This cruiser is built from the head of a Tyrannofex and the hips of a Carnifex. I see this cruiser as a more voracious and aggressive predator than the first. I can see this one shooting out of hiding and graspng ships in its madibles (Claws) whilst its tendrils enter and and feed on the crew. It will have Crushing Claws as its prow weapon and Feeder tendrils as its Thorax weapons. Im still not sure what to have on its broadsides, but i am thinking of giving it Bio Plasma.
This ship needs quite a bit of work doing to it before it can be considered ready.
Vanguard Drones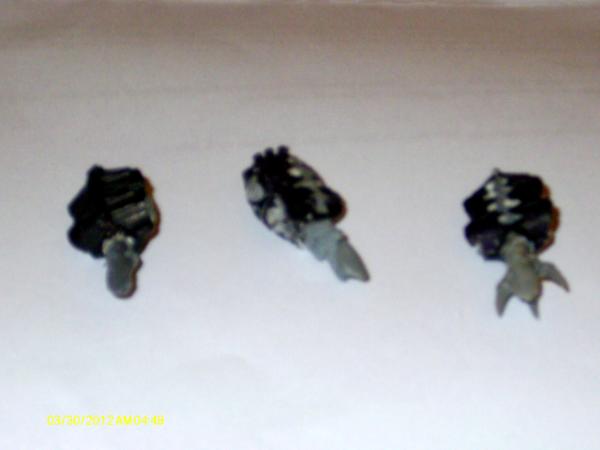 These are the three Vanguard Drones i am currently working on. They are built from the bodies of Genestealers and the for parts of Deathspitters. I see these as being voracious pack predators, lunging out from asteroid belts to strike at shipping and stray vessels. They will use their Bio Plasma cannons on their chosen target, to blow holes in the hull, before closing and inserting feeder tendrils to find the morsels of nourishment (Boarding/Hit and Run attacks). Swift moving and deadly, they will be the ultimate pack predators.
These mainly just need green stuffing now, but i may add some extra gribbly nastiness.
Still to come: Kraken. These will most likely be armed with Feeder Tendrils-just like their terrestrial cousins! And a Hiveship-a vital component to the fleet.
Inspiration and suggestions, particularly about the Hiveship (i havnt a clue where to start

) will be very welcome.
MoO