Hello,
I've decided to start a new blog to record my efforts in making my Space Marine army (and any other armies I chose to do in the future) which is: legal, playable, and painted. I'm going to be basing the army of the Ultramarines 4th Company which I hope to build the entire company and use elements of it in my Space Marine army which I can easily switch around units if a different need occurs. It also allows me to field all of them during Apocalypse as a full company. This is my second blog you can view my original one
here
where I really began in essence phase 1 of my army. I'd like to thank a few people who really helped keep my old blog running a few years back (but it will not be all of them I am sure it's been a long time since using it!). Some of the main people were;
Vikor Von Domm
Dsteingass
Gitspitta
Reaper Man 2020
As my exams are now over I have around 3 months to build and hopefully paint the army. I will be going away to India too in around a Month and will be away for around 3 weeks so am aiming to get a good deal of work done before I leave.
For my army I would like to portray the Ultramarines in a correct manor which really shows them as being, well 'Space Marines' who can clearly withstand most things that a mortal Human can not. If this be simple addition of ammo packs or a leg swap with some resin Sternguard or Vanguard models. Moreover, I have a large selection of Forge World bits and the new plastic upgrade parts to allow me to have Pre-Hersey and Post-Heresy elements in my army. The initial inspiration for this was from the Ultramarines 2nd Company double spread in the 5th ed Codex. From there I read the Ultramarine books by Graham McNiel which granted some of the books were not the best; yet, gave me the foundations in which to work my army off. I completed a test model early last year which will be what type of look I'm trying to achieve but I will be using an Airbrush instead: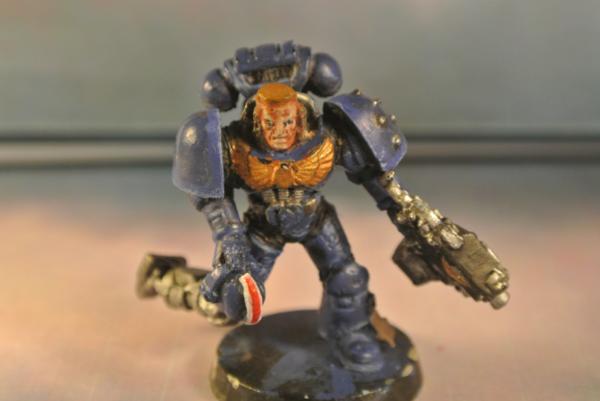 As you may know from my previous blog my current Space Marine army has gone through various reforms from the original 2nd company army to the current army that it is today. My army has gone through what I would like to call 'stages' where stage 1 was the original army from
AoBR
and some simple additions from a humble Space Marine Megaforce. Stage 2 was the reform to make it like the 2nd company while, stage 3 was the reform again (including a lot of re-building and stripping of paint) to the 4th company. What my next steps I would believe are part 2 of stage 3 as it's still the same army with just a large gap from when I started to make it the 4th company (nearly 2 years ago!).
I currently have most of the army assembled however, nearly all of the squads are made up with 3rd ed marines who really I'd like to replace. They have a sense of nostalgia for the older players yet I have only been playing for around 5-6 years but would like to use the bunch of Forge World and new Space Marine plastics that I was able to gather through e-Bay and am current in the process of cleaning up and preparing the parts which is taking an age to do. Most notably, I now own an airbrush and have been practicing with it for most of this year so have a good amount of experience in using it, hopefully this will allow my overall army to appear better as a whole.As you can see I have a fair amount of recoruses that I have been gathering over the last year or so.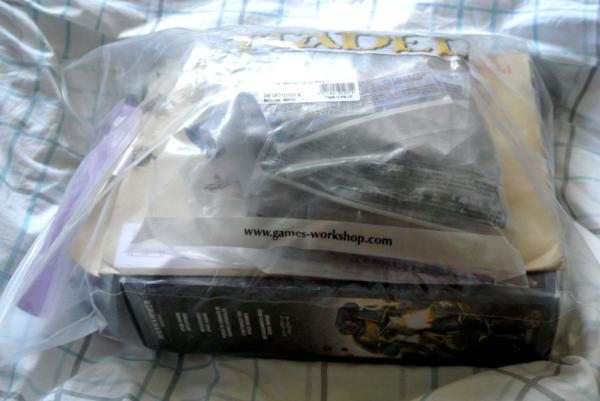 I was able to get this of eBay in a few auctions, a got around a thrid off.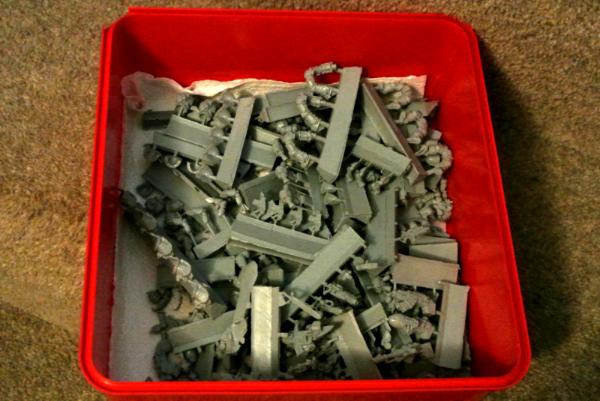 Thank you if you have read the whole text as it is a fair amount, expect more updates soon!
Many thanks,
HAZZER.