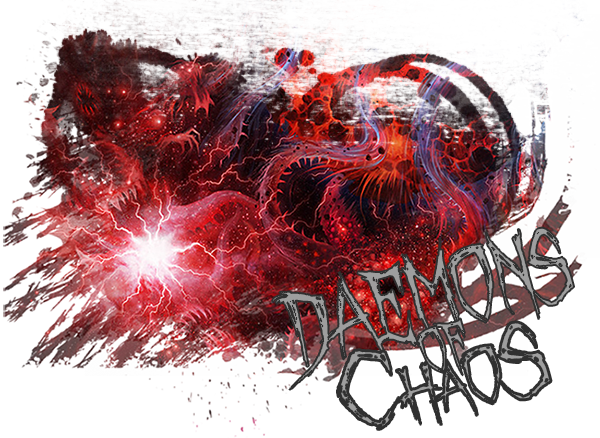 "I saw countless worlds drown in seas of blood that stretched across the galaxy. I smelled the stench of death as bloated corpses were cast into heaping piles of pox and disease. I heard a cacophony of pleasure and agony as an entire planet gave into debauchery. I experienced things I can't explain that warped reality itself. I gazed upon the agents of oblivion, and I felt my very soul tremble."
- Eyrin Rasmus, Inquisitorial Acolyte of the Ordo Malleus
+++
Introduction:
Hello, Warhammer
40k
enthusiasts, Chaos Cultists, and Ordo Malleus scholars and welcome to my Daemons of Chaos blog. My name is quite impossible for mortal minds to comprehend, but you can call me Darth Bob or Shane. Now, some of you may have seen my Alpha Legion blog, and may recall that I had spoken about how over the years I have had a severe case of Army ADD. I have jumped around constantly between different armies, and after many years I have finally settled down with the forces of Alpharius.
However, from the very beginning it had been my intention to delve into other aspects of that faction, being the many allies and auxiliaries that the Alpha Legion employs. Whether it be the humans that call the Legion their allies, the Mechanicum traitors that aid their cause, or the Daemons that the Legion calls upon to serve them, I knew that the Alpha Legion presented an opportunity to sate some of the tendencies I have to jump around between armies; by doing a variety of "different" armies that are interconnected, at least to some degree. As time went on, I realized that one particular part of these "interconnected forces" stood more separate from the others; the Daemons of Chaos. The allure of Chaos has been with me from the very beginning. Although there was a brief time when the Hive Mind stole my heart, Chaos has always been a part of my
40k
hobby career. It was only a matter of time before the Eye stared back upon me, and although my true heart lies with the sons of Alpharius, I will answer the call in spirit. Therefore, I've decided that rather than lumping the Daemons into my Alpha Legion thread (which you can check out via the link in my signature, if you so choose!) I'll just give them their own thread. Mostly because I wanted to give them their own thread for my own organizational sanity, but also because I wanted to showcase the neat banners that my girlfriend graciously made for me.
I will be using this first page as a reference point for you, the reader, so that I may gather all my thoughts into a condensed and easy-to-access summary. This blog will contain personalized fluff for my army, tutorials,
WIP
and completed models, as well as the occasional blurb or rant about what goes on through my head (scary, I know). As a preface for the contents of this blog, allow me to address each section in more detail:
Background:
Of all the aspects of Warhammer
40k
, the background material is perhaps the most important to me. If it wasn't for the plethora of interesting concepts, engaging lore, and interesting stories that saturate Warhammer
40k
, I highly doubt I would have such a strong interest in this hobby. It's one of the core reasons that I've never really been interested in other miniature wargaming systems. One thing, however, that I love more than the official Warhammer
40k
fluff, is the ability to make your own. I firmly believe in the importance of narrative, being a frequent practitioner of various
RPG
systems, and this has lead me to include more-or-less in-depth background stories for my armies. The Warhammer
40k
universe is so big, that as long as it doesn't conflict egregiously with the established material, anything is possible!
With that said, it is important to understand that I have a very particular view of how the
40k
background "works". I view the sorted background of Warhammer to be told from the perspective of Imperial archivists and historians, as well as other heretical and xenos sources, telling the stories and legends of over 40,000 years of galactic history. Of course, as with the many different historical accounts in the real world, there are discrepancies and differences. I see the many "retcons" and "contradictions" in the officially-provided
40k
fluff to be different historical perspectives rather than strict retcons or contradictions. Think about it, the Horus Heresy happened over ten thousand years ago. Surely there must be some discrepancies between what is said to have happened and what actually happened. Maybe the Necrons were once viewed as soulless, life-harvesting automatons by Imperial scholars, but as time went on, the true nature of their existence in the universe was better realized and identified.
The
40k
universe is so grand and wonderful that it leaves it to you to decide what you want to believe really happened; to pick and choose parts of the fluff that you agree and don't agree with, just like any ancient historian would do. That being said, I would like it to be known that a lot of the fluff that will be in this thread is my own fabrication, and I don't want to upset anyone by "making stuff up". Of course, all that you see will be based and founded heavily on the established material, but I really want to bring my vision of the Warhammer
40k
universe to this thread, both in the models and the background. To me, they're both equally important.
Specifically regarding Chaos Daemons, I've become more and more troubled with the direction that Games Workshop has been taking them in recent years. For me, they're supposed to be this unknowable eldritch horror from beyond our mortal realm; some horrible crossing of Judeo-Christian mythology and Lovecraftian themes that come together to make something unique and horrifying even in the context of a setting as dark as
40k
. I think
GW
has lost sight of that with their attempts to quantify and calculate every aspect of their Daemons, and they've started to come off as just another villain in
40k
, rather than this great elemental evil that threatens all of reality. I want to bring Daemons back to a mythical evil that bends the very fabric of mortal comprehension. I want them to be dark, gritty, and scary, as Daemons and their ilk should be. That's the guiding principle I have with regards to the direction I want to take in the background section of this topic, as well as the direction of the models themselves.
Painting and Modelling:
Gosh, this guy sure does talk a lot about non-hobby stuff in his hobby thread, doesn't he? Yes, well let me talk about that. The general thing to keep in mind with this army is that I'm going to take my time on this project. I want it to be clear that, just like its parent army, there is no set goal for this force, and it isn't meant to have any sort of deadline. I'm not building this to fit any sort of quota or army list, and this is an ongoing project that I plan to handle with the greatest of care and passion.
If that means spending hours upon hours converting a single, 15 point model then so be it! I want this army to showcase what I am capable of. Not to sound snotty, but I want to inspire people and provide ideas that might help them in all of their tabletop gaming adventures. Second, this army isn't particularly guided by the Chaos Daemons Codex. I've never been a huge fan of the Warhammer
40k
game itself, and I don't like how the Codices and their various options stifle the many options for creativity that a hobbyist may delve into. There may be things in this thread that don't really serve a purpose game-wise, but I'm not building this army for "gaming". I'm building it because I love the hobby and I love the background; any gaming is just a bonus!
Finally, I want the work I put into each model to represent my commitment to this army. I have jumped around with armies so often that I almost feel bad about abandoning projects. I don't want to abandon this. I want this to be something that I can be proud of. So without further ado, follow me into the Eye of Terror, to see the horrors from beyond our dreams:
+++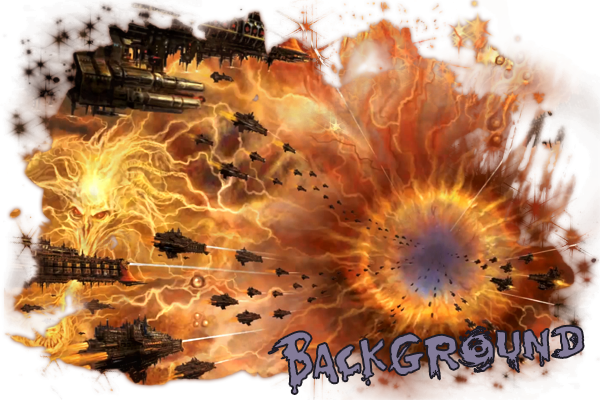 In the future, this section will give links throughout the blog to the various squads and individual models contained within the army. This will allow you a quick reference if you want to see particular models in their finished state rather than having to scroll through tons of pages to view a specific model.
+++
So, the first entry into this blog is a
WIP
of my Lord of Change. With this guy, I wanted to take a big departure from the giant bird look; not that there's anything wrong with that look. Tzeentch, of all the Chaos Gods, is certainly the most in-tune with Lovecraftian themes, and so I tried to capture that quite literally through this model by having his aesthetic be heavily inspired by the Crawling Chaos himself, Nyarlathotep. He's still heavy
WIP
, but the idea is that he's tearing a hole through reality and into the Warp, and the unknowable horrors of the Empyrean are beginning to pour out. I'll be modelling the warp rift coming up through a city sidewalk/pathway, so there will be bits of rubble and tiling cracking upwards along the walls of the rift, and I want to try to do some
OSL
on the portal itself, which will be my first attempt at such a painting technique.
I've really tried to go all-out on the sculpting on this guy, and I'm especially happy with how the right shoulder has come out. I tried to portray a Horror of Tzeentch literally forming from his shoulder and its mouth is starting to engulf what I could only imagine to be his "neck". I think it turned out quite nicely. I'm still trying to think of ideas of what to do on the other shoulder, so any ideas are welcome. The model itself is based on an old model that actually has a bit of a colorful history behind it. A long time ago, I got the itch to try out Warhammer Fantasy, and so I bought Gulhavar, the Terror of Arnor, from the Lord of the Rings line as a base for a conversion into a giant bat monster. After the conversion fell through and my interest in Fantasy waned, I lost interest in the project and the model fell into the depths of my hobby closet.
But after getting the itch to start working on some Daemons for my Alpha Legion, the whispers of the Dark Gods told me that I shouldn't let this model, with it's strange, very alien texture, go to waste. One thing lead to another, and suddenly he had a tentacle for a head! Anyways, enough of my rambling, enjoy!
Front:
Back:
Front Detail:
Back Detail:
Side Detail:
Portal Front:
Portal Back:
As for other stuff waiting in the wings, I've got twenty of the old 4th edition metal Horrors with ten more on the way, the Forge World Keeper of Secrets, a metal Be'lakor shipping to me from eBay, and some neat models from Creature Caster and Mierce Miniatures Kickstarters that will hopefully be arriving before I die of old age. Anyways, that's all for today! Hopefully this post wasn't overwhelming and pretentious, but I really hope you guys enjoy the blog.
May the Chaos Gods bless and watch over you, until you have served your purpose.
~ DB