So I realise I've been neglecting to keep this thread updated. I have not, however, been neglecting this project.
Here is a mock-up of the same model in several different poses as well as one with a Heavy Stubber which has been altered to look and be used as a Heavy Bolter.
I also managed to get a shoulder pad from the sternguard(?) kit which I plan to give to all my Arbites on their right shoulder. Admittedly a bit of a nod toward judge dread

It may look like a green pile in the photos but I think they'll paint up nicely.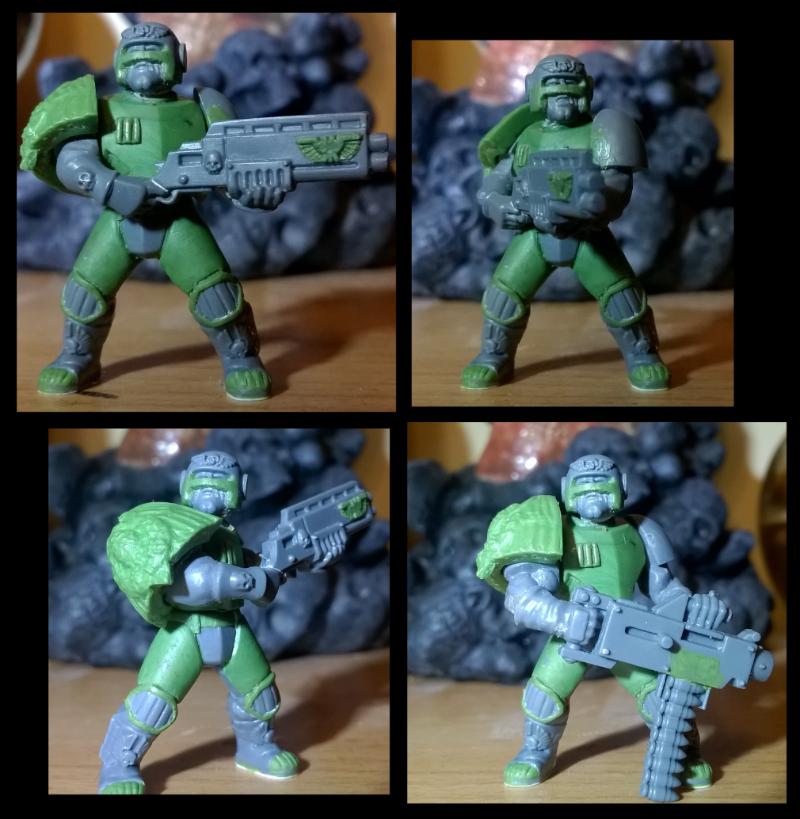 A while ago, when I got the cadian heads, I bought some shields and mauls from the Maxmini webstore as well as some of their shotguns. 3 Weeks after payment and checking my mailbox I get an email saying my order has shipped... Well it didn't take long to get here after that at least. I will never know if they realised they kept me waiting so long or not but in the package was an extra maul and shield and also a single "Space Police Helmet" free of charge. Not Bad... Unfortunately the shotguns were way too small. Possibly even so for
AM
guardsmen.
I've also been trying to think of a way to add more detail to the armour and decided on rivets as I'd recently changed my brita water jug filter and, from reading other people's advice, decided to open the filter up and pour out the contents. Unfortunately sifting through the tiny bits of charcoal for tiny balls of plastic takes a long time, and if you drop the container you're separating them into onto the carpet, say goodbye.
Fortunately there's an easier way of separating them rather than picking them out one by one. Use a sheet of paper, position like a halfpipe lightly sloping down into a container, pour a small amount of the filter sand onto the top of the paper, watch the balls roll down into the container. shift the sand around a bit and give the paper a light jiggle, more will come out

Anyway...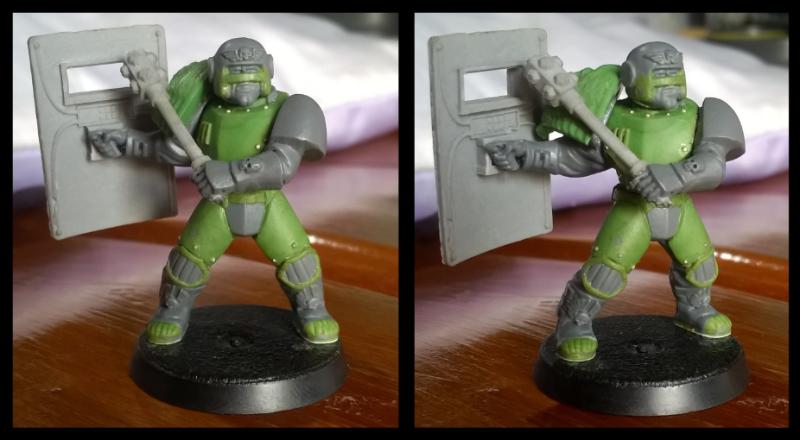 This is pretty much where I'm at with this project. I've made a mould of the torso to begin replicating, I have a total of 5 Scion legs in various stages of conversion and a whole bunch of scout arms as well as scion arms to use on some dudes. I'm lacking slightly in weaponry.
dispite that shotguns are the Adeptus Arbits weapon of choice I've decided to give them mostly bolters and where possible I've slipped in a Storm Bolter which is what I will be using rule wise to represent Arbite shotguns with Executioner rounds which, as I understand, make their shots more powerful and more accurate. Considering that both
SM
shotguns and Storm Bolters have S4 Assault2 it's not a stretch to say that the extra range and AP3 of the
SB
makes it more powerful and more accurate

The only issue there is what do I use to represent this? If I want it to appear as a shotgun but obviously isn't just another
SM
Shotgun I will probably have to convert something myself. I have been thinking of ways to convert a bolter to look like a beefy shotgun, most likely with two barrels stacked vertically at the end as a sort of nod back towards the fact that it is a Counts As storm bolter. Another idea I had (which will be easier but cost more and probably not look as good) is to take the
SM
Shotgun, trim off the barrel tips at the end and replace with 2 bolter tips, add a drum mag to the gun in the spot between the scouts hands and voila! suped up shotgun.
I'm also working on a Landspeeder Storm (a christmas present i got

) which I've lengthened slightly and plan on giving upward opening doors for the passengers. I know these things are open canopy but I will be mostly enclosing the vehicle. Do not fear however as the driver and shotgun passenger will be enclosed by a simple opaque glass dome (orange or red) I just have to find the perfect shaped plastic spoon (a translucent red or orange spoon would be pretty badass if I did it right). And the passenger compartment in the back will have several large windows as well as the hinged door which will stay open when transporting troops and closed when it is not(I'll probably model them hanging out the windows/doors shooting and stuff) the compartment is also slightly larger thanks to the extension and I have cut and shuffled the benches around though accidentally glued without looking and sealed in the shotgun detail on the back wall with a bench... oh well... You'll have to wait for pictures

P.s. the Arbitrator in the picture with the maul and shield would be fielded as a Crusader. If anyone would like to see my attempted
SM
Scouts/Inquisitor army list let me know, I would appreciate any feedback you might want to give.
Thanks for reading