My fellow Inquisitors thank you for taking the time to view this archive,[1] Please remember while some of my Ideas may appear radical in nature i remain a true servant of the Emperor.[2]
While i am a relatively novice inquisitor, having only had my rosette for 20 years. I have come to understand how vast our galaxy is and how numerous and diverse its inhabitants.

All will know of the "big 6" [3], and while some of you wont know the full details of these primary threats i'll spend little time on them in this archive as there are dozens of data slates on each.[4]What we will be looking at here (and where my speciality lays) is with the Secondary and Tertiary threats to our glorious Imperium.[5]

How do we fight so many enemies? How to we fight this many fires? to this question I offer a radical solution.

We don't.

While some enemies must be eradicated, others can be negotiated with, influenced or manipulated to assist our own cause.

Our Survival!

We are at the brink, while we hold off the Terrors at our door, it is at great cost to the Imperium and even with these daily sacrifices we move closer and closer to the point of no return.

What if we could win battles without the Astartes, Navy and imperial guard? it would mean we would be stronger, and perhaps move away from the precipice of Armageddon [6]

To this I say

"suffer the alien to live.. for Now"

++++++++Inquisitor Justice Sedante (Ordo Xenos)+++++++++++


If you are not an inquisitor or have clearance level vermillion, please report this to your nearest Arbiter Precinct.
2. So if you can avoid crys of heresy that would be appreciated
3. the Ork, Chaos, Eldar, Tau, Necron and Tyranid.
4. As most will agree you will get more from the older data slates than the new, but some of the information is now out of date.
5. From the massive rouge trader "Segmentum", The Remnant Fleets, Xenomorph infestations and much more.
6.The apocalypse not the world
 ——————————
Hi and welcome to my thread  
Please make yourselves comfortable. In this thread you'll see pictures of some of my finished minis and scenery accompanied by some Fluff normally from the point of view of Inquisitor Justice Sedante. any maybe a narrative bat rep or 2.    
What are the inquisitor diaries?
Basically its the head cannon I came up with to have minis from other games cross over into the
40K
universe (or my head cannon version of it anyway)  
e.g the Mantic warpath verse is a number of sectors south of the Segmentum Tempestus and west of the ultima segmentum founded rouge traders.
there are Remnant fleets of Xenos (and sometimes human races) that were evicted from their planets by the Imperium during the great crusade.
Predators are still hunting anything they can, they love Catachan and hunting space marines.
Every now and again a strange man in a blue box shows up goes "nope" and leaves again.    
Where my
40k
head cannon majorly differs from the script;
Only 3 thousand years (don't know why the 10 thousand years niggles at me) have gone by since the Horus heresy, but everything that has happened just taken less time.
The area the imperium covers is about an 8th less (to make room for everything else)    
But why?
why not? I just love cross overs in comics, movies etc, I cant tell you how excited I was when that alien skull was on the predator ship in Predator 2.  
So without further lets get the show rolling
——————————  
XENOMORPHS
Xenomorph Infants/Drones
"The Xenomorph is a recurring threat amongst the stars, rarely seen in the numbers purged during the great crusade they still show up on space hulks, rouge trader vessels and remote colony's (1).Xenomorphs are deadly creatures but often overlooked for more numerous and dangerous species (2), Xenomorphs have no space faring capacity so outbreaks while bloody are usually self containing.

As I will discuss later Xenomorphs are Parasitic, needing a host to propagate. After the initial larval form (3), the Xenomorph will quickly develop into the below specimen.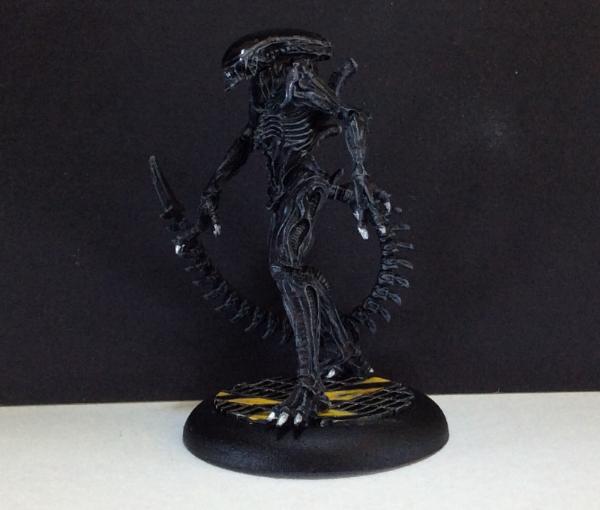 It is hotly debated among my colleagues if this form is mearly an infant form of the Xenomorph or acts as a drone within the hive structure.

Please Note all Xenomorph forms have acidic blood capable of eating through most personal protection shy of power armour(4). Precise Weapons that cauterise their target are preferable when dealing with these threats
So while you may wish to hit them with your hammer "of overcompensation" Inquisitor Dario please be mindful of splash back.

1. Likely as a result of unauthorised salvage of said space hulks.
2. Genestealers share a lot in common with Xenomorph's but understandably gain priority over them from my colleagues.
3. Crudely referred to as chestburster
4. With enough volume/ repeated application the acid will eventually penetrate/ dissolve most substances."
..............Inquisitor Justice Sedante Ordo Xenos
"Last recorded image of PanO fire team Delta"
"For Macragge"
Pict recording from the Purging of Colony 2871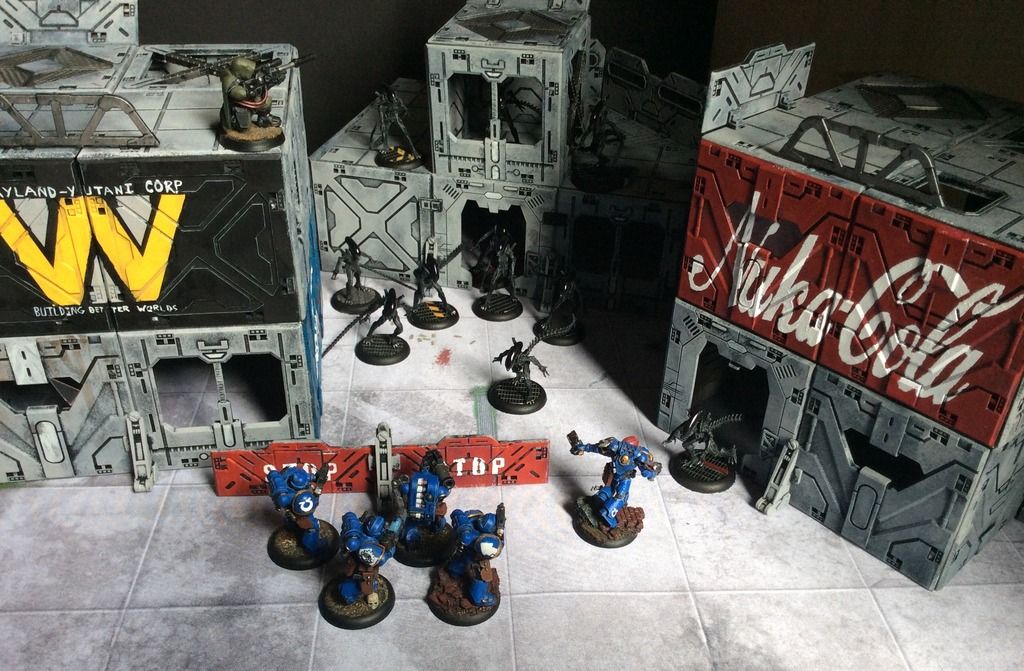 Facehuggers
The lifecycle of the Xenomorph starts as an egg birthed from a Queen organism.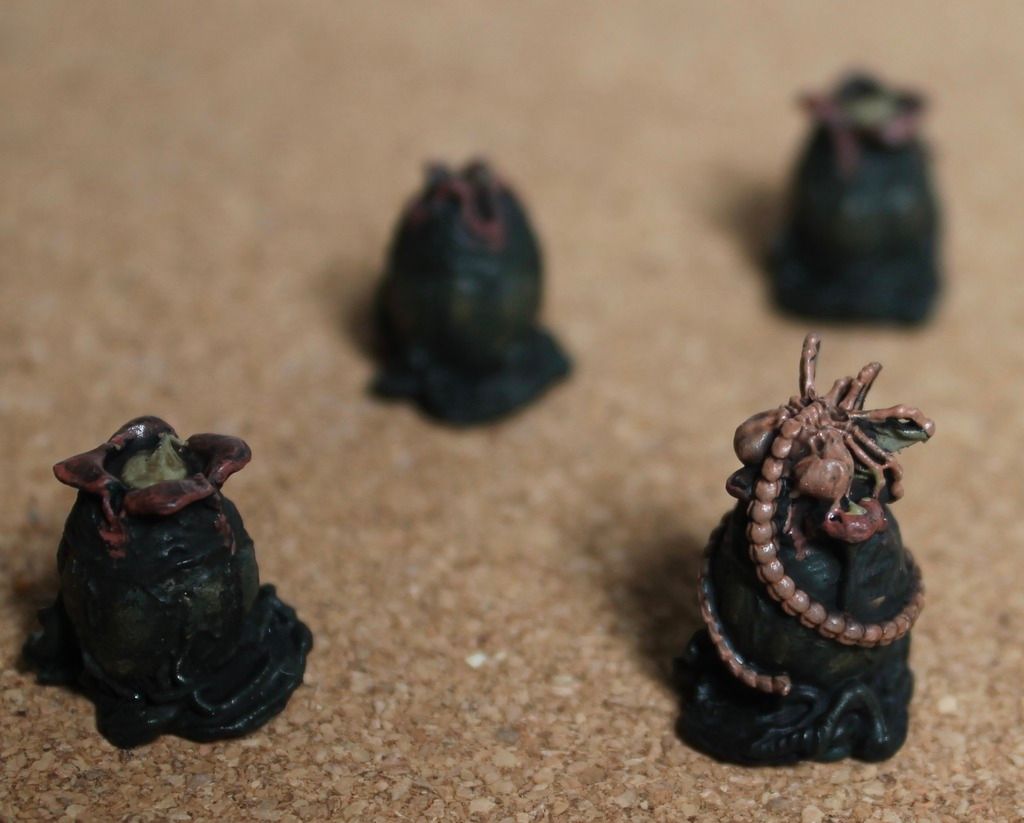 Theses eggs host the "Facehuggers"




"Facehuggers" are The Delivery system for the Xenomorph parasite, a seemingly weak and insignificant threat that sometimes proves more deadly than its adult counterparts.
Small and stealthy once the Facehuggers latches on it, it is impossible to remove without killing the victim (1)(2), in addition the eggs are often placed like organic land mines.
The Parasite can bond with most biological beings in the galaxy the resulting Xenomorph will adopt trades from the host creature (3)

1- So far no successful removal of the Facehugger has taken place with the victim surviving, but there are rare accounts of the Xenomorph larvae being removed post "hug" with the host surviving.
2- we have discovered corpses of ork victims where (in typical Orc fashion) have tried to chew through the Facehugger to escape it's grasp. Needless to say the corpses are found with their faces melted off by the face huggers acid blood.
3 - So far we have encountered Xenomorph variations from most creatures in the galaxy including Grox, Yndij, Tau, Eldar and before their final cleansing Morat. Thankfully there are no recorded cases of an Astartes being infected to put to rest the debate on if any Astartes traits would be passed to the Xenomorph Variation.

..............Inquisitor Justice Sedante Ordo Xenos