:::Edit:::
My collection so far-
British
Hawker Hurricane x4
Supermarine Spitfire x4
Gloster Gladiator x2
Bolton Paul Defiant x3
Westland Lysander
Fairey Fulmar 6 (3 as Battles)
Fairey Swordfish x2
Bristol Blenheim Mk1
Bristol Blenheim Mk IV x2
Supermarine Walrus
De
Havilland Mosquito x2
Bristol Beaufighter
Vickers Wellingtonx 2
Short Sterling x2
Avro Lancaster x2
Avro York
B-24 Liberator "Commando"
P-40 Tomahawk x2
39
USA
Martin B-10
Curtiss Goshawk
Lockheed P-38 Lightning x4
Douglas SBD Dauntless
Douglas
VC
-54C "Sacred Cow"
B24 Liberator
Consolidated PBY Catalina
Flying Fortress B17D, B17E & B17G
Brewster F2A Buffalo x2
Vought F4U-N Corsair night fighter x2
Republic P-47 Thunderbolt x4
North American Aviation P51 Mustang x4
Douglas A-26 Invader
Boeing B-29 Superfortress Enola Gay
26
Japanese
Mitsubishi Ki-21 "Sally" x2
Mitsubishi G3M2 Nell
Mitsubishi A6M "Zero" x3
Mitsubishi "Betty"- Admiral Yamamoto
7
German
Arado Ar 196
Fieseler Fi-156 Storch
Mescherschmitt Bf 109 x5
Mescherschmitt Bf 110 x6
Mescherschmitt Me 410 x3
Mescherschmitt Me 262 x2
Focke Wulf Fw190D x4
Dornier Do17z x1
Junkers Ju52
Junkers Ju87 x6
Junkers Ju 88 x3
Heinkel He111 x4
Focke Wulf
Fw
200C Condor
38
Italian
Macchi MC200 Saetta
Macchi C.202 Folgore x3
Fiat CR32
Fiat CR42 x2
Fiat G50 Frechia
Imam Ro 57
Breda 65
CANT Z 1007 Alcione Twin fin
SM79 Sparviero x2
SM81 Pipistrello
PIAGGIO P.108B
CANT Z506.
CANT Z.501 Gabbiano
17
Soviet
Petlyakov
Pe
-2
Petlyakov
Pe
-8
Yakovlev Yak1 x3
Mikoyan-Gurevich MiG-3 x2
Tupolev
Tb
-3
Tupolev
SB
Polikarpov I-15
Polikarpov I-16. X3
Polikarpov Po-2 x2
Ilyushin Il-2 "Shturmovik" x2
Ilyushin DB-3
18
Chinese
Curtis Hawk II
Dewoitine D510
Nakajima Army type 91
Polikarpov I-15
Polikarpov I-16
Tupolev
SB
Ilyushin DB-3
Martin B-10
P-40 Tomahawk x2 (Flying Tigers)
10
French
Dewoitine D510
Dewoitine D520 x2
Bloch MB200
Bloch MB210
Potez 63.11
Potez 631
Morane-Saulnier M.S.406 x3
Lioré et Olivier LeO 451 x2
12
Finnish
Fiat G50
Fokker D.XXI.
Brewster Buffalo
Gloster Gladiator (Swedish Volunteer)
Westland Lysander
Hawker Hurricane
Bristol Blenheim
Mescherschmitt Bf109G
Junkers Ju88
9
Many of the above are fully painted and on display here. The list is ever growing so if your favourite isn't there already keep an eye out it might appear soon.
--------------------------------------------
Hi folks. I just wanted to share the many tiny WWII aircraft I've been painting in a big gallery. They're 1:300 scale, so very small indeed.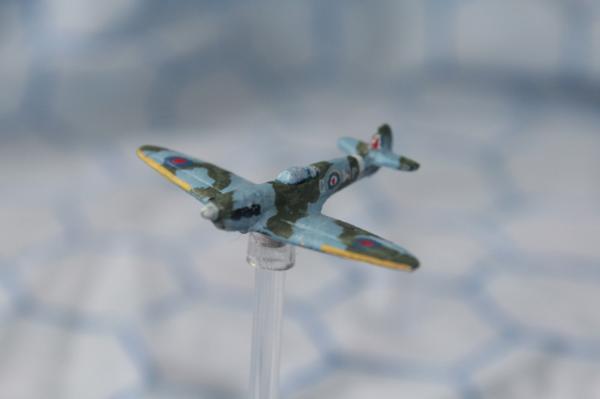 One of my Spitfires, just to kick things off with a bang. First pic in the thread should be a good'un.
Here's a couple of scale shots just to give you an idea of the scale of these things.
The Fighters are small, really small.
And the bombers obviously are a little bigger.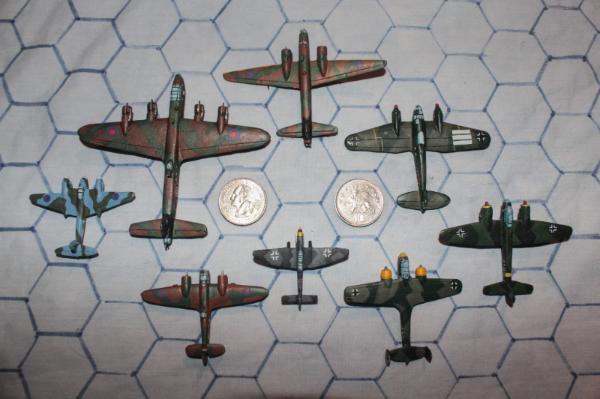 Kicking things off with my RAF bombers.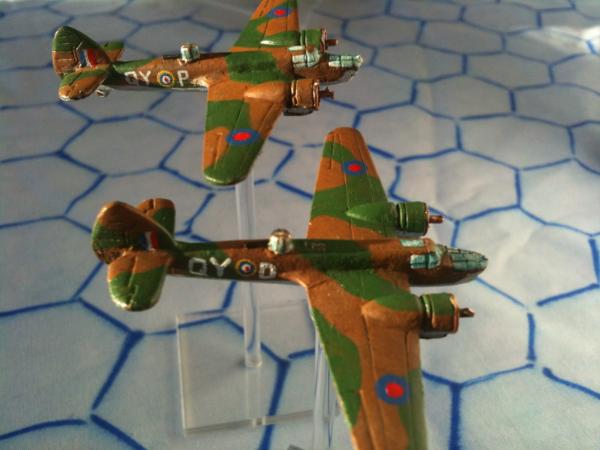 A pair of Briatol Blenheim IV - Long nose medium bombers.
By the start of the war Bristol's Blenheim was already a little long in the tooth. It wasn't the fastest plane nor the most heavily armed but it was a rugged machine and very useful. Blenheims were flown everywhere. Croatia, Greece, Portugal, Finland, South Africa, Australia, Canada, Yogoslavia, even Romania. The various marks of these versatile aircraft served in every role imaginable, light transport, reconnaissance, night fighters, bombers, torpedo bombers and more. Somewhere near 1,930 were built and served in airforces across the world long after the end of the war in Europe.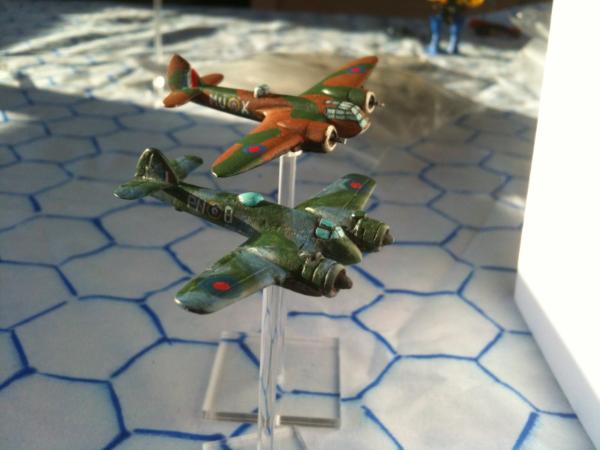 And another pair of Bristol aircraft, a MkI Blenheim and a Beaufighter.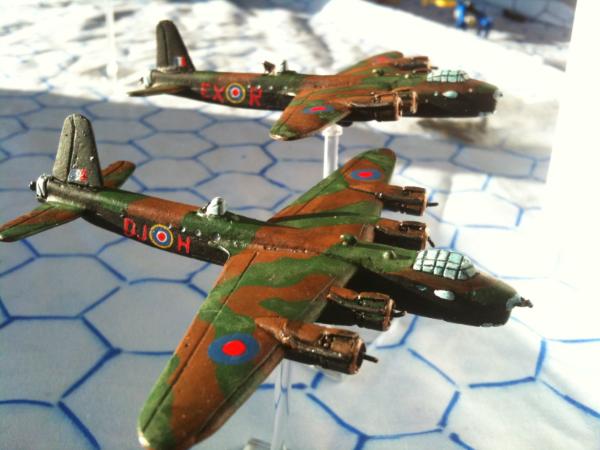 The two largest aircraft in my collection, a pair of Short Stirlings.
The Short Stirling was the first of the RAFs four engine heavy bombers. It was a powerful and agile design beloved by its pilots and very well armed. Not at all an easy target for enemy fighters. However as the bombs got bigger and bigger the design of the Stirling's loading bay proved unsuitable and more adaptable airframes like the Lancaster and the Halifax took over as the Stirling was phased out of bomber service and into transport and glider tug roles.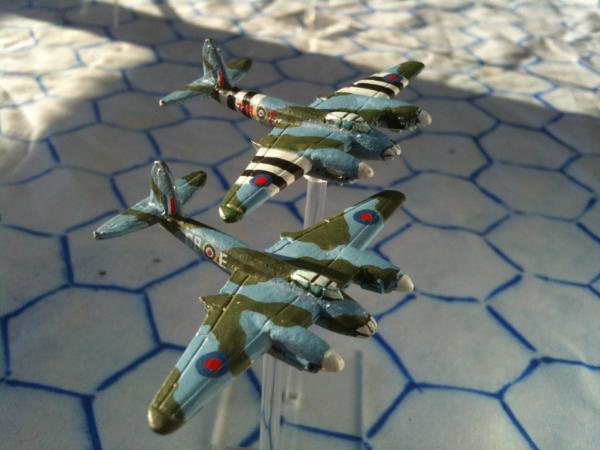 Dehavilland's Wooden wonder the famous Mosquito. Had to have one in invasion stripes.
De
Havilland ingenious plan for an all wooden, High speed, high altitude unarmed bomber was just what the air ministry needed in 1941. Construction didn't have to compete for war materials like steel or aluminium and its clever plywood-balsa plywood sandwich was both light and surprisingly durable. It provided a high level reconnaissance platform that could outrun intercepting fighters and also replaced the venerable Blenheim MkI and IVs to become Bomber Command's premier medium bomber. They caused considerable consternation for the enemy with their high speed precision attacks and as the war went on its many variants went a long way to enhancing the RAFs contribution to allied victory.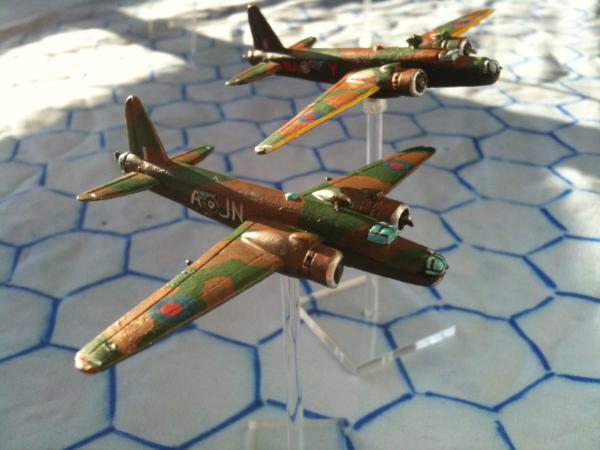 Next up we have a couple of Vickers Wellingtons. Love these things!
The Wellington bomber was comprised of a light geodetic frame covered with lacquered canvas. The airframe could absorb crazy amounts of punishment and still fly but it afforded little protection for the aircrew inside. One of Bomber commands first main bombers it dropped the first 4,000lb block-busters in August 1940. As better and more capable bombers took over its many variants saw service in as many roles as could be found, magnetic mine sweepers, torpedo armed submarine hunters and transports. It even saw service right up until 1953 as a pilot trainer.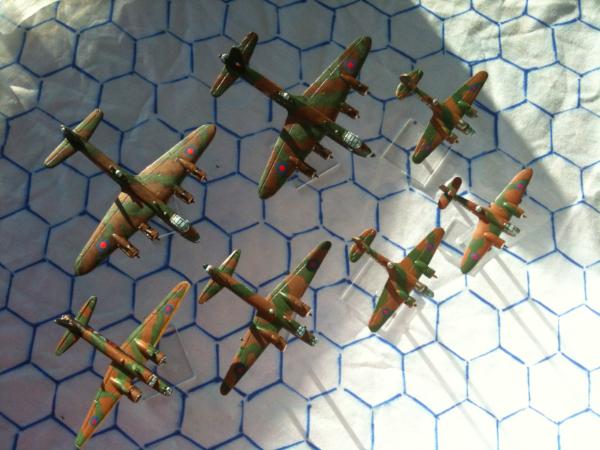 And lastly for now a big bomber formation shot.
More to follow as and when I get a chance to point a camera at them. (Hopefully with better results next time)